by
Chris Christian, Field Editor
posted on February 15, 2021
Support NRA Shooting Sports USA
DONATE
When Kimber introduced its K6s revolver line, it became the smallest steel-framed six-shot revolver capable of handling the .357 Mag. cartridge. Constructed from stainless steel and designed for concealed carry, the models featured a double-action-only trigger, smoothed contours, fixed sights, recessed cylinders and a fully-enclosed internal hammer. Available in either 2- or 3-inch barrels with fixed sights, they weighed a modest 23 and 25 ounces, respectively. Both were solid choices for concealed carry but obviously small for any serious competition use.
Last year, Kimber upped the ante with the introduction of the K6s DASA Target.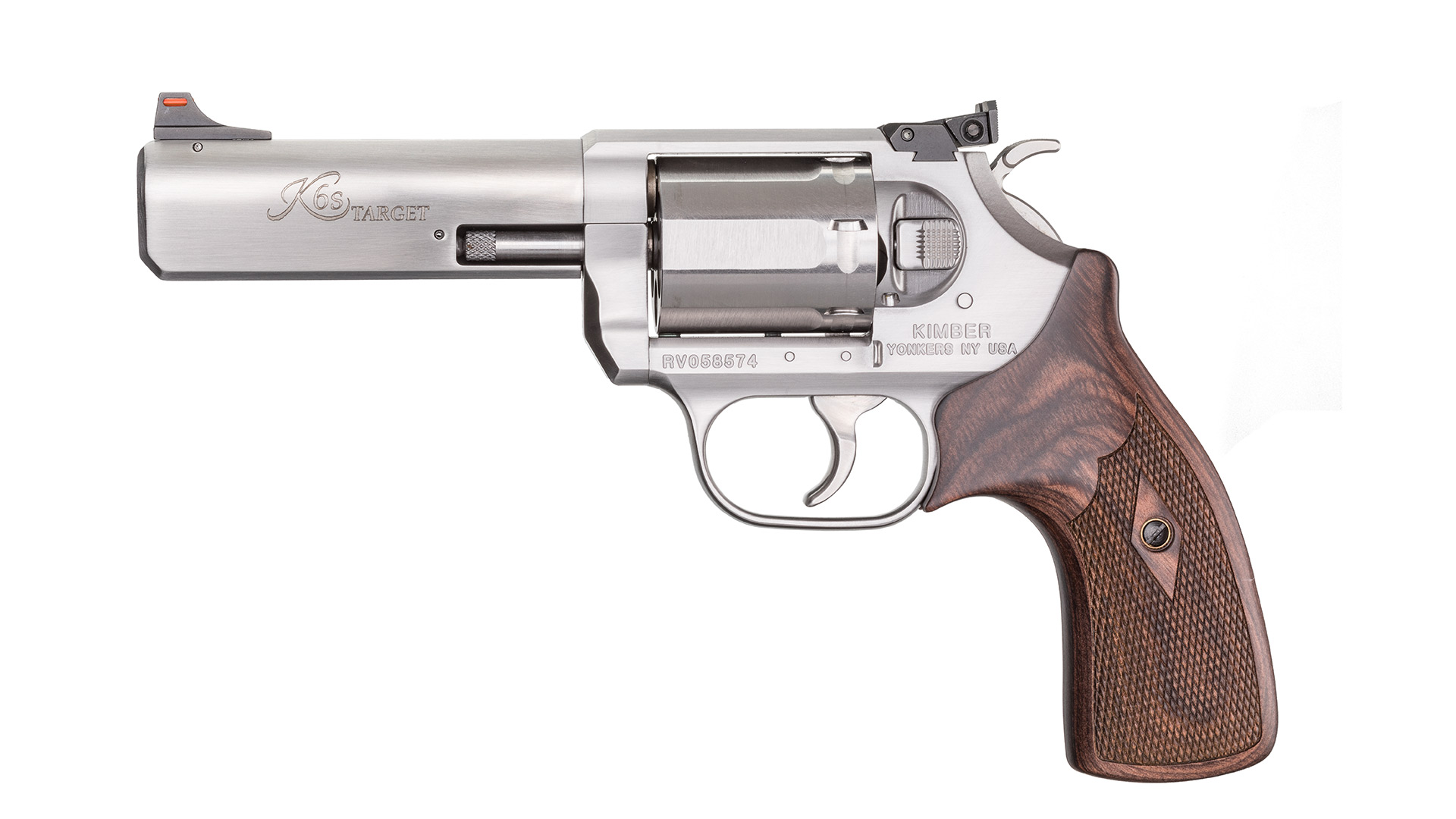 The Gun
Constructed from stainless steel and built on the same frame and cylinder size, the Kimber K6s DASA Target 4-inch ($1,046, kimberamerica.com) differs in ways that will interest those who may want a revolver suitable for competition, as well as personal defense.
The gun sports an unobtrusive exposed hammer and allows both DA and SA operation. The barrel has been lengthened to 4 inches and includes a full-length underlug. Grips are walnut with diamond checkering that leave the serrated backstrap exposed while covering the front strap.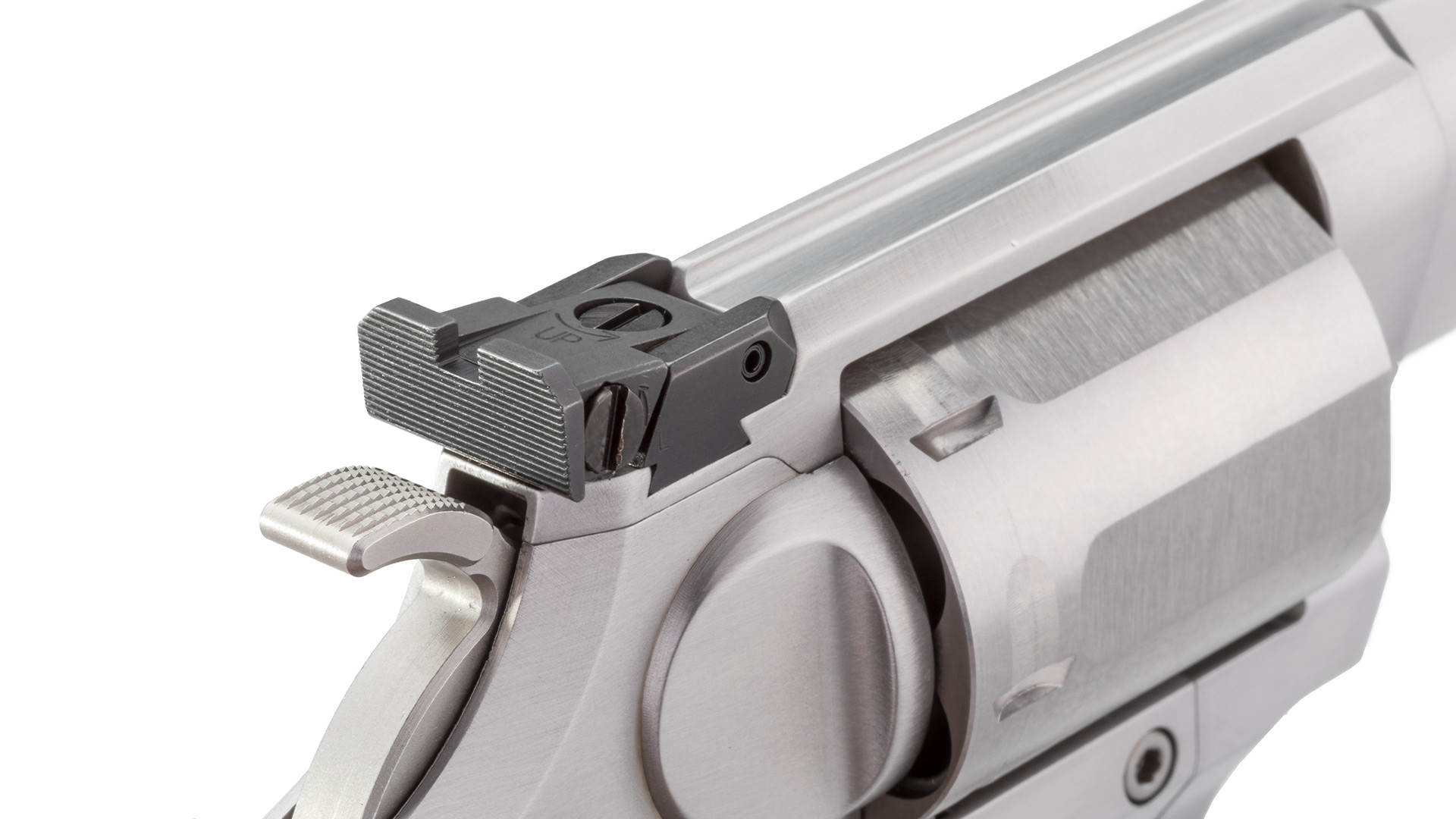 Sights consist of a Bomar-style adjustable rear with a plain serrated black blade, and a pinned front ramp with a fiber-optic insert. Red or green FO rods are offered, and the FO rod appears to be a 0.040-inch diameter. It's easily replaceable and 0.040-inch rods are readily available in a variety of colors. Sight radius is 6.1 inches.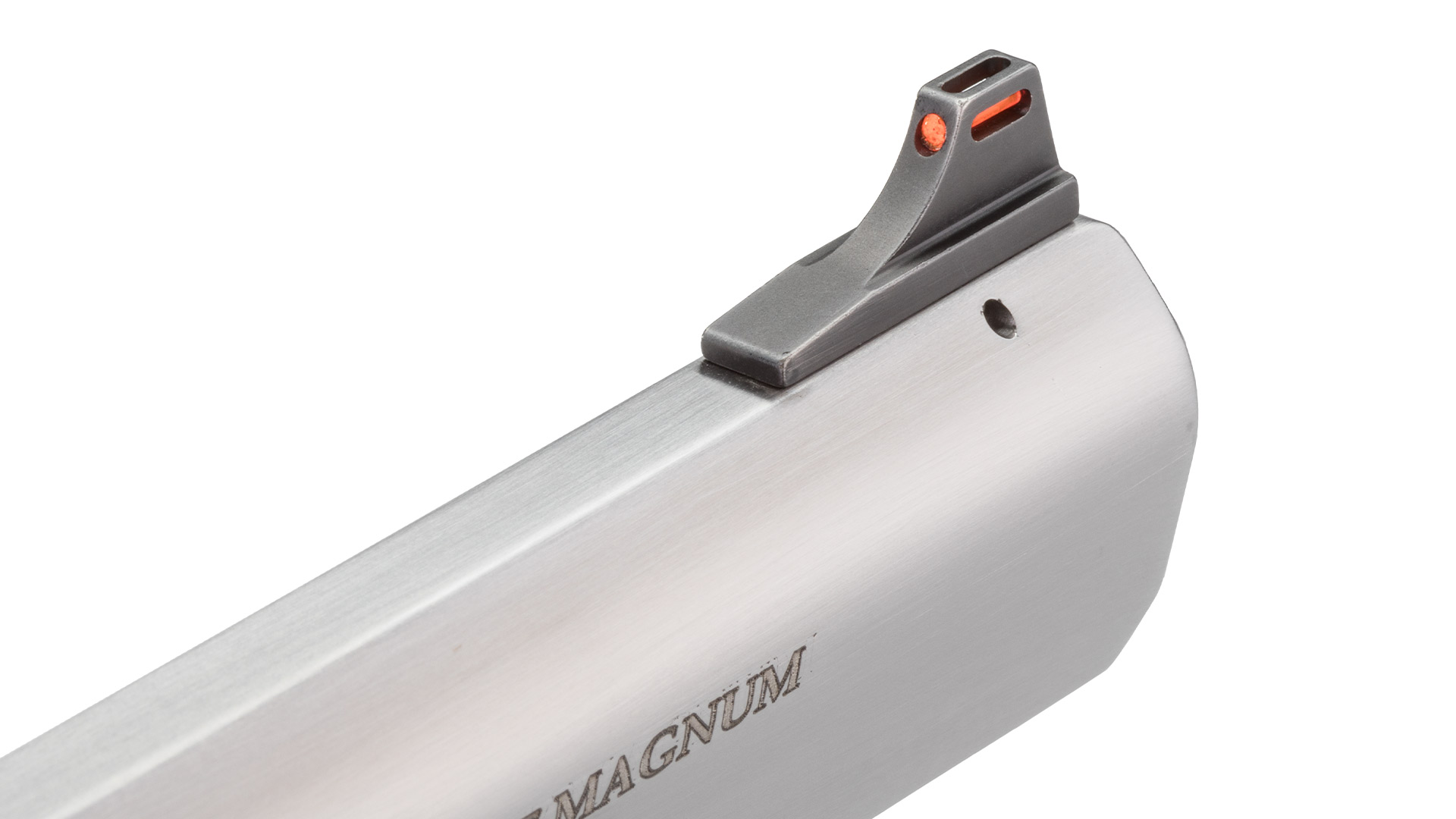 These refinements increase the empty weight to 29 ounces, with a height of 5.25 inches, overall length of 8.62 inches and a maximum width of 1.39 inches. The DASA Target ships with a trigger lock, instruction manual and a foam-lined pistol rug.
On the Range
Taking the gun out of the box, I gave it an inspection and did a little dry firing. The cylinder opens by pressing inward (in the same manner as the Ruger GP-100), which I find to be simple and positive. The recessed chambers showed some degree of polishing, which is an aid in ejecting the fired cases.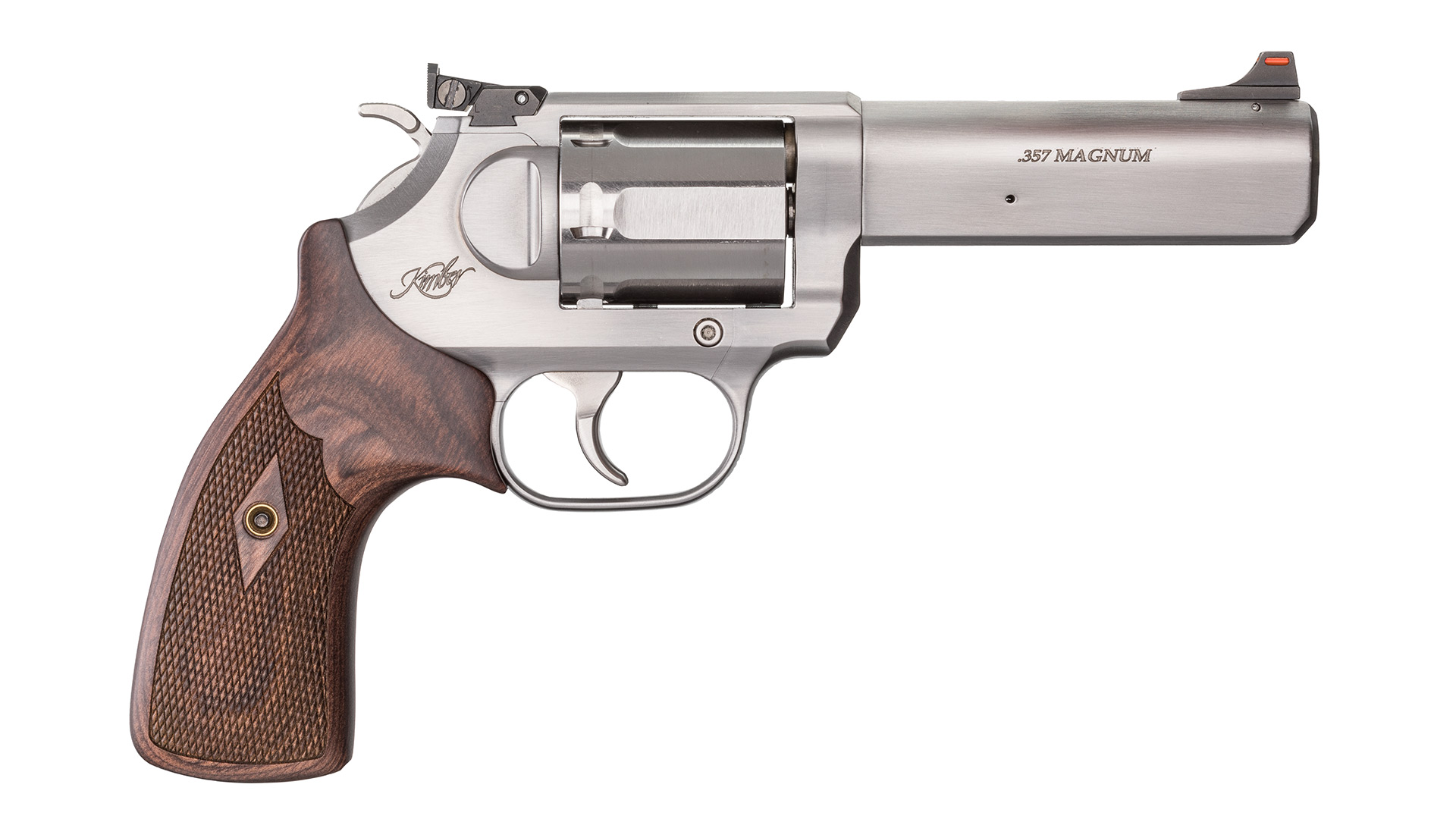 Although the grips are slender, they allowed my average-size hand to achieve a full three-finger grip and placed the web of my hand high on the backstrap—exactly where I want it for recoil control. The DA trigger pull was very smooth, and felt lighter than other revolvers coming from the factory. I also found it easy to stage the trigger. That creates a light SA trigger pull without the need to shift the grip to manually cock the gun. The trigger was smooth and properly radiused for DA work. My Lyman gauge showed the SA pull to be 4.23 pounds, and the DA pull at 11.7 pounds.
As has been the norm during much of 2020 (and likely to continue this year), the test ammunition selection consisted of what I had on hand and not what I preferred to test. I like to test factory loads but only managed to dig up some broken boxes of factory .38 Spl. that covered part of the range of bullet weights I wanted. They were Speer Lawman 158-grain TMJ +P, Winchester Super Match 148-grain wadcutters and Aguila 130-grain FMJ. There were not enough of these to do much more than accuracy testing. Fortunately, I had a plentiful supply of my normal .38 Spl. match load—a 160-grain RN Bayou Bullets Hi-Tek coated lead slug at 770 f.p.s. That became the go-to load for the handling drills and match use.
While I normally prefer to test match-grade loads, the compact size of the DASA Target makes it a viable option for personal protection. I decided to include a couple suitable loads in that area and found some Hornady .38 Spl. 110-grain FTX Critical Defense +P. For .357 Mag., I included the load that I use in my nightstand revolver—Speer's 135-grain Gold Dot Short Barrel .357 Mag.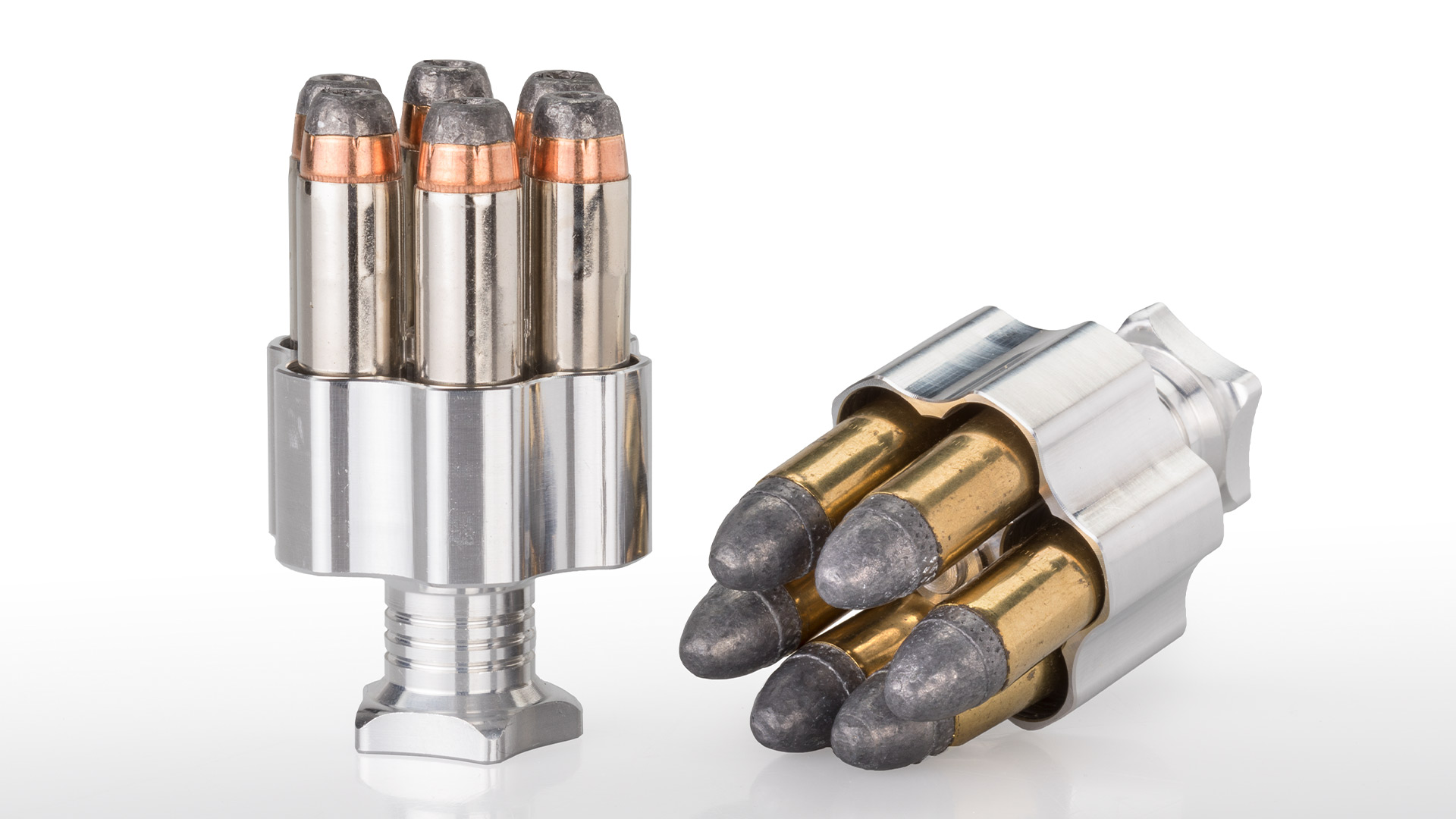 In competition, speedloaders are a mandatory accessory for a DA revolver. But the small cylinder size on the Kimber ruled out my L-frame competition loaders and I did not have any K-frame models on hand to try, although I suspect they would be too big. Fortunately, Kimber offers a speedloader for the K6s series line. The lightweight speedloaders are gravity-fed and machined from aluminum. Kimber included enough for me to shoot an IDPA match, and while I prefer spring-powered loaders for competition, these loaders impressed me. They were smoothly-machined, and the rounds fit loosely enough to prevent sticking upon release. There was also some wiggle in the rounds, which let them easily find their appropriate chamber after one round hit the mark. I liked the fact that the release knob turns to the left. Since I use a strong-hand reload, that has the empty loader moving in the proper direction to discard as I close the cylinder.
I found a suitable holster and moved to my backyard range. The precise rear sight zeroed the gun quickly from a 25-yard rest with the Bayou handload. I then set up three IDPA targets and from seven to 25 yards began running a variety of drills that included Double Taps, Transitions and a few El Presidentes, along with some weak- and strong-hand work.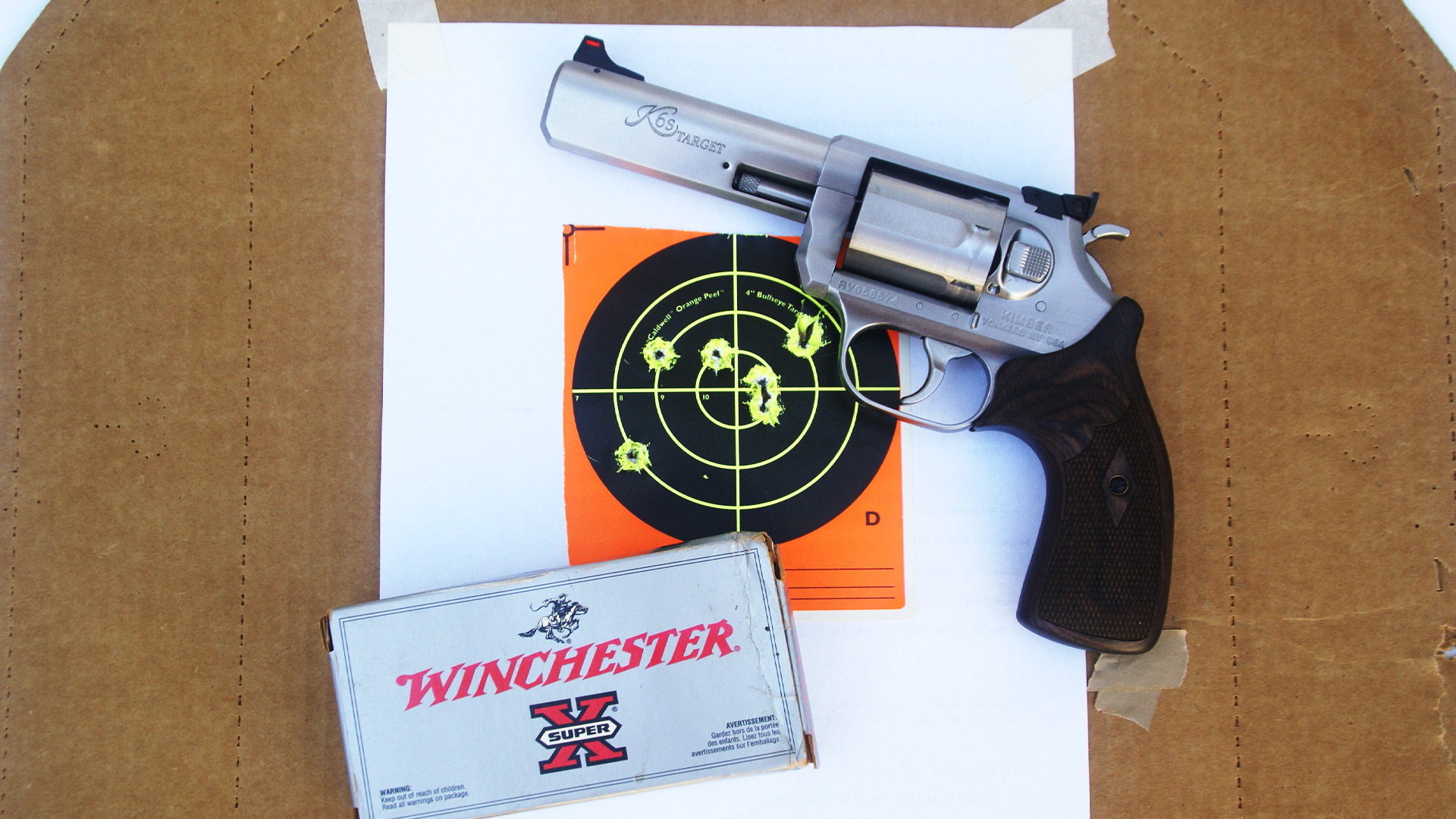 During that 200 rounds, there were no malfunctions. The sights presented a crisp sight picture, and the smooth double-action trigger made DA work easy. Ejection was smooth and positive. The ejector rod stroke cleared about 80 percent of the .38 Spl. cases from the chamber, and the smooth polish in the chambers took care of the rest. The lively handling qualities reminded me of the S&W Model 19 that I toted daily in my previous life.
Accuracy testing was next, and the results show more than enough accuracy for self-defense or action-pistol competition. As one might expect from a lightweight revolver, the recoil from the +P .38 and .357 Mag. loads was brisk. But the grips provided positive control and did not shift in my hand.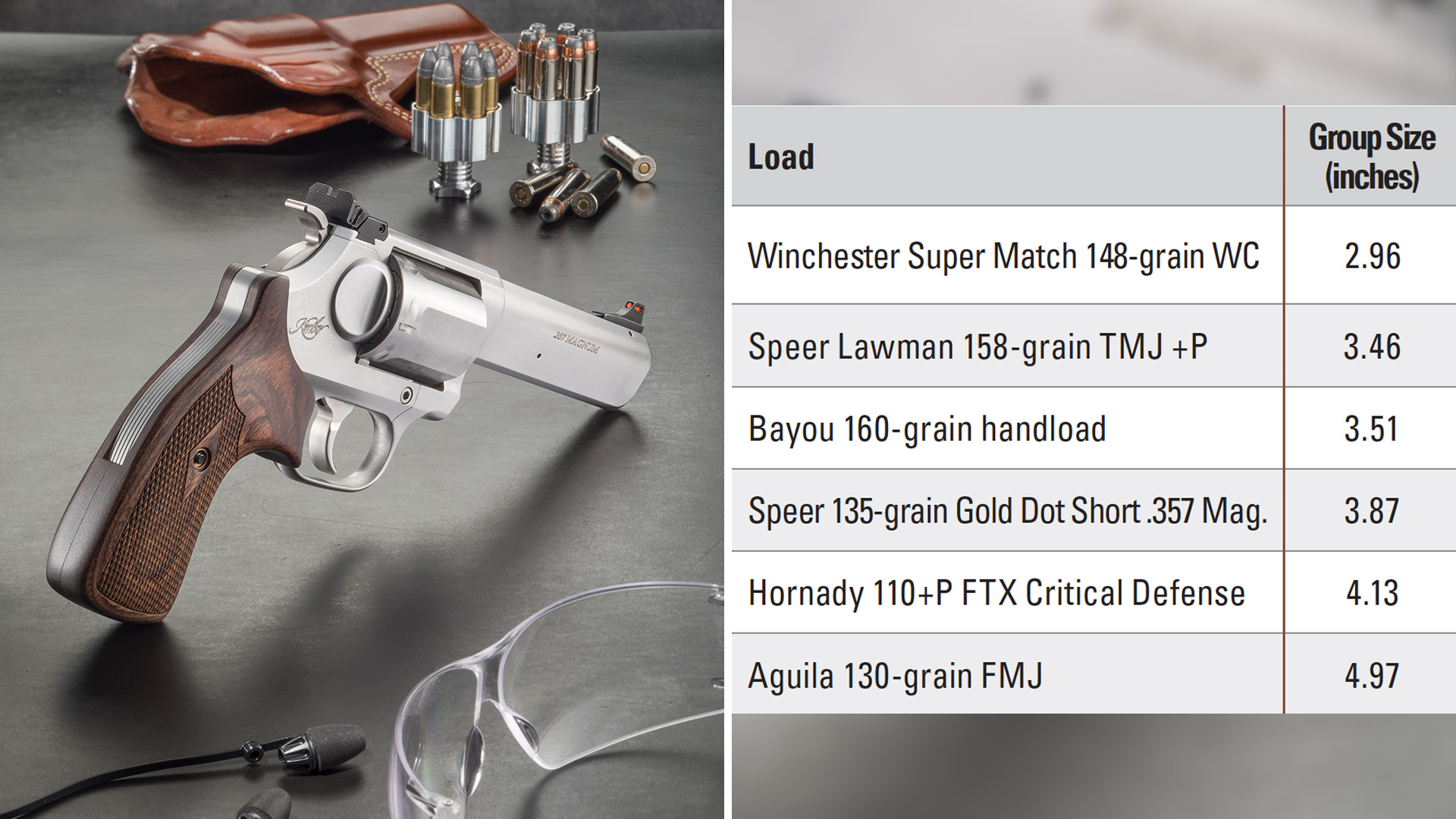 I gave the gun a cleaning and was ready for an IDPA match. Unfortunately, rain canceled the only match available before deadline, but I did manage to get to my club for a Steel Challenge practice day. The smooth DA trigger and crisp sight picture nailed targets easily, and even the long, small plates on Pendulum weren't safe.
The K6s DASA Target is an interesting option for those who might want a gun that can not only be used to protect the home—but also shoot an action-pistol match with a quick load change.

Featured Gear

Photos by Forrest MacCormack.
---
Read more:
Review: Browning Buck Mark Plus Vision