There's really no excuse for a filthy firearm, especially in competitive shooting. If you don't know where to start, work your way through these tried-and-tested gun cleaning tips. And, if you have a new gun, some of these tips will help get it ready for competition. When all is said and done, your gun will function properly, and will probably be more accurate. Grab your favorite solvent, patches, rods and brushes, start cleaning and you'll see what we're talking about.
Give your new bolt-action rifle a bath.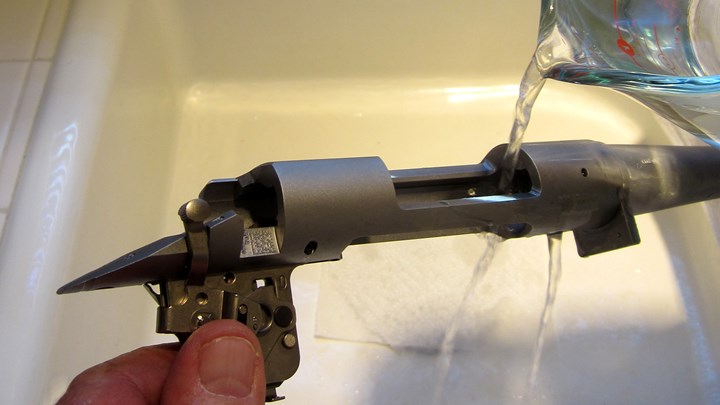 In this article, author Jim Shults outlines his process on how to get a brand new bolt-action ready for shooting. When it leaves the factory, a production rifle usually has some gunk remaining in the barrel. This method involves using boiling water for a near pristine bore without using abrasives.
Unboxing your new pistol.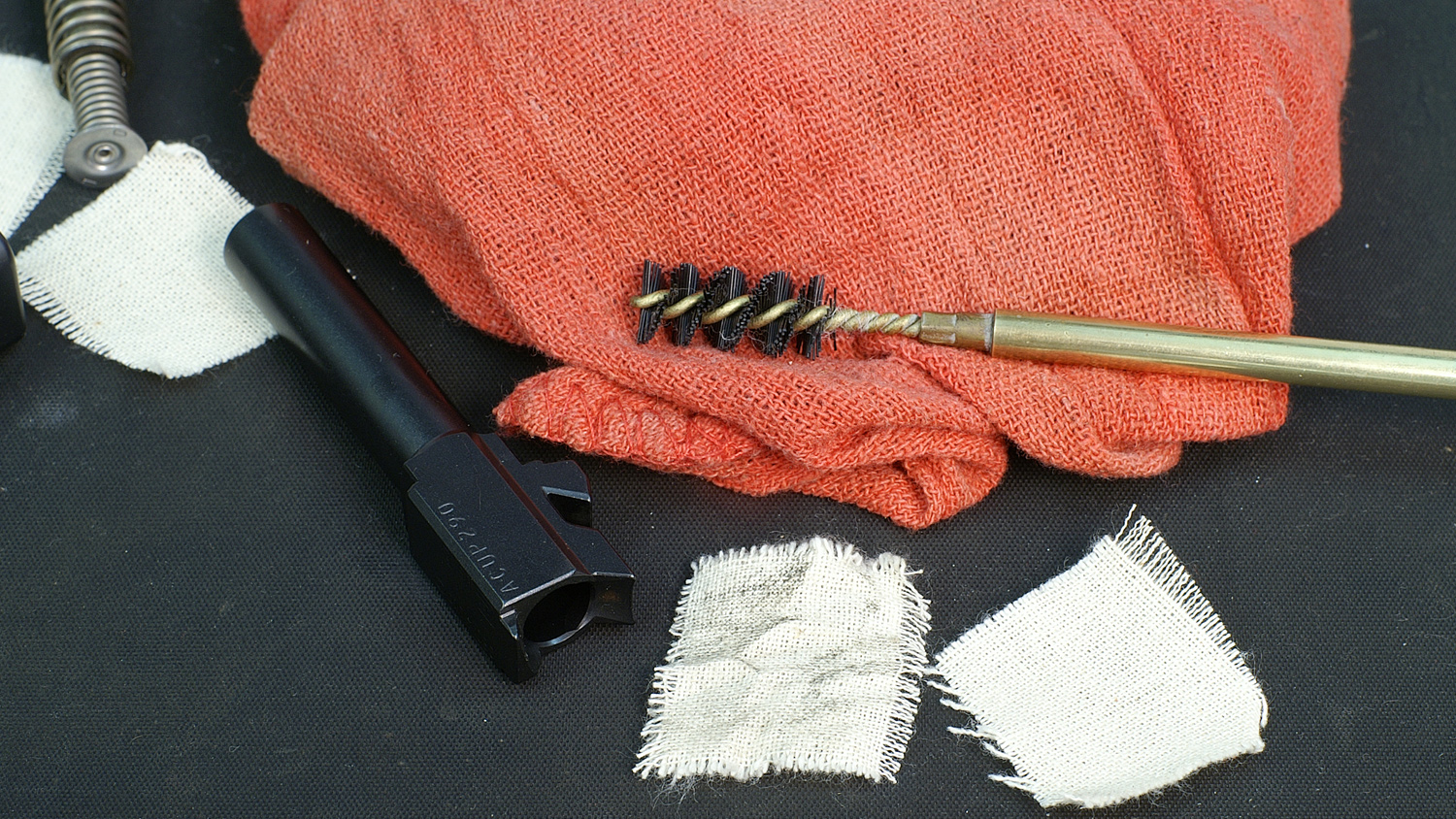 Pistol owners should know it's best not to take that shiny new gun straight to the range for a 100-round torture test. Savvy shooters will give their new pistol a once-over after taking it out of the box. A thorough cleaning isn't necessary, but it's smart to remove any corrosion inhibiters the manufacturer may have included, as well as any small particles left over from test-firing. Author Glen Zediker shares his methodology for unboxing a new pistol in this article.
All about barrel break-in.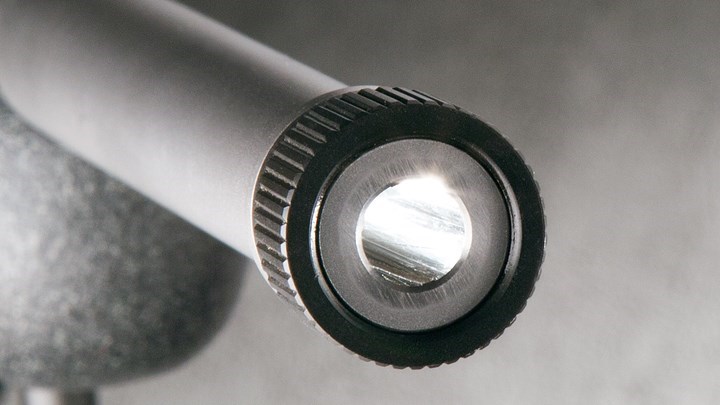 This is one subject that shooters have differing opinions on, especially if you pay attention to online chatter. The truth is that barrel break-in is a simple and straightforward procedure, with the goal of removing imperfections left over from the drilling and rifling processes. Plus, the barrel break-in process will smooth the interior surface, as well as provide a longer life with better performance. For the basics, read this article by Glen Zediker.
How often to clean a smallbore rifle?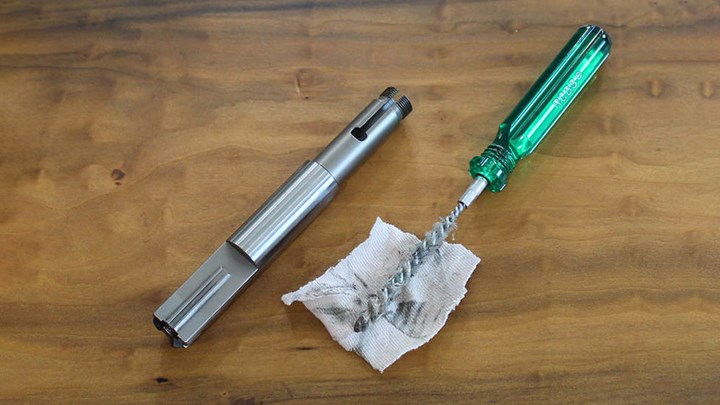 A .22 LR rifle brings its own nuances to maintenance. The late Lones Wigger had very strong feelings about smallbore rifle cleaning, and lucky for us, he shared his opinions on how often a smallbore rifle should be cleaned in this article (the answer is after every box of ammunition). Although reading the article provides more details, this anecdote from Wigger sums it up.
"When I started shooting unacceptable groups at 100 yards, I got up, cleaned the rifle, and returned to shoot two tight 10-X groups, about a third of the size of the groups I had been shooting. That's pretty convincing evidence that barrels need to be cleaned."
Clean your cleaning rods and use top-quality patches.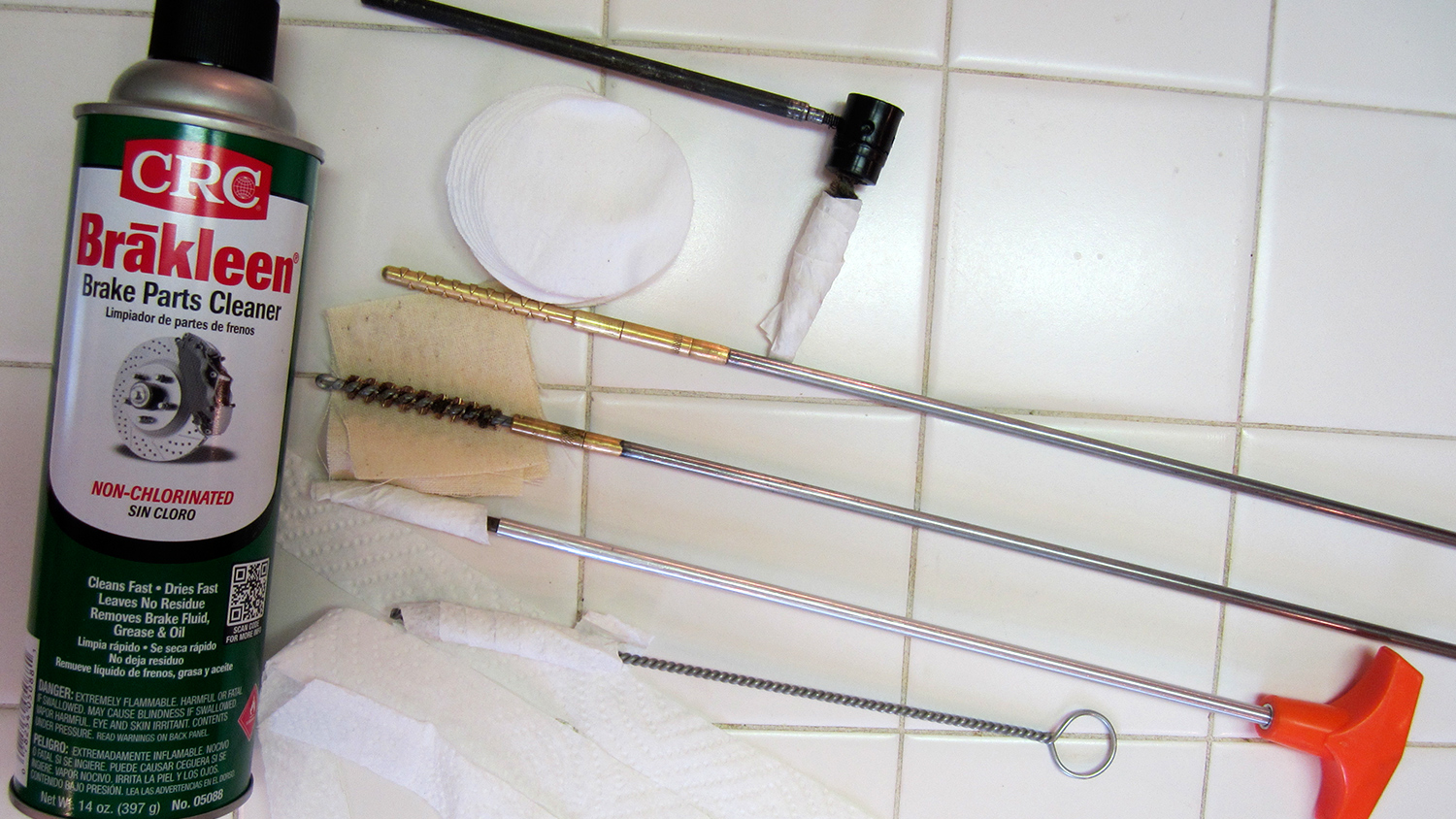 One overlooked aspect of firearm maintenance is keeping your cleaning tools pristine. A dirty tool isn't very effective. Author Jim Shults shared a tip in this article on how to keep cleaning rods spotless and brush bristles clean by using spray brake cleaner and a paper towel. He repeats this process after every brushing.
Some shooters opt to use cut-up white T-shirts as patches. While this can be economical, a better route is to purchase one of the many options available from companies such as Brownells and Hoppe's. Good gun cleaning patches are more absorbent and will scrub better than a T-shirt patch. They're also fairly inexpensive, and come in many shapes and sizes.
Cleaning an air gun barrel?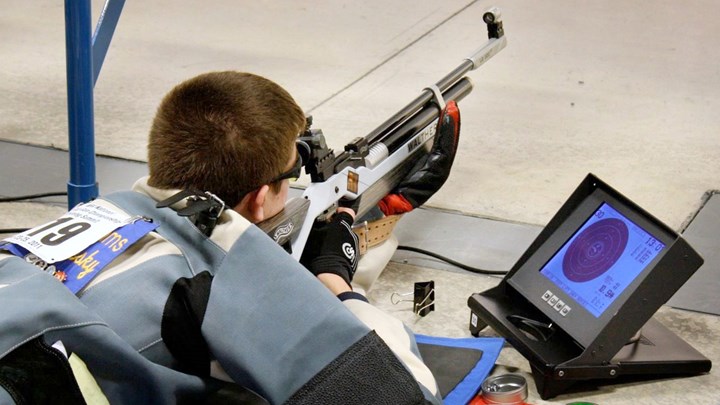 There is some debate on this issue, but Scott Pilkington says in this article that the answer is, in a nutshell, no. According to his findings, there was no real improvement in accuracy after cleaning an air gun barrel.
"Air guns don't generate any real heat, nor do they have dirty powder residue like firearms. I have tested many air guns for pellet accuracy and, occasionally, found one that does not shoot well. I tried cleaning the barrel, looking for improvement, and it seldom helps." 
How to power clean revolver chambers.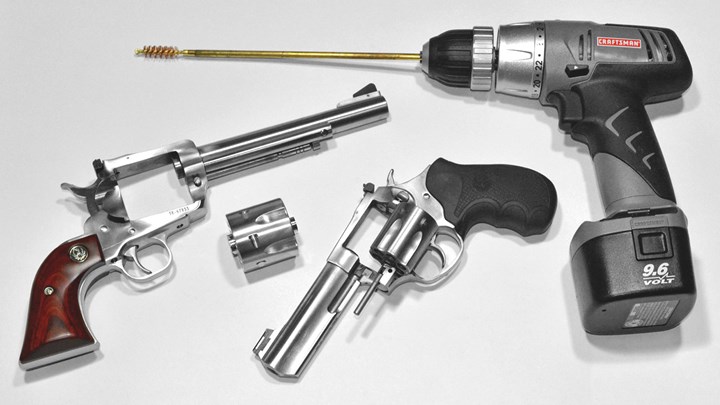 Removing carbon fouling from revolver chambers can require a lot of elbow grease. One way to save your arms is by grabbing your power drill and sticking a cleaning rod in it (carefully). Author Brad Miller shares his tips on this slick way to keep revolver chambers clean in this article. Remember, do not use this technique on your barrel.
Use Hoppe's foaming bore cleaner on your M1 Garand.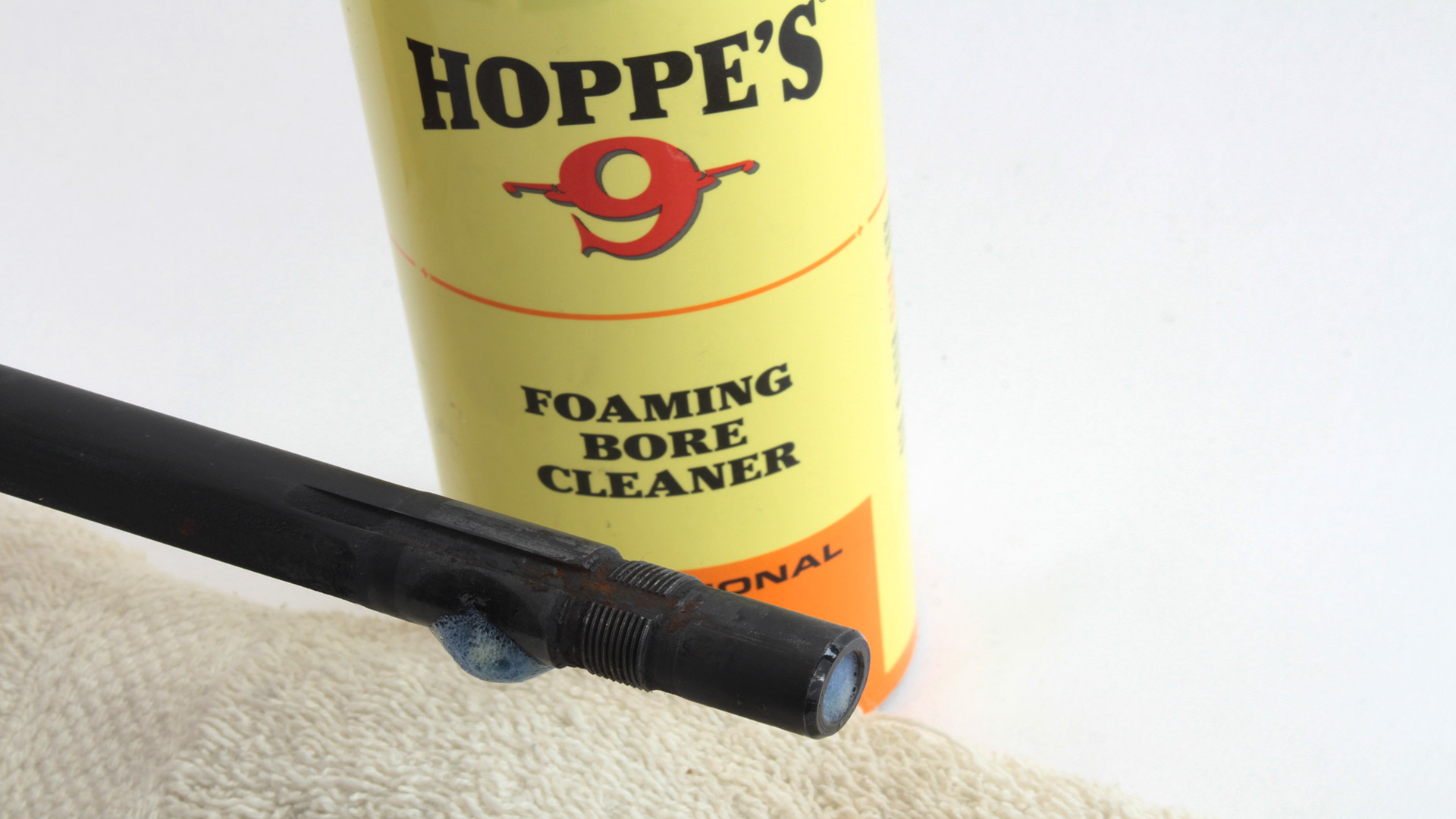 Although this popular cleaner includes a warning to avoid using it with guns that have a gas system, Hoppe's foaming bore cleaner is quite easy to get out of the M1 Garand rifle. In this article, author Frank Melloni explains how the foam will clean the gas system parts as it expands through the gas port and if still attached, the gas cylinder.
"Most of the time, I fill the barrel with foam, and let it sit while I field strip. This gives it extra time to work, and simultaneously the foam works its way into the gas system and removes carbon fouling."
Don't use anything made of steel for cleaning.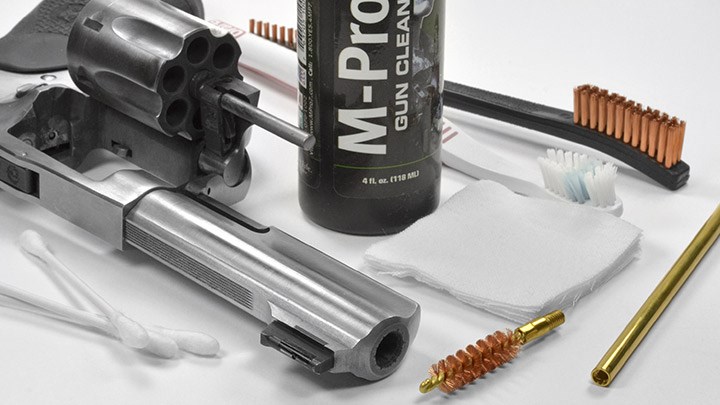 There are many reasons to avoid using steel brushes or cleaning rods on your gun. For starters, steel can scratch surfaces and dull the rifling in your barrel. Author Brad Miller recommends using brass brushes and cleaning rods as noted in this article, where he also shares a few other pistol cleaning tips. Brass is durable and effective, yet soft enough that it won't scratch steel, making it desirable for cleaning tools.
Frequency of rifle bore cleaning and accuracy.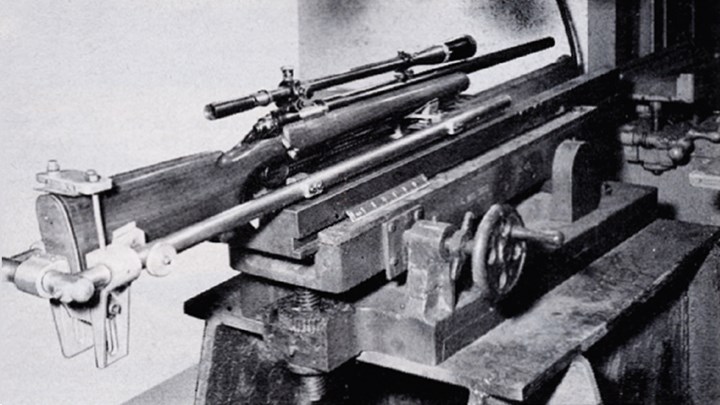 This classic tip comes from the June 1965 issue of American Rifleman magazine. Actually, it's more of an example of conflicting advice. In this article, author L.F. Moore shares his findings after testing four rifles with 3,800 rounds. Contrasting with Mr. Wigger's advice about smallbore rifle cleaning found above, Moore stated that, "Except when the rifle has been exposed to adverse weather, it appears advantageous to clean the bore of the .22 rimfire rifle only infrequently." On this subject, we'll stick with the top Olympic rifle shooter and medalist's advice.
---
See more:
Rules For Using Or Storing A Gun