Support NRA Shooting Sports USA
DONATE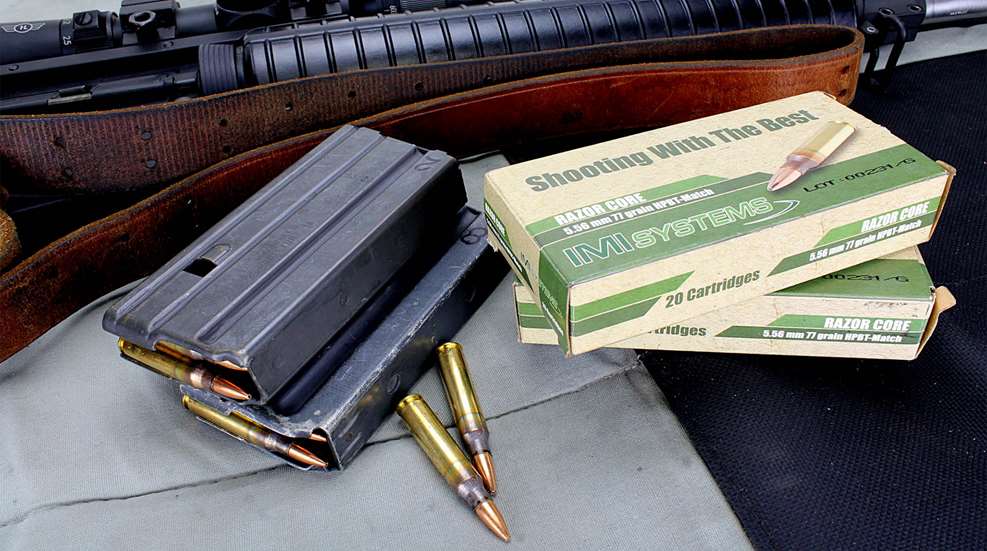 There was a time, before Madonna became "classic rock" and MTV still played music videos, when we might see a competitor at the 600-yard line with factory ammo and we'd think to ourselves, "I reckon he's here just for the fun—he can't score using that stuff." How times have changed since then.
Today's factory match-grade centerfire ammunition has improved so much over recent years that much of it no longer takes a back seat to skillfully crafted handloads. That's a great development for competitors who prefer to focus on shooting rather than handloading, and perhaps the increased availability of match-grade ammo offerings has attracted new shooters who might otherwise not be participating because they don't want to handload. Here's a sampling of what's available today for precision rifle shooters.
BERGER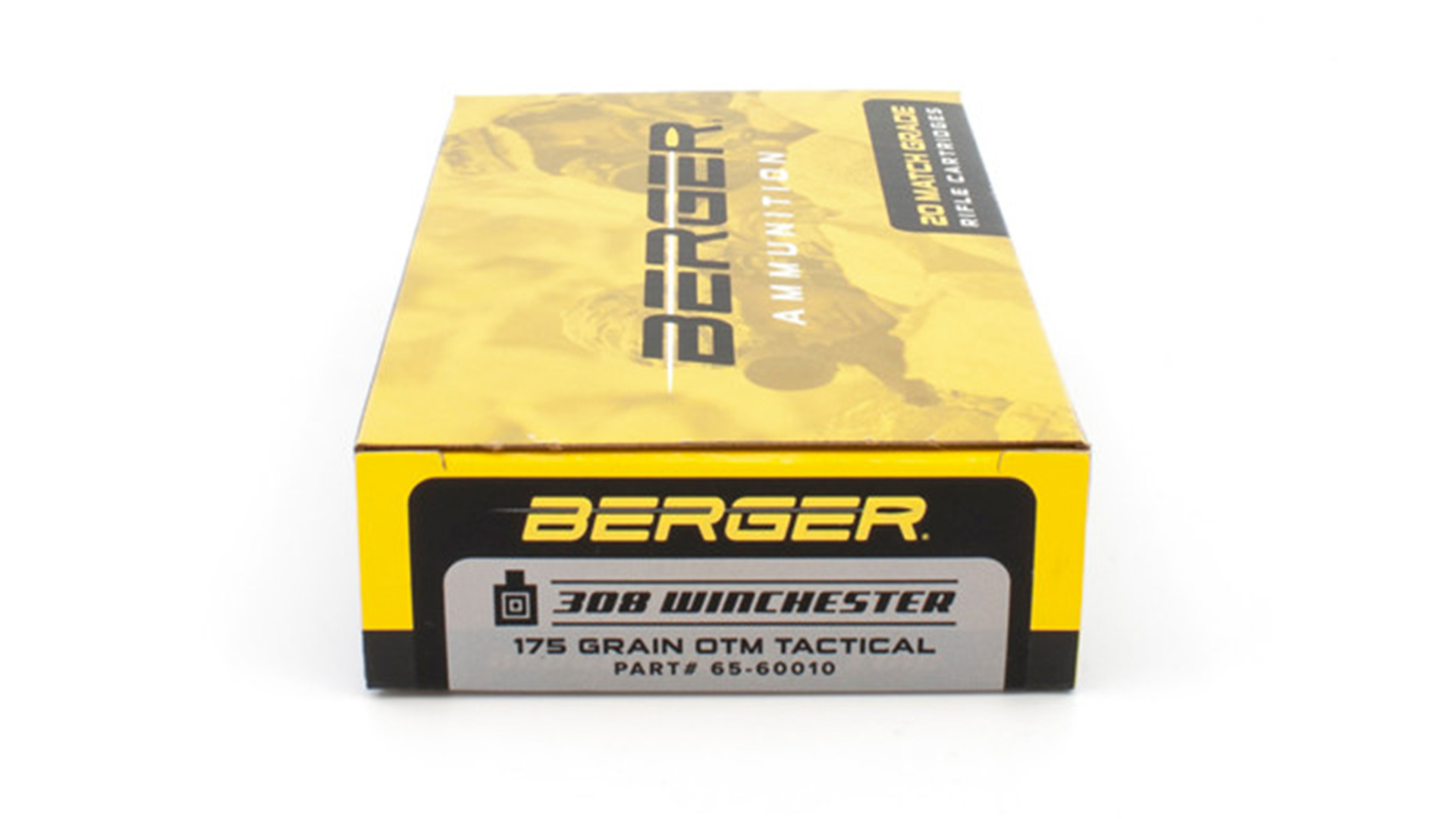 Competitors have been shooting Berger's outstanding bullets for decades, and today many are finding that Berger Bullets' loaded ammunition maintains the company's reputation for extreme precision. Berger offers .223 Rem., 6 mm Creedmoor and 6.5 mm Creedmoor in its Target lineup, starting at about $40 retail per 20-count box, but the Tactical line is worthy of consideration for competition as well. In my own recent testing, Berger's .308 Win. 175-grain OTM Tactical ammunition grouped five shots into a half-inch at 100 yards, into two inches at 200 yards, and shot a 100-4X at 600 yards on the NRA MR-1 target, which sports a 12-inch 10-ring. Pretty good for ammunition that doesn't even have the moniker "Match" attached to it. Go to bergerbullets.com.
BLACK HILLS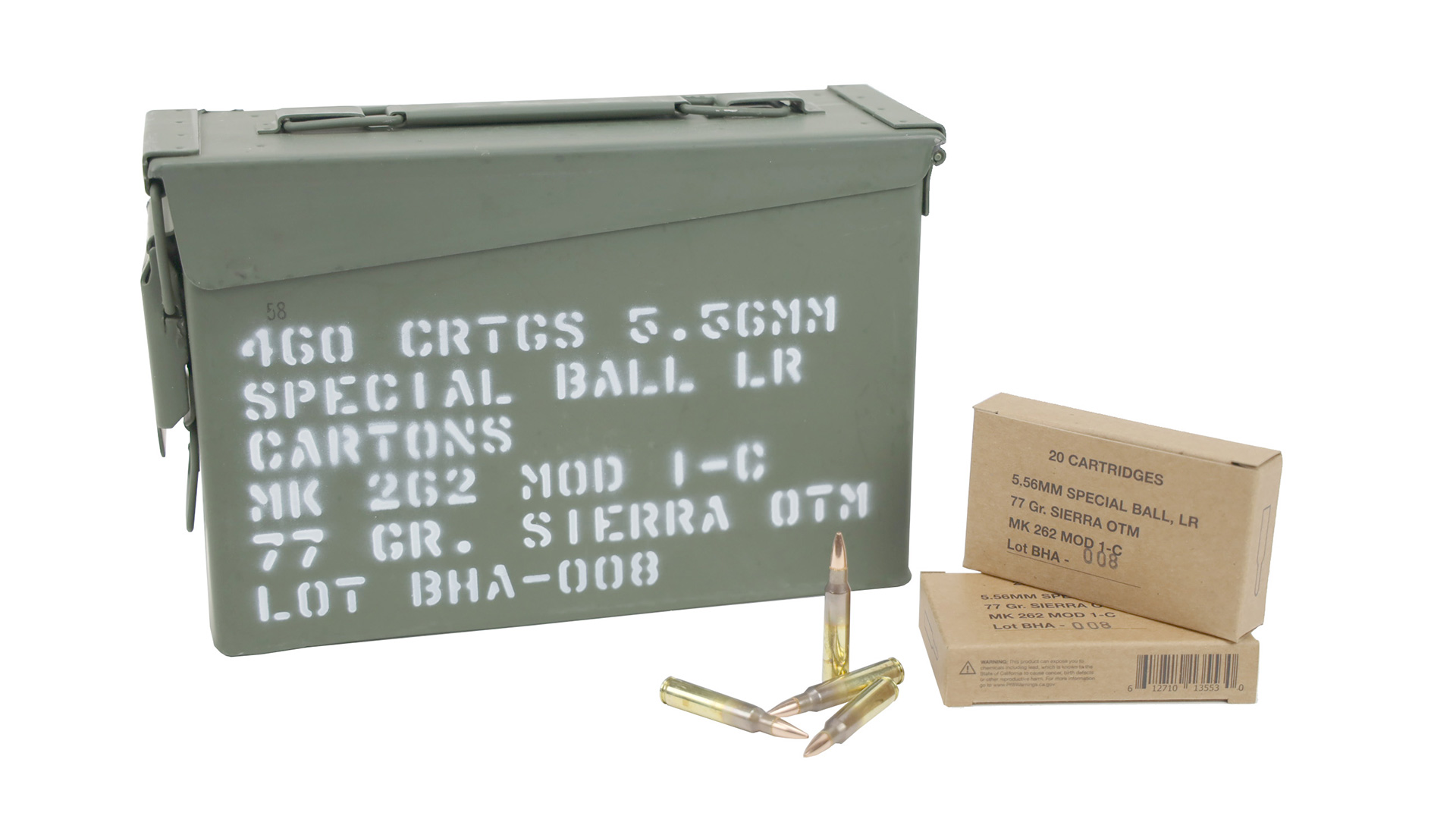 Developed for the U.S. Navy more than 20 years ago as a precision round, Black Hills offers the MK262 MOD1-C 5.56x45 cartridge to civilian shooters as well. Launching a 77-grain hollow-point bullet at 2,750 f.p.s. from Lake City brass, these rounds shoot best in rifles with a twist rate of at least 1:8-inch. Creedmoor Sports sells MK262 MOD1-C in a 460-round can packed in 20-round cartons for $638.95. Lot testing results in two-inch groups at 300 yards—0.64 MOA—or it won't receive the label. Priced at $1.39 per round, that's confidence at a discount. Go to creedmoorsports.com.
FEDERAL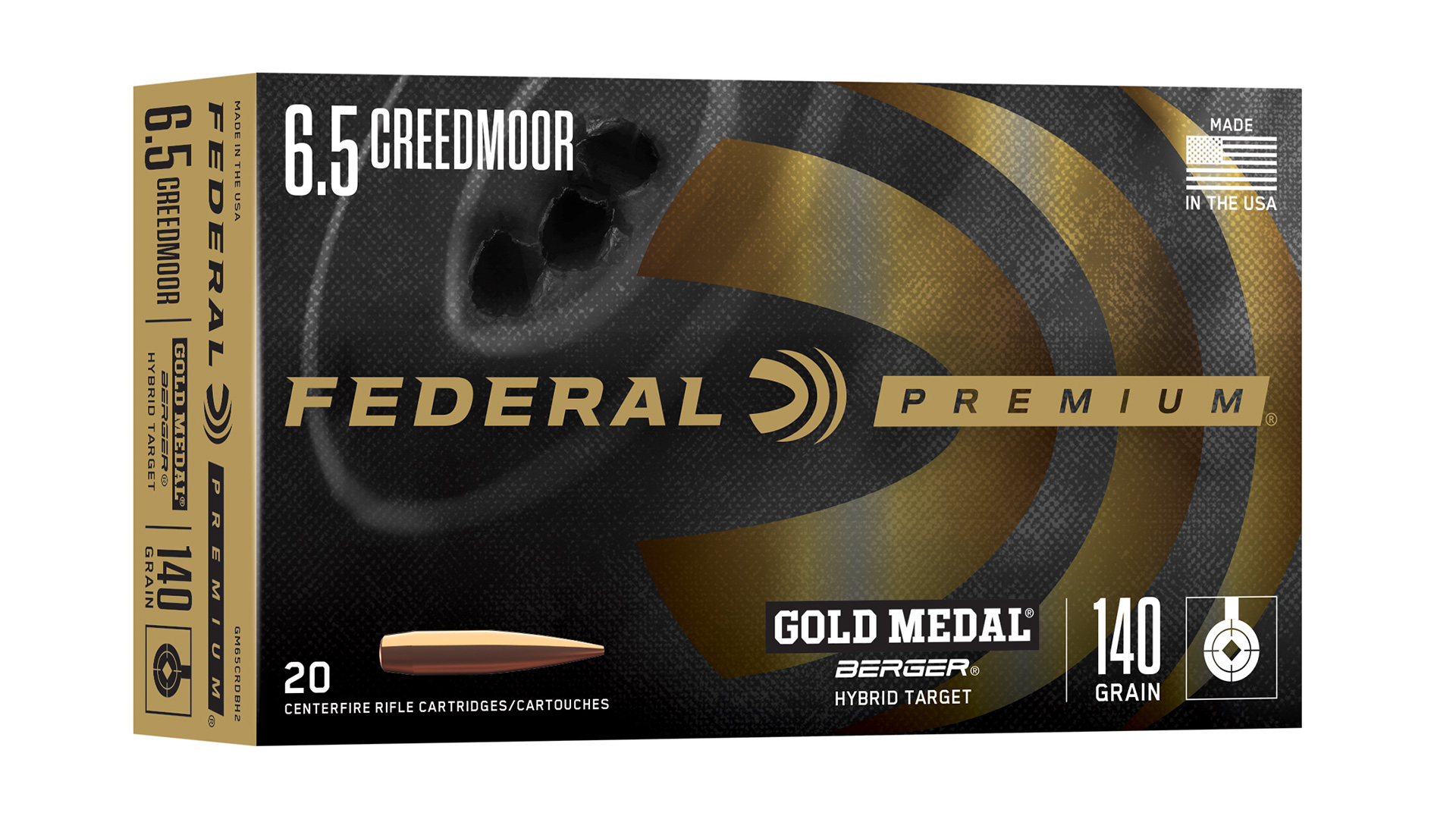 Federal features Berger or Sierra MatchKing bullets in its Gold Medal series of match-grade ammunition, loaded in calibers ranging from .223 Rem. to .338 Lapua Mag. Included is .300 Norma Mag., topped with a 215-grain Berger Hybrid bullet. MSRPs for 20-round boxes of Federal Gold Medal run from $37.99 for 69- or 77-grain .223 Rem., to $157.99 for .338 Lapua Mag. In March, shooting buddy Jason Hook and myself took first place at the 2023 CMP Western Games Vintage Military Sniper Rifle Team Match using .30-'06 Sprg. Federal Gold Medal in M1941 USMC sniper rifles at 300 and 600 yards—trust me when I say that it's good stuff. According to the Federal website, Gold Medal is currently available in all but a few offerings as of this writing. Go to federalpremium.com.
HORNADY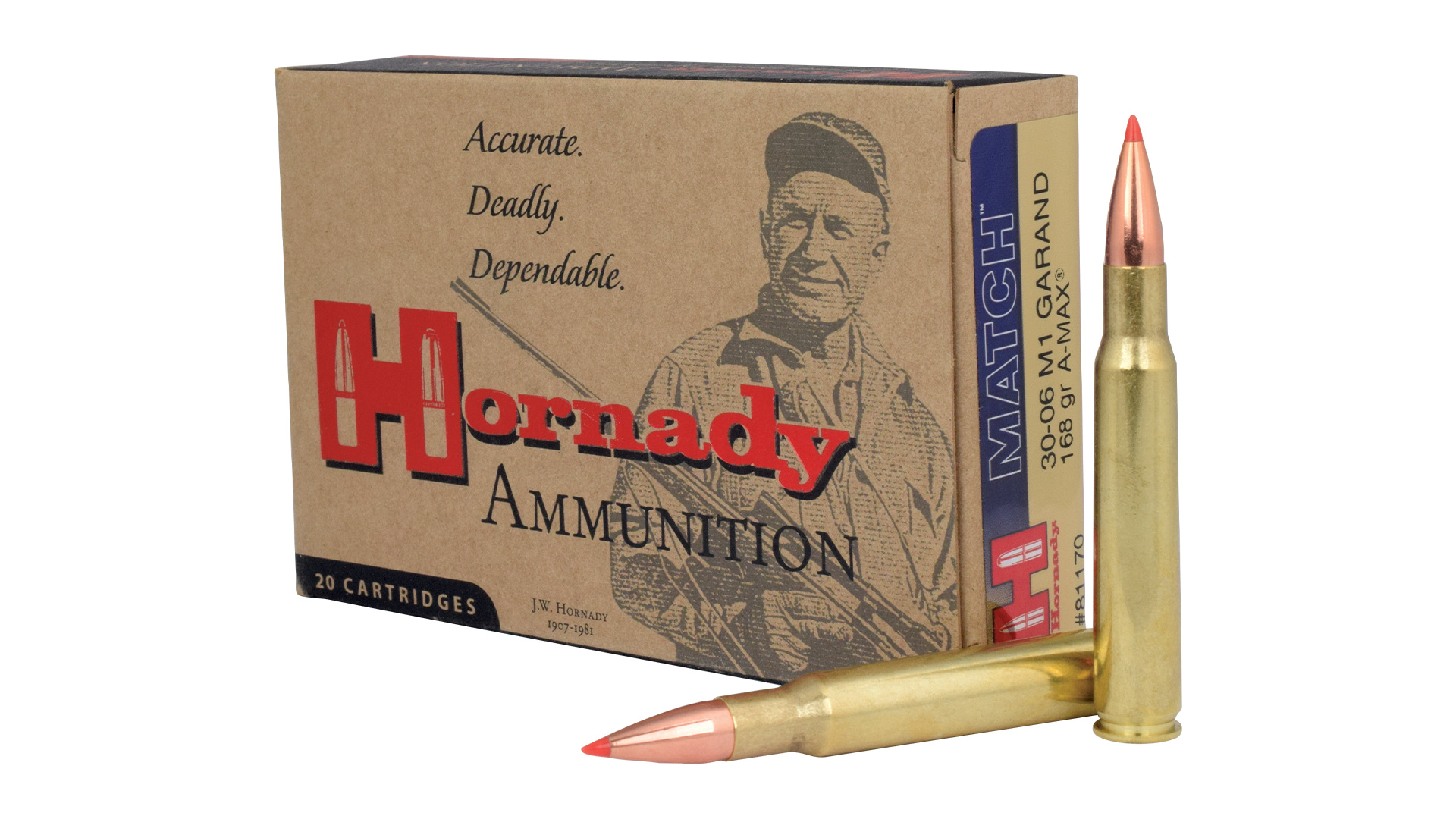 Hornady continues to turn out new and better ammunition every year, and its lineup of match cartridges is the most comprehensive in the industry, spanning everything from .223 Rem. to .50 BMG. Among those not universally offered by other ammo makers, Hornady lists .224 Valkyrie, 6 mm ARC, .260 Rem., 6.5 PRC, 7 mm PRC, .300 Win. Mag. and .300 PRC. In addition, Hornady has two Superformance Match offerings, a 75-grain, boat-tailed hollow-pointed .223 Rem./5.56 mm NATO, and a .308 Win. 168-grain ELD (extremely low drag) Match. But it doesn't take the word "match" in Hornady ammo to deliver match-grade precision. From a match rifle, Hornady .308 Win. Precision Hunter 178-grain ELD-X grouped sub-MOA at 100 yards for me, one MOA at 200 yards and, fired on a warm desert day of boiling mirage, it held the 10-ring well in scoring a 98-1X at 600 yards. Note that's from Hornady's hunting line of ammunition. Go to hornady.com.
PRVI PARTIZAN (PPU)
Serbian manufacturer Prvi Partizan has competition-grade ammunition in its Match Line offering that includes .223 Rem., .308 Win., 6.5x55 Swedish, 7.62x54R, 8x57JS (8 mm Mauser) and .338 Lapua. The retail price on the .223 Rem., with 69- or 75-grain HPBT bullets, runs $17 to $20 per box online. Go to prvipartizan.com.
IMI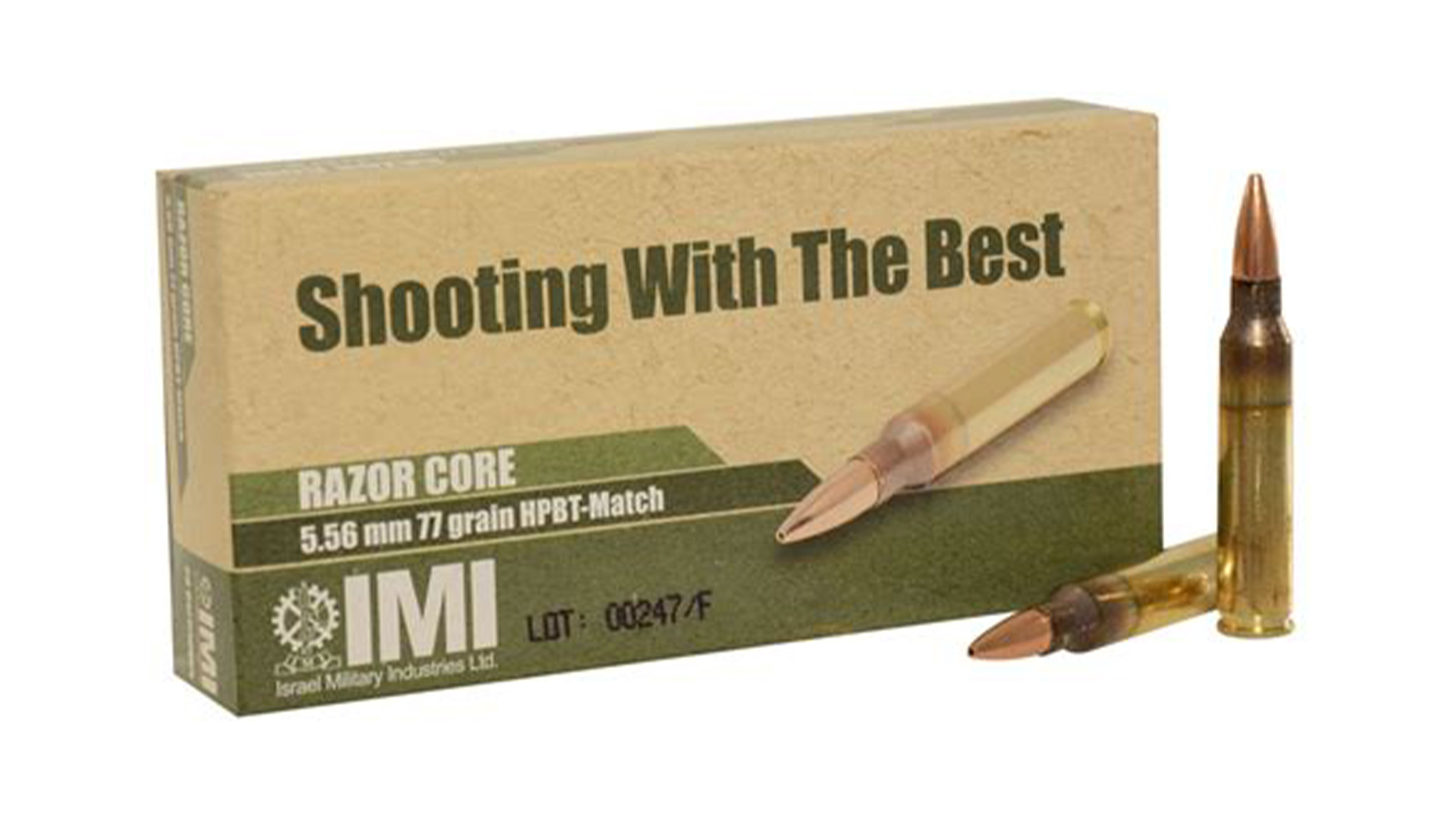 Loaded with a 77-grain Sierra MatchKing HPBT bullet, IMI Razor Core 5.56x45 ammunition from Israel Military Industries has earned a reputation for across-the-course accuracy among NRA High Power Rifle competitors. The comparatively heavy bullet, started at 2,740 f.p.s., requires a barrel with a 1:7-inch twist rate to ensure stability. Necks and primers have a military-style sealant, and cases are Boxer primed and annealed. Retail price at this writing is a bargain at 93 to 97 cents per round, readily available at MidwayUSA. Go to midwayusa.com.
REMINGTON PREMIER MATCH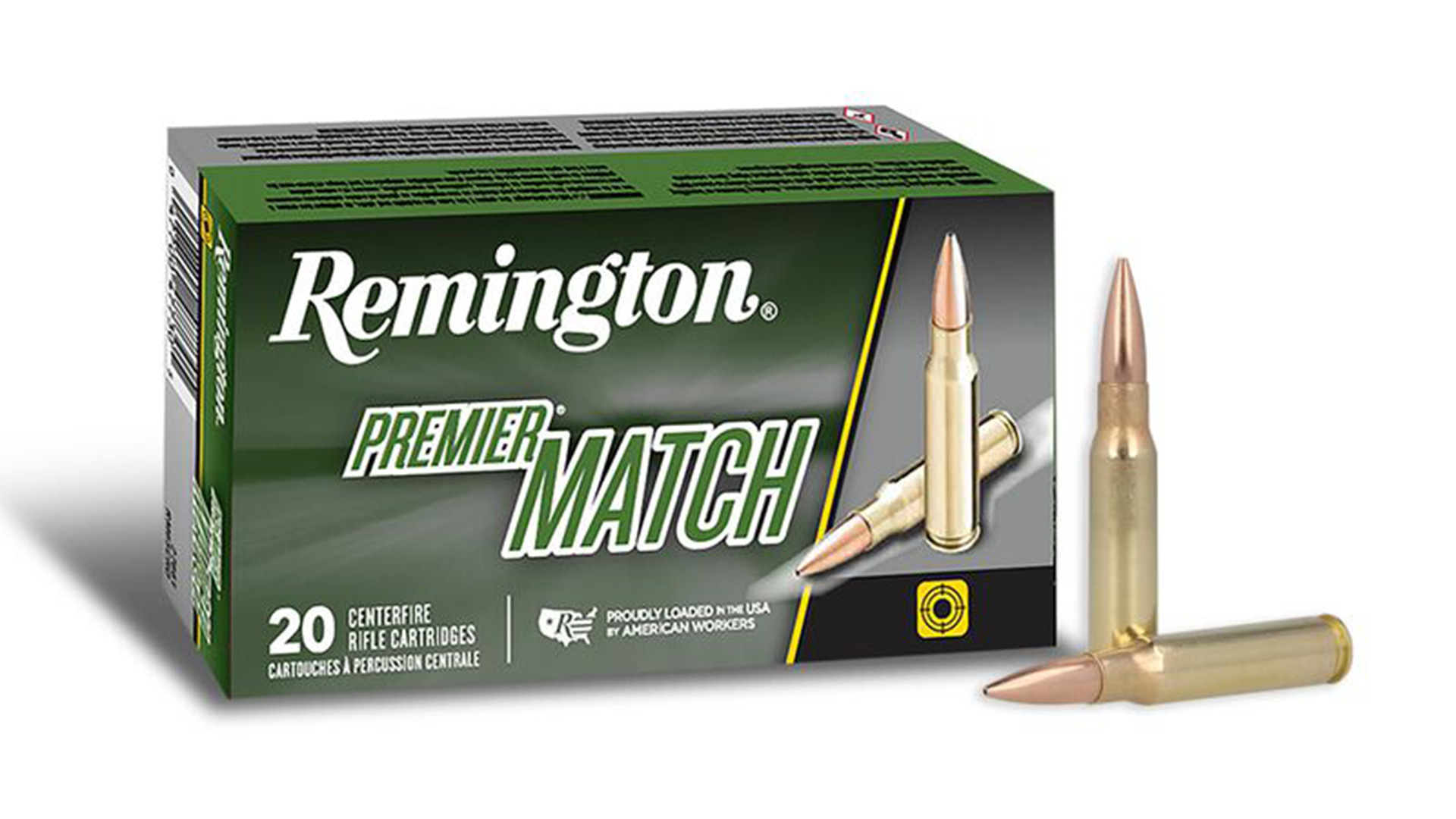 Except for its .223 Rem. offerings, Remington Ammunition loads Sierra MatchKing or Berger OTM (Open Tip Match) bullets in its Premier Match line. In addition to .223 Rem., Premier Match caliber offerings include .224 Valkyrie, 6 mm Creedmoor, 6.5 Grendel, 6.8x43 SPC, .300 Blk. and .308 Win. In my own testing, Premier Match .308 Win. 175-grain MatchKing BTHP shot 0.6 MOA at 100 yards, sub-MOA at 200 yards, and scored a 98-1X at 600 yards on the NRA MR-1 target. MSRPs for 20-round boxes run from $35.99 to $53.99, depending on caliber. Go to remington.com.
SIERRA AMMUNITION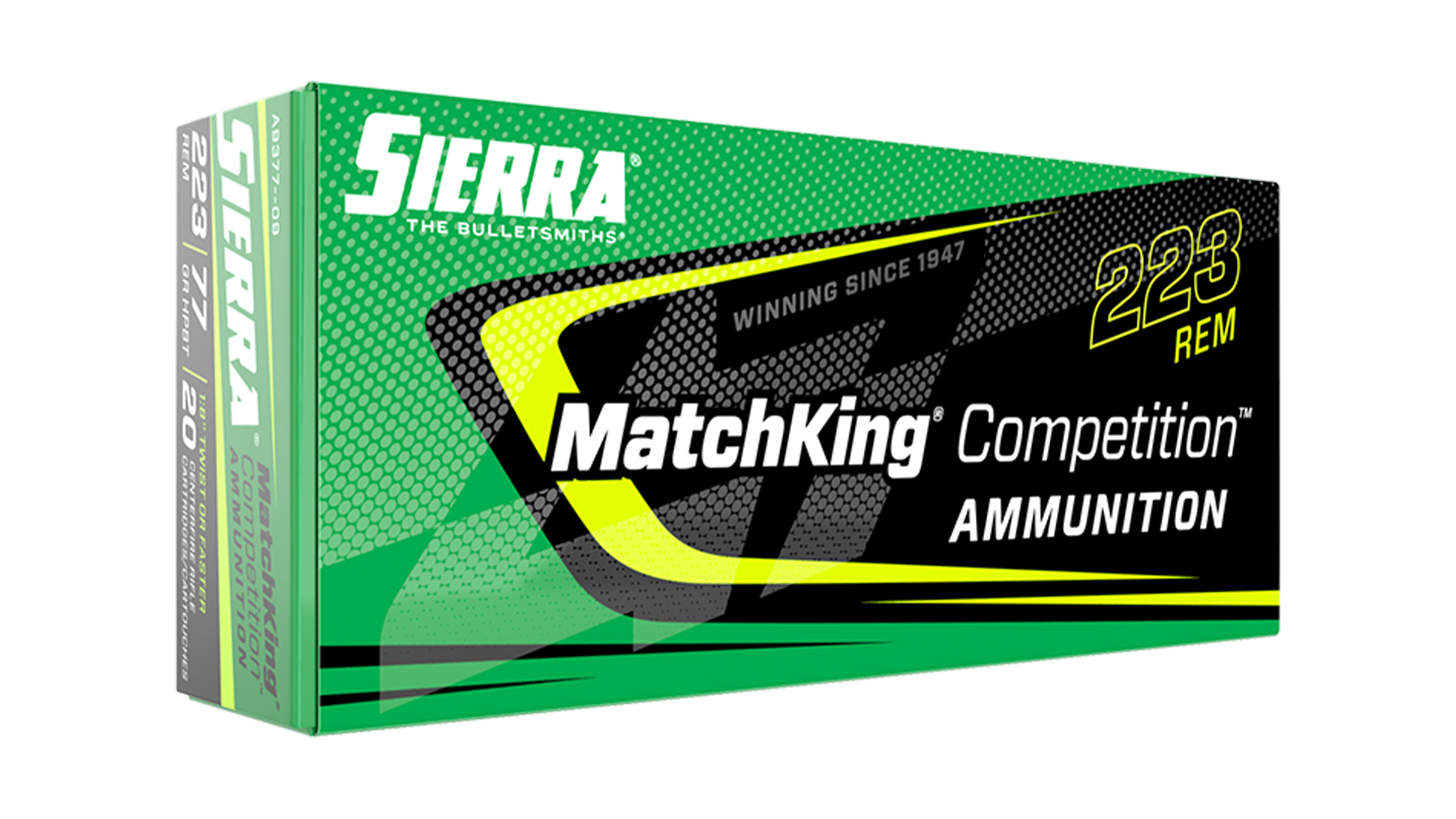 Sierra MatchKing bullets have been common in competition for seemingly forever. The company recently branched out into making loaded ammunition, and it's no surprise that it's offering MatchKing Competition ammunition in the most popular rifle competition calibers. All, of course, feature MatchKing bullets. The two .223 Rem. offerings are loaded with 69- or 77-grain bullets, 6 mm Creedmoor has a 107-grain bullet, 6.5 mm Creedmoor has the 140-grain MatchKing, and .308 Win. features 168-grain and 175-grain bullets. All but the 6.5 mm Creedmoor are in-stock and available from Sierra Ammunition, with prices running from $39.99 to $54.99 per 20-round box. Go to sierrabullets.com.
VINTAGE MILITARY RIFLE AMMO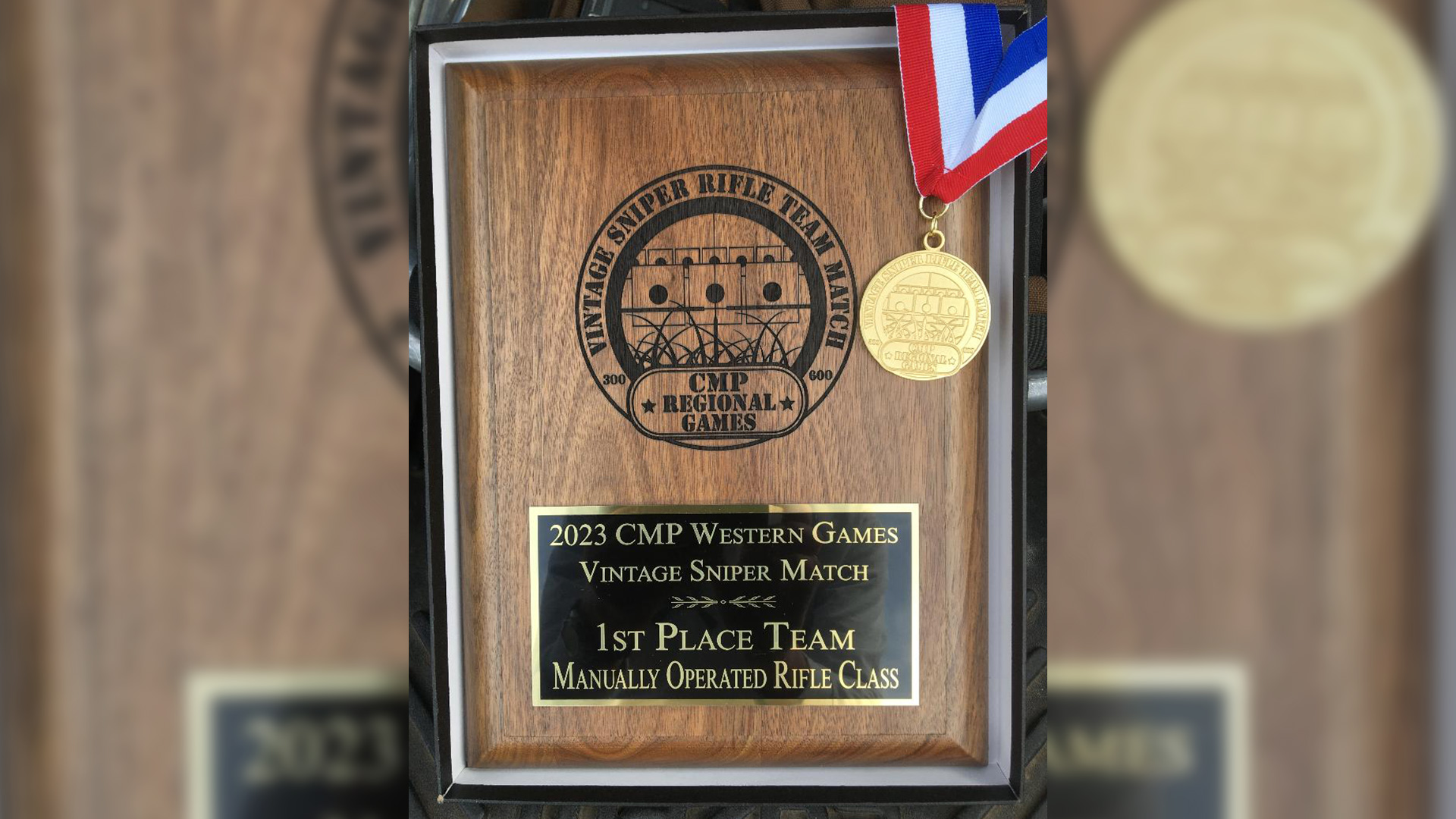 Those who compete in CMP Vintage Military Rifle (VMR), Springfield and John C. Garand matches know that match-grade ammo can sometimes halve groups sizes from the old war horses, and .30-'06 Sprg. 168-grain ELD M1 Garand in Hornady's Vintage Match line has been a favorite for years among competitors shooting the M1 Garand. The Vintage Match line also has an 8x57JS 196-grain BTHP loading for the Model 98 Mauser and its derivatives.
Winchester's new M1 Garand ammunition is a replica of U.S. Army M2 Ball, a 150-grain full-metal jacket bullet at a muzzle velocity of 2,740 f.p.s. and a 50,000 p.s.i. chamber pressure that is kind to the Garand rifle's gas system and op rod. Retail price is about $44 per 20-round box. Federal also has American Eagle .30-'06 Sprg. cartridges tailored to the M1 Garand, but it is currently unavailable, according to the company website. Neither is claimed to be match grade, but may shoot exceptionally well in your Garand, especially on reduced-size targets at 100 yards.
Though not purported to be match-grade ammo, Prvi Partizan manufactures cartridges for a good number of rifles eligible for VMR competition. Several of these are difficult to find, and others, such as 7.65 Argentine for those excellent Mausers, are nearly impossible.
In addition to 7.65 Argentine, PPU offers 6.5x55 Swedish, .303 British and 7.5x54 French. Prvi Partizan also loads an M2 Ball replica, the .30-'06 Sprg. cartridge with lower chamber pressure suitable for the M1 Garand's gas system. One online resource for these cartridges is Aim Surplus, 20-round boxes run from $22 to $30, depending on the caliber.
Here are three things to keep in mind about VMR competition ammunition. First, VMR is fired at a short 200 or 100 yards, and so match-grade ammo isn't absolutely necessary unless you're absolutely set on winning. Second, Prvi Partizan brass is Boxer primed and therefore readily reloadable. Finally, Prvi Partizan ammo is imported, so it's a good idea to pick up plenty of the hard-to-find cartridges when available.