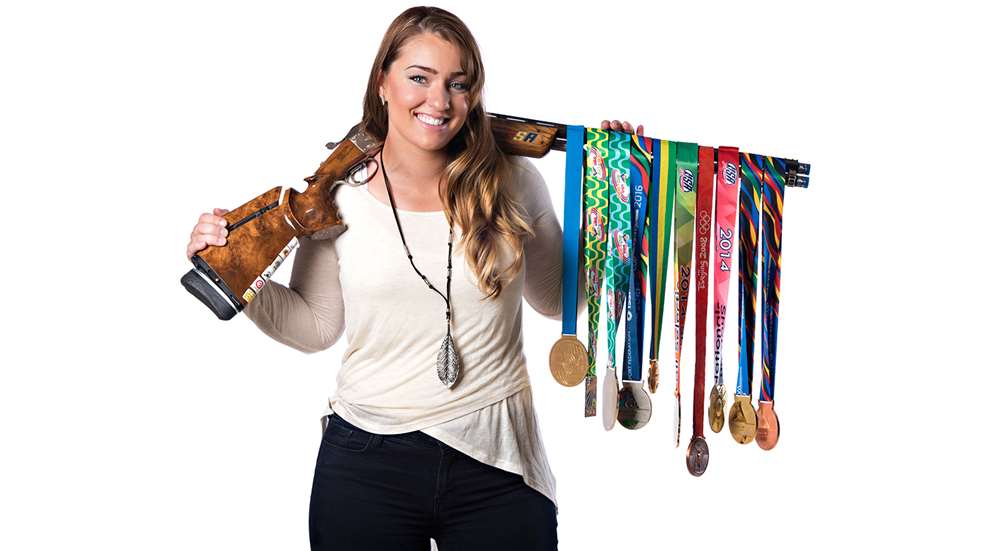 Medals have a special place in the Corey Cogdell-Unrein household. She stores them in a safe above her shotguns. The daily visit to pick up her trusty Krieghoff shotgun for practice gives her a chance to glance at them, a daily reminder of her goals. Today, another bronze touch was added.

Competing in her third straight Olympic Games in Women's Trap, Cogdell-Unrein, 29, of Eagle River, AK, now has two Olympic bronze medals. On a windy Sunday at Deodoro Shooting Center, she stood on the podium yet again, a mere shoot-off miss from placing higher. Tears and emotion flowed after earning the bronze medal—following a one-shot shoot-off with Spain's Fatima Galvez.

"In 2008, I was only two years into the sport and now I've put close to 10 years into it and I'm a much different athlete. Every athlete goes through the ups and downs and when you go out there and earn a medal, it just makes it so much more meaningful," Cogdell-Unrein said.

Her second Olympic medal puts her in elite company alongside teammate Kim Rhode as only the second U.S. woman to earn multiple Olympic medals in Shooting.

An Oceanian derby marked the gold medal match, where Australian Catherine Skinner beat New Zealand's Natalie Ellen Rooney, 12-11, to become the Olympic Champion. Skinner had to survive two shoot-offs to claim the moment as her own. She almost didn't make the semifinals, relying on a shoot-off win against Canadian Cynthia Meyer to place among the top six. Skinner would top Cogdell-Unrein after the two tied with 13 of 15 targets.

Cogdell-Unrein qualified fourth overall, hitting 68 of 75 targets. In the bronze medal match, Galvez and Cogdell-Unrein would tie with 13 of 15 targets. Cogdell-Unrein missed her fifth and 13th target. Galvez missed her third and 14th target.

Helping push Corey to the bronze medal result was her husband Mitch, who was unable to make the trip due to training camp obligations with the Chicago Bears. Mitch and his teammates showed support—with Bear's Kicker Robbie Gould outfitting the entire team in Team Unrein themed shirts. It didn't go unnoticed.

"My husband and I compete in almost everything we do together. We definitely push each other to achieve the next level," Cogdell-Unrein said. "I was truly touched to see his team, the Chicago Bears, coming together and supporting me personally and on social media."

Story and photo courtesy of USA Shooting.