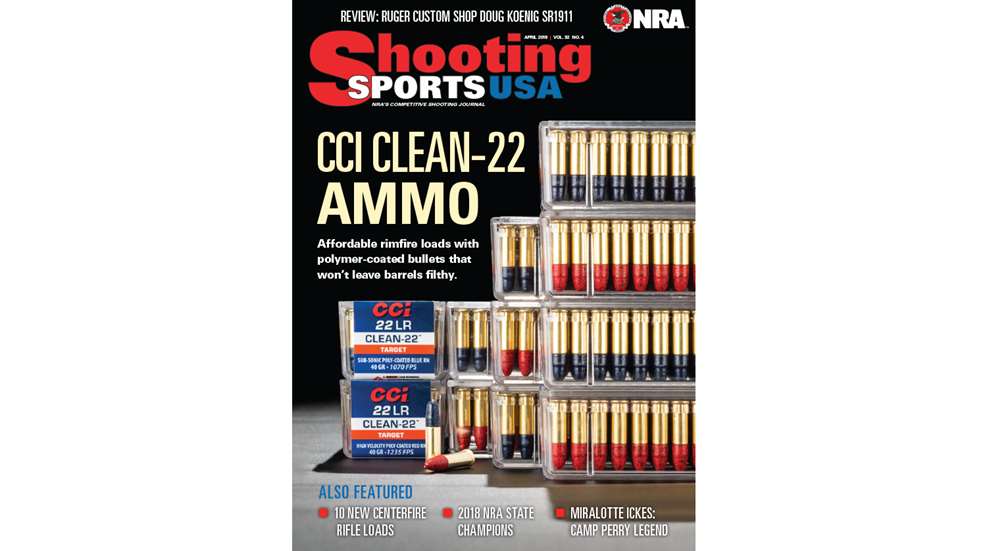 The April issue of Shooting Sports USA mostly focuses on ammo, but we start out with the new Ruger Custom Shop Doug Koenig SR1911 Competition Pistol. This new 1911 9mm single-stack is a good choice for a lot of fun action-shooting games, and with good reason—it was designed with the help of 18-time NRA Bianchi Cup champion Doug Koenig himself. You can check out our review of this premier action pistol in this month's Product Focus.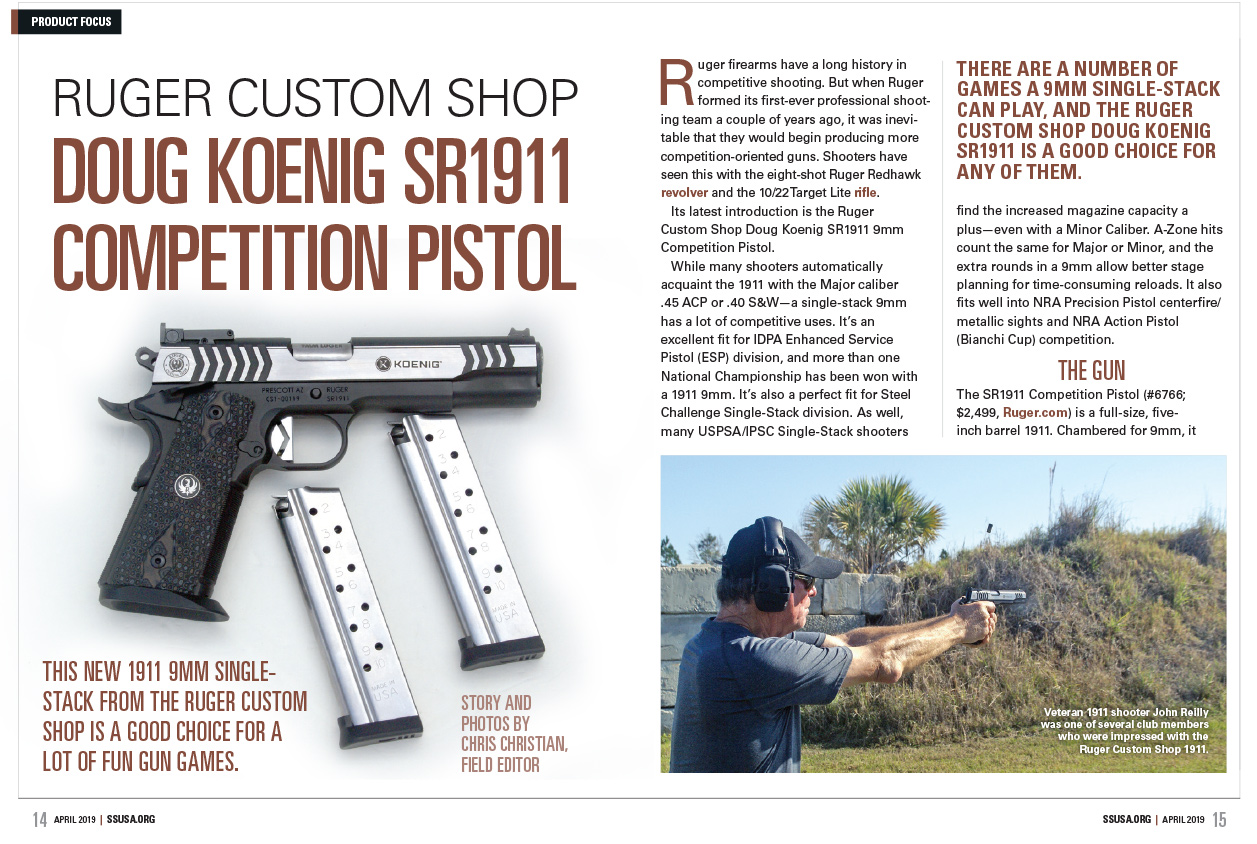 Ammunition coverage this month starts with our cover feature on CCI's new Clean-22 rimfire loads, which use a polymer coating to reduce fouling in barrels. Similar to Federal's Syntech line, Clean-22 loads are color-coded and our testing indicates they have what it takes for action-shooting accuracy. Read Field Editor Chris Christian's review of the new Clean-22 rimfire loads.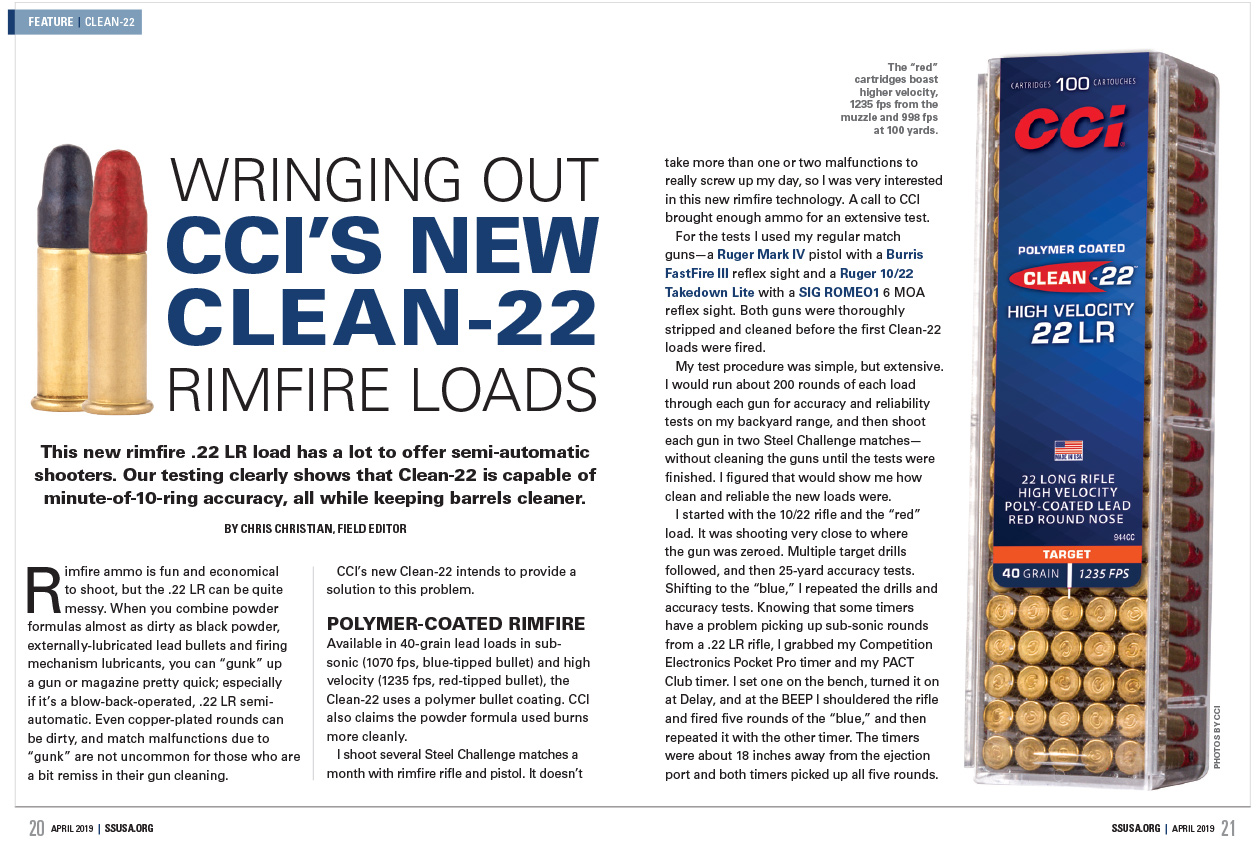 Last year, author John Haviland spoiled us when he did the heavy lifting and tested 31 different .22 LR loads. Well, this year he pulled out his centerfire rifles to do even more ammo testing, this time focusing on the newest loads available this season. This includes ammo options from Barnes, Browning, Federal, Hornady, Norma, Nosler, Remington, SIG Sauer and Winchester. See the results of Haviland's centerfire rifle ammo testing.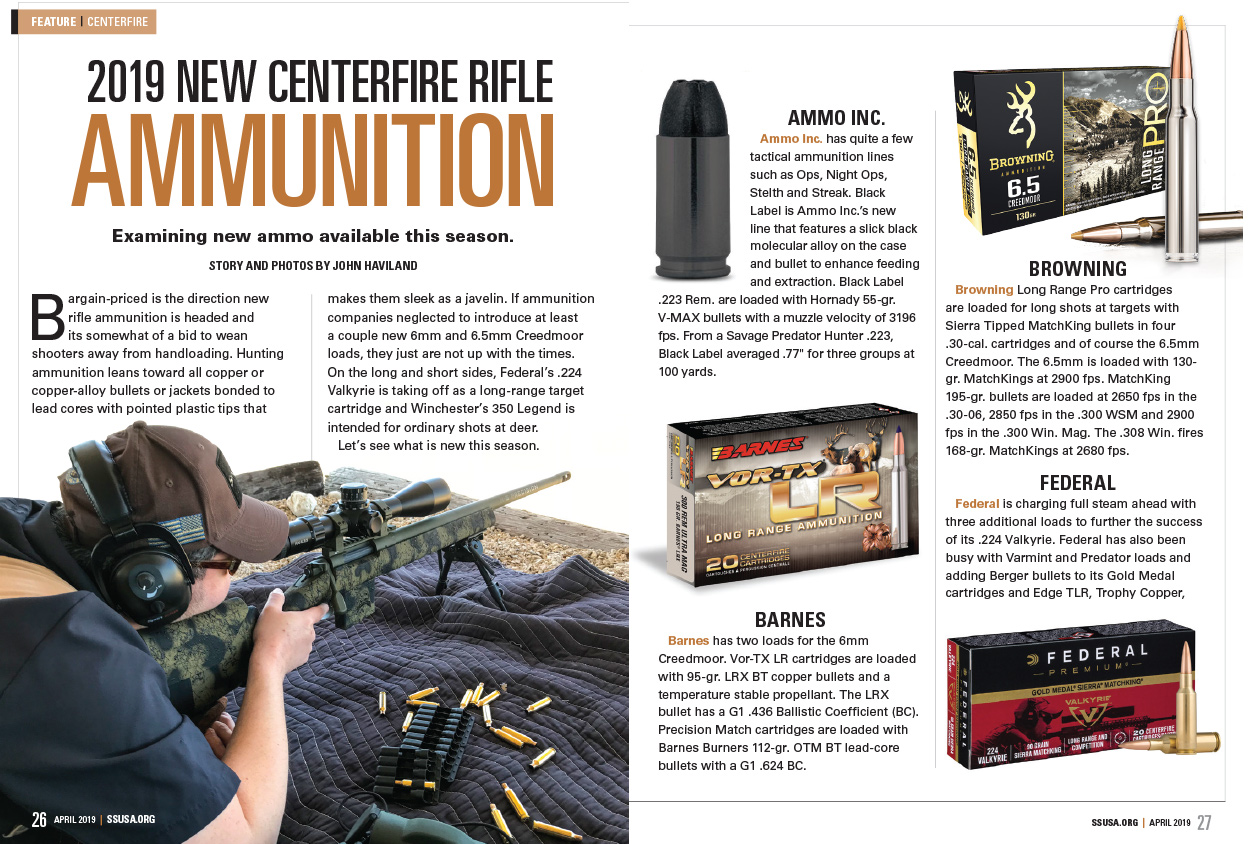 Every year, champions are crowned at the myriad of NRA-sanctioned state championships held throughout the United States. Last year was no different, with competitive shooters across the country participating in their states highest competitive shooting contests for their discipline of choice. Want to know who your state champion is? We've listed all the 2018 NRA state champions in the April issue, as we do every year. You can also find a list of NRA-sanctioned competitions around the country in the Coming Events section.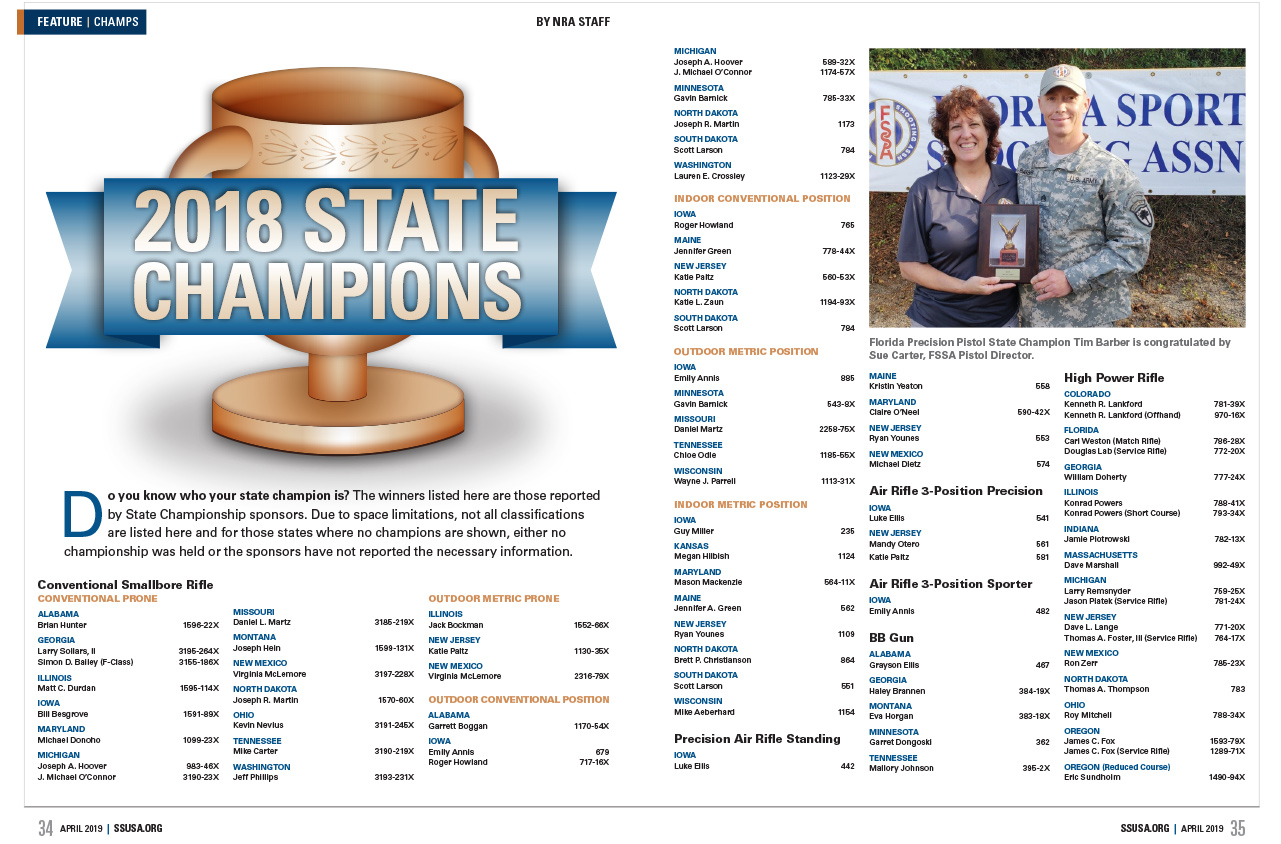 Miralotte Ickes is among the most iconic women to ever pick up a high power rifle in competition. In the 1950s and 1960s at Camp Perry, Ickes racked up a string of National Match victories, including four consecutive titles and several national records. Read the story of this fascinating shooter.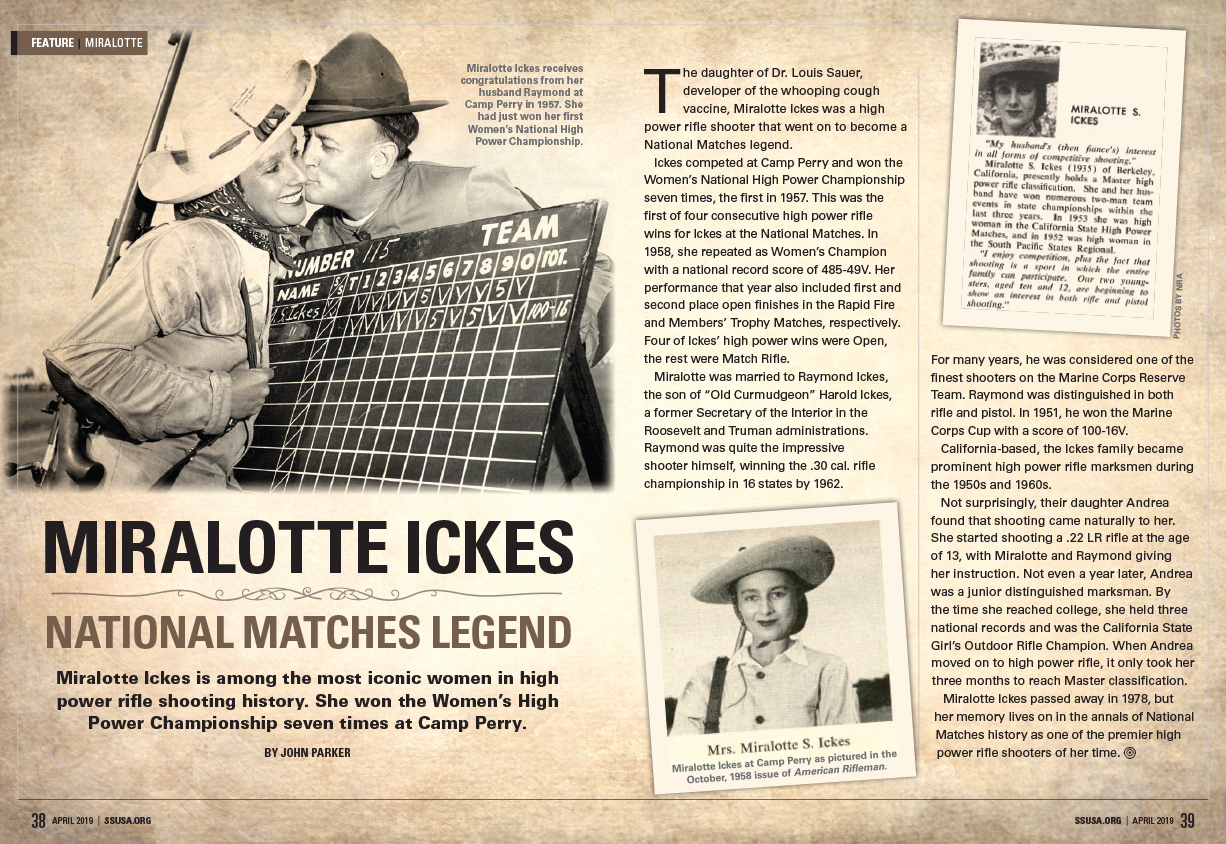 Additionally, this month we find out what pro shooter Josh Froelich keeps in his range bag, and there is also coverage of the 2019 edition of the Traveler's Guide to the Firearms Laws of the Fifty States. This book is essential reading if you plan to travel with your firearm.

John Parker
—Managing Editor, Shooting Sports USA