This issue kicks off with a salute to military competitive shooters and their success on the firing line. The cover highlights U.S. Army Marksmanship Unit and National Guard competitors and their banner year in competition in 2022. Last year, Army shooters topped multiple leaderboards at big competitions including the National Matches, the Interservice Championships and more. Author Serena Juchnowski interviewed several Army competitive shooters last year and found out that for many of them, the wins are much more than titles and trophies.
You won't want to miss this month's Product Focus, with Field Editor Chris Christian's review of the Ruger 10/22 Compact. An affordable .22 rimfire rifle that can fit the whole family, this gun is a solid option for Steel Challenge competition. Case in point—the author jumped two rungs in his Rimfire Rifle classification after shooting the Ruger 10/22 Compact rimfire at only four Steel Challenge matches.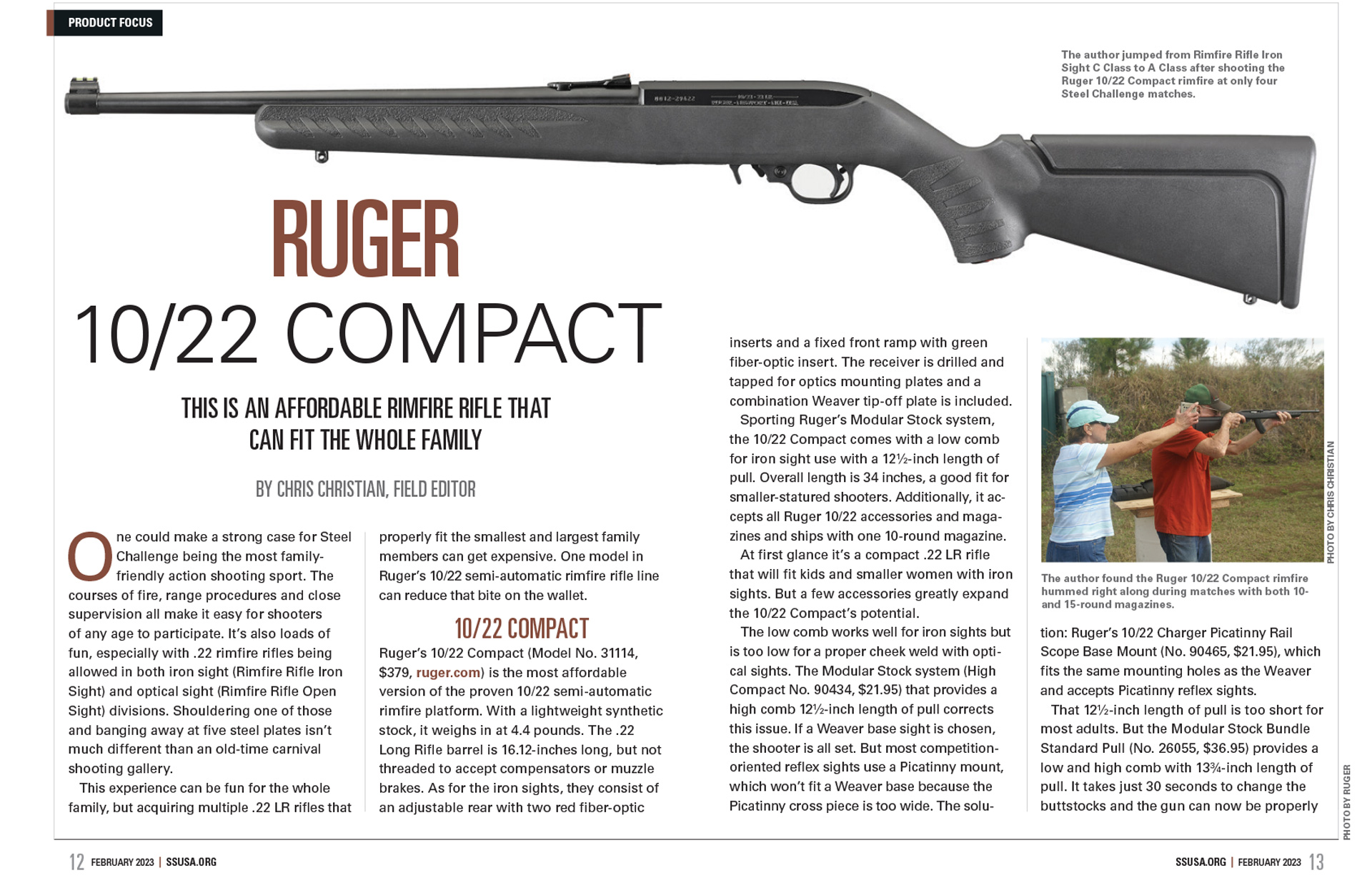 The appeal of sporting clays is undeniable. With its enormous popularity there are many scattergun options for fans of this discipline, which is best described as golf with a shotgun. This month, author Dana Farrell follows up his match report from the 2022 Sporting Clays Nationals with an examination of the shotguns that NSCA National Champions use to compete and win.
Camp Valor Outdoors is a non-profit doing great work that deserves more attention. For nearly a decade, the group, led by Executive Director John Schwent and Chief Operating Officer Denise Loring—both military veterans—has brought joy to the lives of many ill, disabled and wounded veterans and their families through the wonders of the outdoors. Competitive shooting is at the forefront of CVO's activity list, and Schwent and Loring fielded a High Power Rifle team consisting of several veterans at the 2022 NRA National Matches at Camp Atterbury. I had the honor of speaking with multiple Camp Valor Outdoors team members last summer, and I'm happy to report they are planning on returning in 2023.
Last month at SHOT Show 2023 in Las Vegas, Nev., the halls were packed with exhibitors displaying new products for eager show attendees such as myself and Field Editor Art Merrill, and Shooting Sports USA contributors such as Frank Melloni, Serena Juchnowski, Michelle Cerino and more. Next month's issue will include a full report from SHOT Show 2023.
Finally, the nine-day Great American Outdoor Show kicks off February 4 at the Pennsylvania Farm Show Complex in Harrisburg, Pa. The world's largest outdoor show, GAOS is a one-of-a-kind celebration of outdoor traditions treasured by millions of Americans and their families, namely hunting, fishing and shooting. The show will run through February 12. Go to greatamericanoutdoorshow.org to learn more.
John Parker
Editor-in-Chief, Shooting Sports USA
Are you a subscriber?
Not receiving the monthly digital magazine announcement in your inbox? Become a subscriber. Not only is it completely free, it only takes a minute to sign up and it guarantees you'll never miss a single issue of the NRA's competitive shooting journal. Subscribe here.