The 2022 NSCA U.S. Open, held in May at Back Woods Quail Club in Georgetown, South Carolina, attracted 1,392 registered shooters, plus families and many people working as match staff, vendors and coaches. The match, one of eight on the National Sporting Clays Association Championship Tour, was operating much like a small sporting clays city, with Back Woods owner and top match director Rick Hemingway running the show. While the shooting was exciting as always, the real story at Back Woods this year was how marvelous the execution of the competition was, as Hemingway gathered top sporting clays talent from around the country to help him deliver one of the biggest sporting clays tournaments of the year. Read my match report (page 24) to learn more about this year's U.S. Open.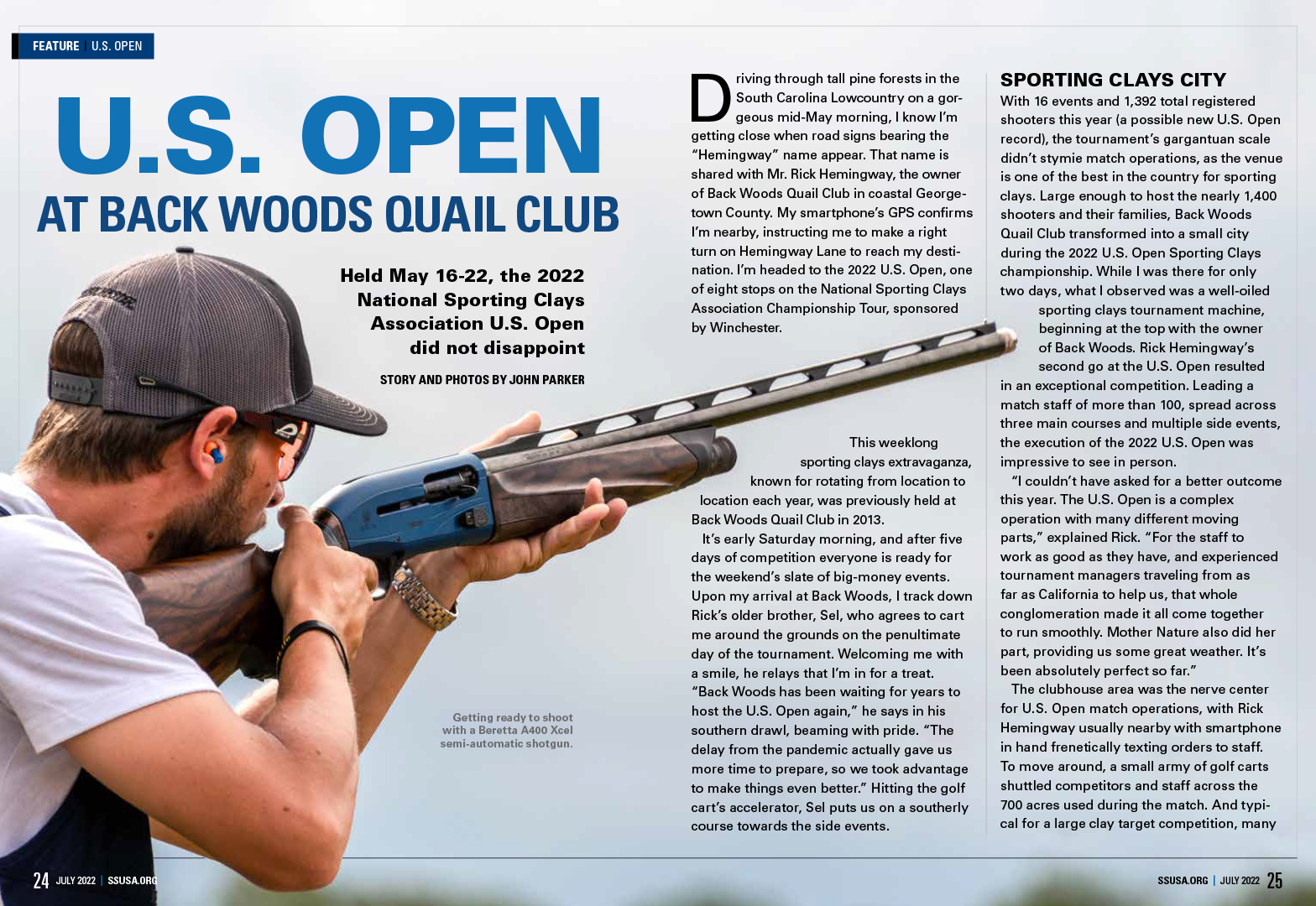 July's Product Focus begins with Dick Jones's review of the Mossberg MC2sc sub-compact 9 mm (page 12). An optics-ready pistol, Jones sums up the new MC2sc up best with his usual succinctness: "This is not your daddy's Mossberg." Next, read Field Editor Art Merrill's review of the Tandemkross Kraken (page 16), an aftermarket aluminum pistol frame for Ruger Mark IV pistols that upgrades the factory polymer frame with grip enhancements, competition-level controls and an adjustable trigger.
Bryan Litz, known as a pioneering long-range shooter with his company, Applied Ballistics, and for his data-driven approach to extreme long-range rifle competition, is broadening his output with a new podcast titled "The Science of Accuracy." Serena Juchnowski recently chatted with Litz about this new venture (page 30), with the goal of making ballistic science less of an obstacle for new shooters (and experienced ones) through the use of technology.
After Federal released its new .30 Super Carry round at SHOT Show 2022, it was only a matter of time before a comparison with the .380 Auto +P cartridge would crop up. This month, Brad Miller shares his evaluation of several different .30 Super Carry and .380 Auto +P loads from a variety of companies (page 36).
New author Barb Melloni worked in the optics industry for many years. She shares tips in her article this month about troubleshooting riflescopes (page 40) that will help you the next time you encounter a problem.
Some NRA National Matches housekeeping: There will be tryouts in August for the U.S. Pershing Trophy Team at Camp Atterbury during the 2022 Smallbore Rifle Prone Championship. The U.S. Pershing Team will be coached by the legendary Bruce Meredith, who was a member of the 1969 U.S. Roberts Team that traveled to Bisley, England. That year, the team was initially known as the "NRA Anglo American Small Bore Team" until their arrival, when they learned the British had decided on a new name—Lord Earl Roberts Match. The series, with matches every four years alternating between the United States and England, is known at the Pershing Trophy Match in the United States, and Lord Earl Roberts Match when held in England. Register for the 2022 NRA National Matches at Camp Atterbury here.
Finally, I hope all readers have a Happy Independence Day holiday filled with celebration. Enjoying Fourth of July fireworks and eating too much food with family and friends is one of our best traditions.
John Parker
Editor-in-Chief, Shooting Sports USA
Are you a subscriber?
Not receiving the monthly digital magazine announcement in your inbox? Become a subscriber. Not only is it completely free, it only takes a minute to sign up and it guarantees that you'll never miss a single issue of the NRA's competitive shooting journal. Subscribe here.