Optics-ready, the Taurus TX22 Competition .22 LR pistol is the subject of May's cover feature and with good reason—simply add a red dot and this gun is ready for Steel Challenge. Sporting the same polymer frame as the original Taurus TX22 rimfire pistol, the new Competition model adds a bull barrel and mounting compatibility for most popular red-dot sights. The mounting plate for optics is attached to the barrel to avoid any slide ride issues. A sub-$500 price is the icing on the cake. Read Field Editor Chris Christian's review of the Taurus TX22 Competition in this month's Product Focus.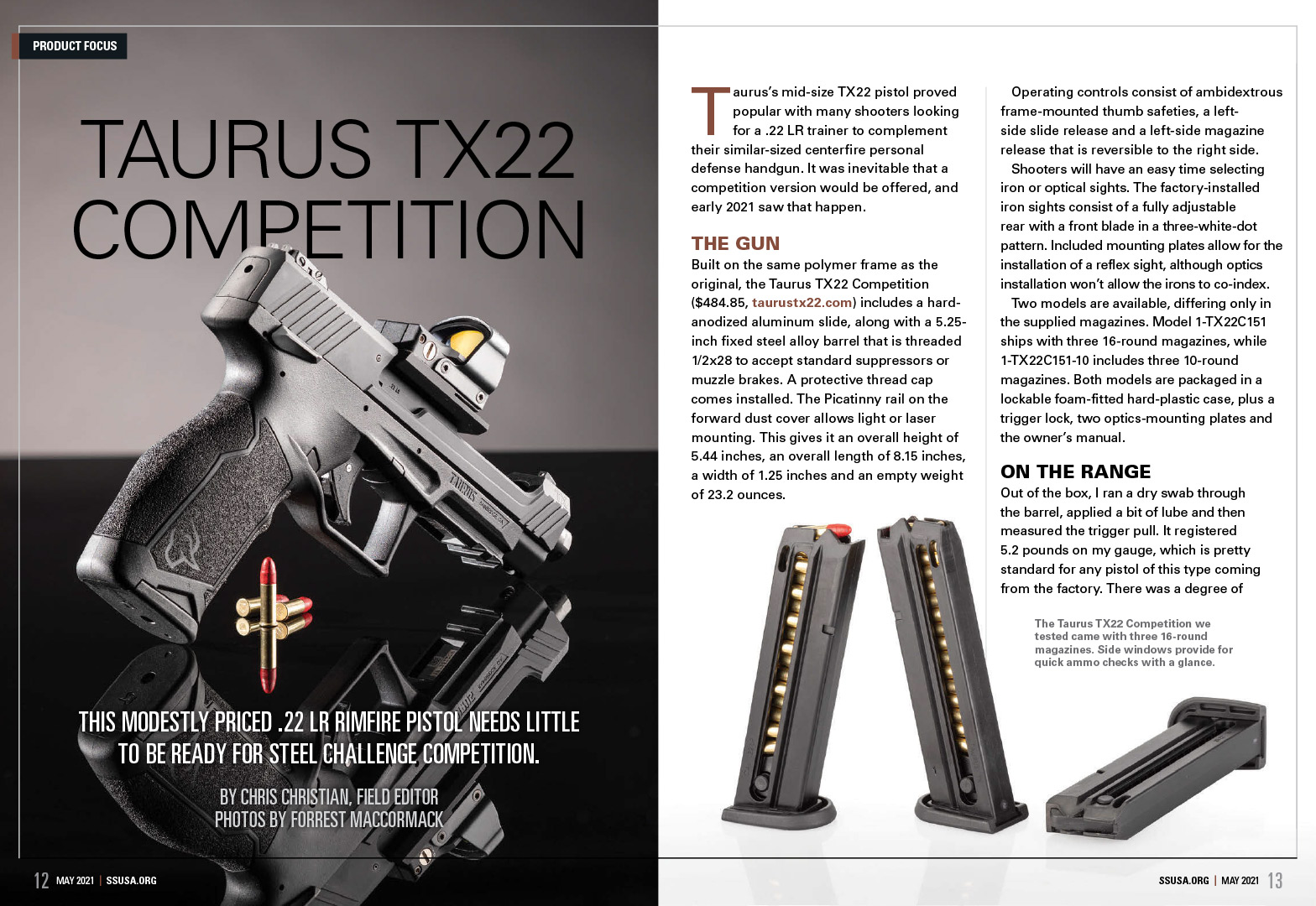 With the CZ Tactical Sport 2 9 mm pistol, an update of the original CZ Tactical Sport, engineers give action shooters an ergonomics-forward firearm that allows for refined operation—even while on the move. Author Frank Melloni managed to get his hands on one for testing, and shares his experiences with this pistol that is ideal for Limited division shooters that are okay with a minor power factor. Check out his review here.
Multi-gun competition continues to grow, and manufacturers such as Mossberg have noticed. The new Mossberg 940 JM Pro gas-operated 12-gauge was built with competitive shooting in mind, specifically quad-loading. Having top shooters Jerry and Lena Miculek involved in the design process certainly helped. Author Dick Jones put the Mossberg 940 JM Pro through its paces, see what he has to say here.
Last month we published the first installment of Chris Christian's guide to reloading on a budget, which focused on how to get brass cartridge cases ready for the loading process. For Part 2, we learn about how to turn prepared brass into loaded rounds. Topics covered include priming and powder charging, along with a few product recommendations. Read Part 2 of the guide.
Before automobiles were the norm, railroads provided the bulk of long-distance mass travel. Often, rail lines would offer reduced fares and provide other amenities to competitive shooters that were heading to the National Matches. The International Railwaymen's Match, held at the National Matches until 1940, recognized the importance of the railroads to Camp Perry. Author and National Matches historian Hap Rocketto looks back at this prestigious rifle event from the "Golden Age" of smallbore competition in the United States.
Last but not least, in April, my boss, the longtime NRA Publications Editorial Director John Zent, retired after an award-winning career spanning 40 years. Much more than a boss, Zent not only walks the walk, he does so with the professionalism all good leaders display when they lead by example. His leadership not only set the high standard of journalistic excellence for Shooting Sports USA, but for all the publications in our network— American Rifleman, American Hunter, Shooting Illustrated, America's First Freedom, NRA Family and NRA Women. Our staff salutes John Zent and congratulates him on his well-deserved retirement.
—John Parker
Executive Editor, Shooting Sports USA
---
Read more:
Competitors' Corner: April 2021