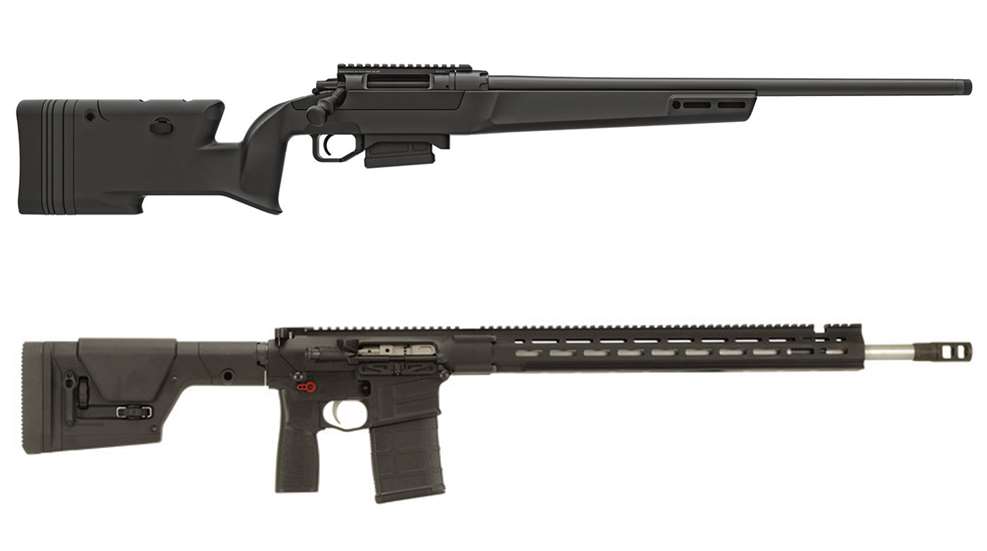 The Precision Rifle Series (PRS) has named rifles from Daniel Defense and Savage Arms as official guns for the Bolt Gun and Gas Gun divisions. The Daniel Delta 5 bolt-action rifle is the official bolt gun. Two models from Savage, the MSR-10 Precision and the MSR-15 Long Range rifles are the official gas guns.

PRS began in 2012 as a championship-style point series for the best precision rifle competitive shooters in the country. Essentially, PRS is a league comprised of annual point races in multiple divisions, including the Bolt Gun Series, Gas Gun Series and Club Series. Typical PRS matches involve the practical application of long-range rifle shooting, derived from military, law-enforcement and hunting scenarios.

The Daniel Defense Delta 5 bolt-action rifle (MSRP: $2,199, DanielDefense.com) made waves earlier this year when it was introduced at SHOT Show. Its not surprising that PRS named it the new official gun for the Bolt Gun Series, but what's most impressive is the fact this is the company's first-ever bolt-action offering, which is a testament to the many dedicated years they spent developing it.




Available in three calibers (7mm-08 Rem., 6.5mm Creedmoor and .308 Win.), the Delta 5 sports a stainless-steel, cold hammer-forged barrel that offers suppressor-ready threads measuring 5/8 x 24. Barrels are user-interchangeable. Two other items of interest to precision shooters are the single-stage Timney Elite Hunter trigger that's adjustable between 1½ and 4 pounds—and also a carbon fiber-reinforced polymer stock that's customizable for length-of-pull and comb-height.

For the Gas Gun Series, Savage's MSR-10 Precision rifle (MSRP: $2,499, SavageArms.com) will cover the PRS Open and Heavy Tactical divisions. The MSR-10 Precision is an attractive out-of-the-box option for prospective gas gun shooters. Available in three calibers (6mm Creedmoor, 6.5mm Creedmoor and .308 Win.), the MSR-10 includes match-friendly features such as a Magpul PRS stock, heavy stainless steel barrel with 5R button rifling and TangoDown flip grip.




The Savage MSR-15 Long Range rifle (MSRP: $1,849, SavageArms.com), chambered in the highly-accurate .224 Valkyrie cartridge is perfectly suited for PRS Light Tactical division duty. Other competition-ready features include a 22-inch stainless steel heavy barrel, custom-forged upper and lower receivers, user-tunable muzzle brake and two-stage trigger.




Learn more about PRS by visiting www.precisionrifleseries.com.