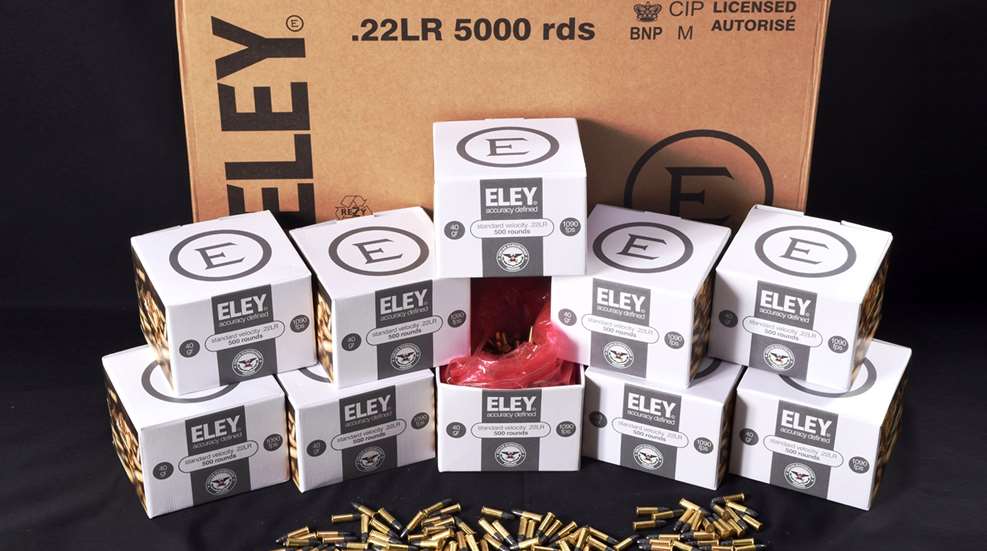 ELEY has partnered with the Civilian Marksmanship Program (CMP) to offer a unique 5,000-round bulk pak. The CMP is a federally chartered 501(c)(3) corporation that uses its funds to promote the shooting sports through competitions held throughout the country, including the National Trophy Matches at Camp Perry, OH. Each year, they also donate thousands of dollars in scholarships to junior athletes seeking financial assistance for higher learning. Recently, CMP partnered with Kongsberg to demonstrate electronic targets to the public, as well as having units for purchase by clubs and ranges.

An exclusive product designed to help fund activities supporting marksmanship, the ELEY CMP standard bulk pak includes 10 500-round boxes and is priced at $355. Rounds in the new bulk pak utilize a 40-grain bullet with an average velocity of 1090 fps. Additionally, the round has a paraffin wax coating to feed and cycle reliably through different .22LR firearm platforms.

Mike Corkish, ELEY Americas director of sales said, "ELEY is excited to partner with the CMP to offer an accurate, affordable ammunition for shooters in a true bulk package. With the CMP working to encourage youth shooting, ELEY finds this partnership a perfect fit. As shooters continue to improve they have the opportunity to purchase other grades of ELEY ammunition through the CMP. This will continue to help the CMP grow competition shooting and encourage safe firearm practices."

There is a yearly purchase limit of two cases per buyer. Shipping and handling is free for the lower 48 states, contact the CMP for other areas such as Alaska or Hawaii. The ELEY CMP standard bulk pak, as well as the rest of the company's product line can be purchased at the following link: estore.thecmp.org/Catalog/Item/4C22ELYSTD-5000.