Ghillie suits and firearms in tow, the world's elite snipers submerse themselves into grueling days of stalking, shooting, skulking, and evasion. Each two-member team aims to emerge from the woods of Fort Benning, GA, to capture the International Sniper Competition trophy.

"This is something everyone wants to compete in," said Sergeant First Class Eric Doolittle, operations officer for the U.S. Army Sniper School, which runs the contest.

"We're not the only long range competition out there." But, he indicated, this one ranks high on professional snipers' to-do lists.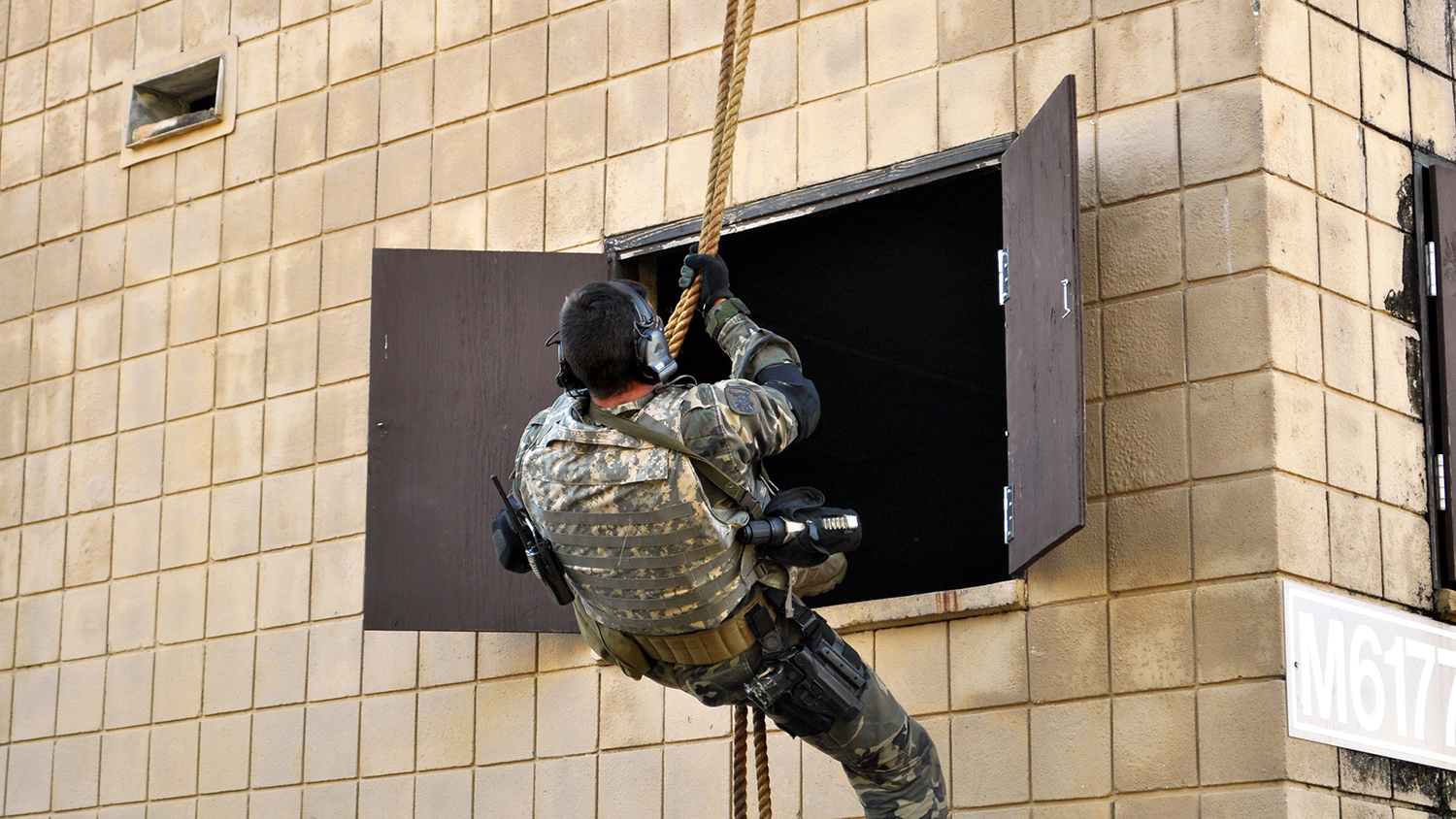 The contest has been held annually since 2001, pulling in military and civilian agency competitors from around the world. Competitors go muzzle to muzzle according to type of firearm (service class or open class), and in sniper-specific categories, such as best live-fire stalk.

"The purpose and scope is to bring people from all communities," said Doolittle. "It's not just the Army that has snipers. It's not only military, but law enforcement also."

The 2017 overall winners were Staff Sgt. Jonathan Roque and Sgt. Brandon Kelley from the 3rd Battalion, 75th Ranger Regiment at Fort Benning. The "home town" shooter-spotter pair outscored 29 other teams. Other competitors hailed from the U.S. Army, Marine Corps, Air Force, and Coast Guard; the Army National Guard; American law enforcement agencies; the U.S. Department of Homeland Security; and military units from Canada, Denmark, Germany, and Norway.

"We try to make it battlefield relevant and challenging, within the scope of a shooting sport," Doolittle said. "We have different events depending on each range we can use." Each event is developed by the senior sniper on the ground, and is unique to the person creating it, Doolittle said.

Events included a punishing lineup day and night firing, long range marksmanship, sneaking into and out of positions undetected, obstacle courses, and other challenges, sometimes while wearing body armor or ghillie suits.

"It's a really tough competition," said Nicholas Irving, a former Army Ranger whose 33 confirmed kills while a sniper earned him the nickname "The Reaper." Irving competed in the International Sniper Competition in 2009.

"The courses of fire are the problem, and every team is going to approach it differently," said Sgt. Saykham Keophalychanh, who competed this year as part of the U.S. Army National Guard "All Guard" Team out of Camp Robinson, AR. Keophalychanh and his teammate, Sgt. Nick Mitchell, won the competition last year on behalf of the Michigan National Guard.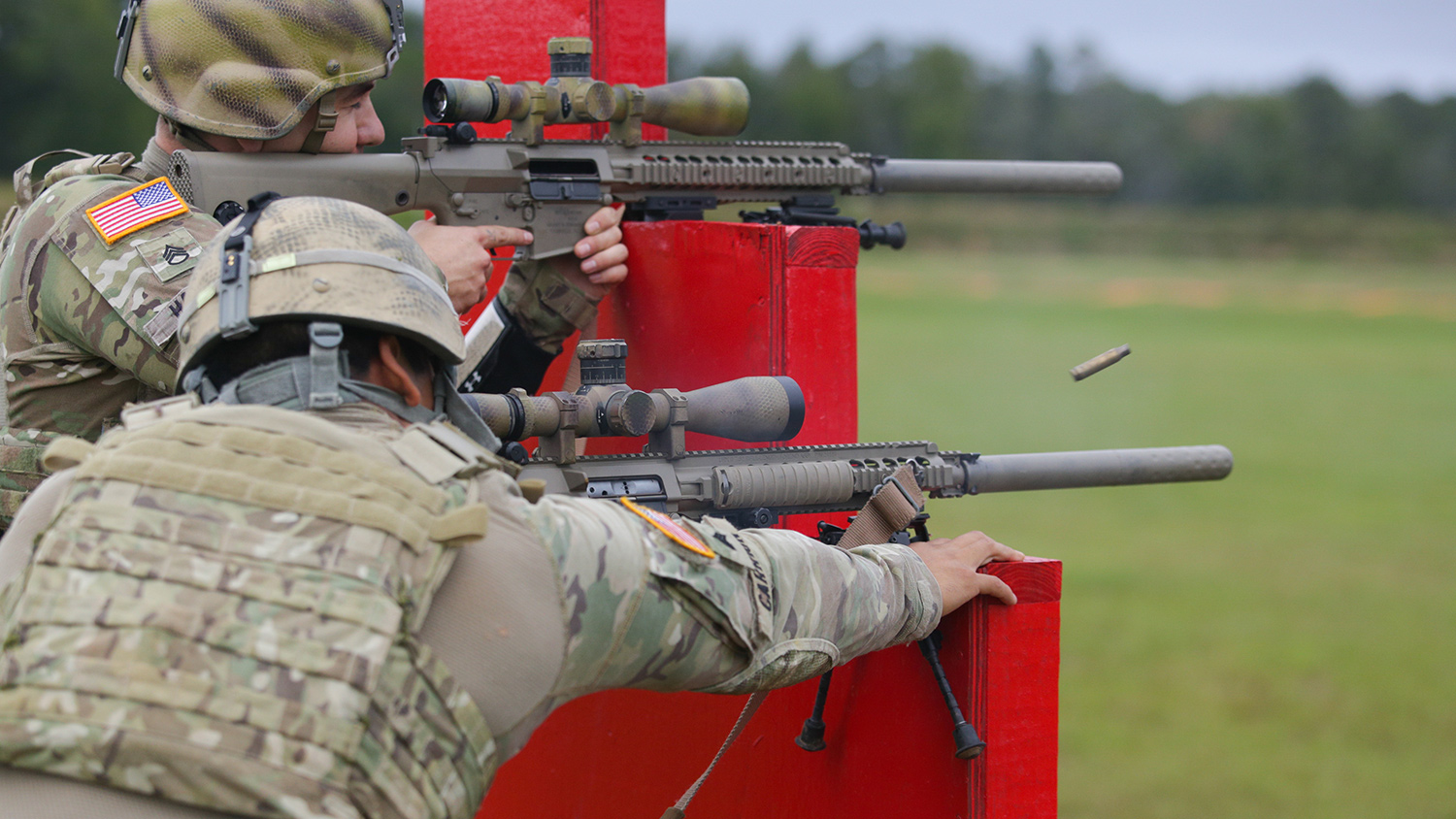 Most of the competitors try to get in as much range time as they can before coming to Fort Benning, Doolittle said.

For Irving, the contest came directly on the heels of a deployment.

"It was just a few weeks after Afghanistan," Irving said. "They said, 'Hey Irv; you're going.'"

Irving went—and encountered an exacting shooting competition within a formidable endurance trial.

"The woods of Fort Benning are brutal," Irving said. So, too, are the trials and the pace.

The conditions are in keeping with what a sniper might experience on the job. Those include combat patrols, ambushes, urban terrain, and operations wherein snipers are left in place as stay-behind forces, according to a 1994 Army guidebook. The guidebook specifies what those conditions mean for the sniper personally.

"The sniper, often employed in extended operations with little sleep, food, or water, must be in outstanding physical condition," states Army Field Manual 23-10, Sniper Training.

In the International Sniper Competition, teams are allowed to eat and sleep, but members must be in top physical shape. They also must remain sharp throughout the tournament.

"The contest throws you into very challenging situations, and really tests you," Irving said. "The land navigation part smokes a lot of people. Some of the tests you can't anticipate. I remember taking shots in competition I never took in courses. You're just winging it."

"We want this to be something you can't train for," Doolittle said. "Like the Best Ranger competition, 10-12 events are the same each year," but others are unexpected.

"We might scale the targets, such as instead of shooting at a mannequin, they are shooting a clay pigeon, or we add pistol events or longer distances."

In 2009, targets went progressively smaller as the contest progressed.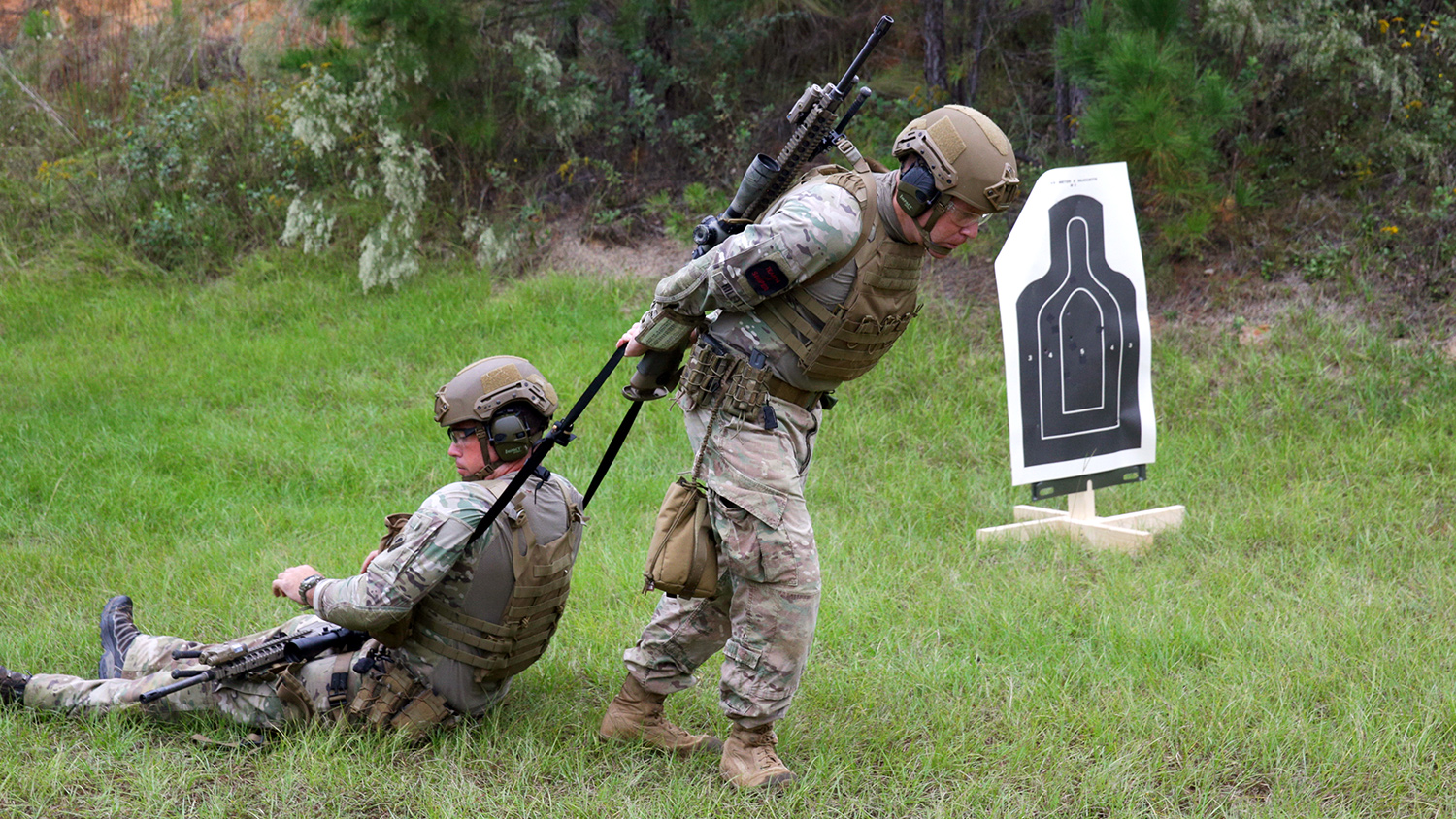 In the 2017 competition, one event involved shooting from inside a UH-60 Black Hawk helicopter, 250 feet in the air, engaging targets 300 to 350 meters away. The contest spanned one full week. It began with a Sunday symposium and informal ice breaker, and culminated with a Saturday banquet and awards ceremony.

On the first competition day, teams mustered early to arrive at their staging point inside the Sniper Course classroom by 6 a.m. From there, they moved into the field for the first event.

They soon were prone in the dirt, shooting at what appeared to be oversized domino blocks affixed to silhouettes.

"Not every event is on their belly," Doolittle said. "We alternate the firing positions."

The first day also placed snipers firing from behind blocks and barriers, and navigating buildings made of wood and concrete. The events incorporated both a buddy drag and a buddy carry.

The first day ended at 8 p.m. The second and third days lasted from 6 a.m. until midnight.

"They deliberately exhaust you," Irving said.

On the second day, competitors shot through the haze of a simulated gas attack, wearing protective masks while firing. Elsewhere on the course, they ventured inside a building, scaling a vertical ladder to find rooftop vantage points.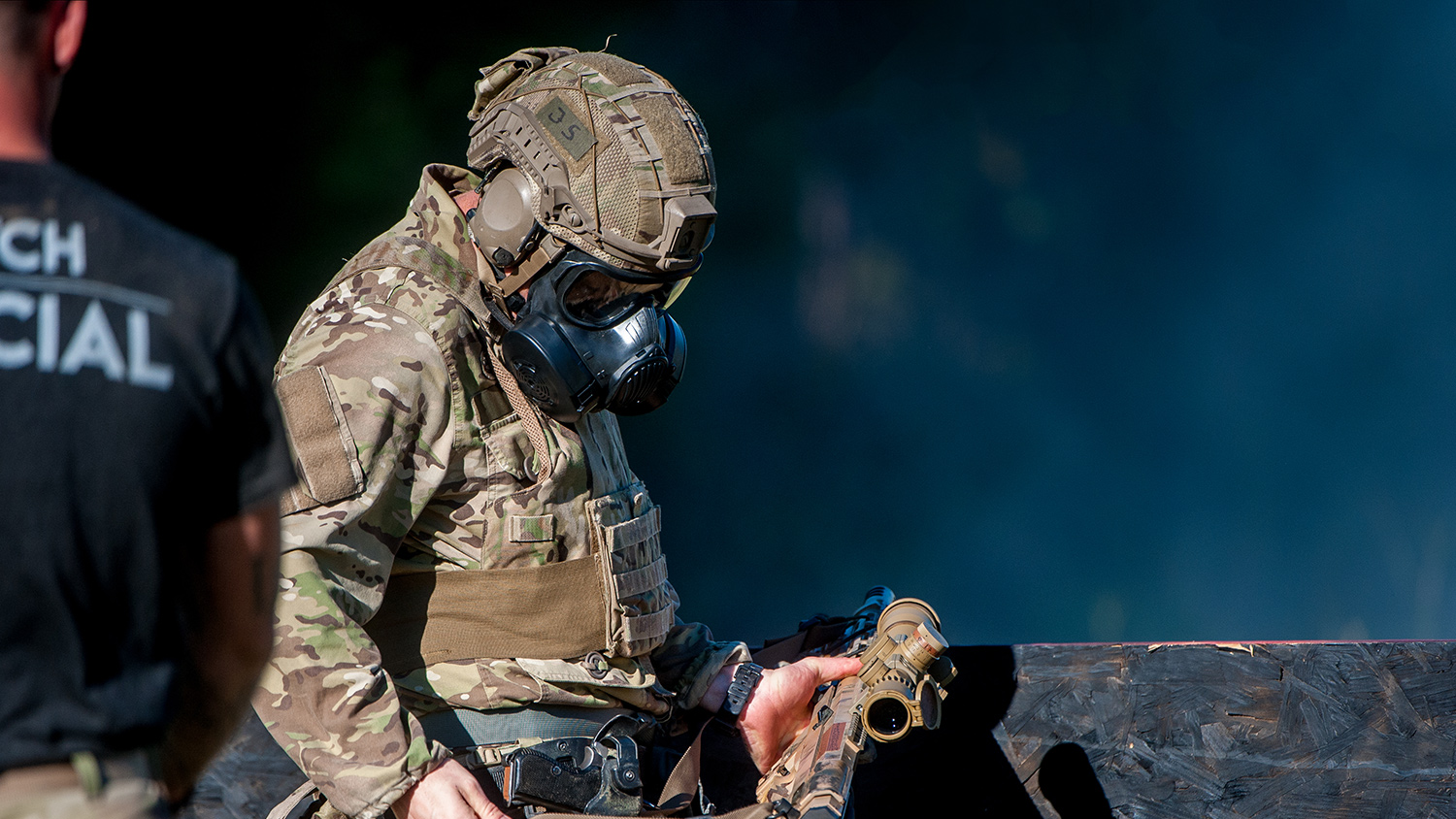 The third day sent the snipers traversing an open field with no cover.

To an outsider, Irving said, the contest may look chaotic—but the match is precisely planned and executed.

Before heading to Fort Benning, competitors were given precise instructions of what to bring, and what to leave at home.

Each team was required to bring one primary sniper rifle (bolt or gas), and one spotter rifle, (gas only), chambered in 7.62mm NATO (.308 Win.). Each competitor also was required to bring one pistol, chambered in 9mm minimum. Competitors were told to bring 400 rifle rounds and 200 pistol rounds per team. Only ball projectiles were allowed. Armor piercing, tracer, incendiary rounds, and handloads were banned.

Required items included ghillie suits, body armor, and night vision devices. Competitors were advised to bring additional equipment, including protractors and compasses.

Participation is free, but comes with strict entry requirements. Competitors must be able to prove that they graduated from an accredited sniper training course. Set each year in October, the contest is announced several months in advance.

"We like to put the invite out mid-summer, so that competitors have three to four months to prepare," Doolittle said. "We like to get the word out."

This year, organizers allowed only one team from each military division. Several, such as the Army's 10th Mountain Division and 3rd Infantry Division, held pre-competitions to select their teams.

Portions of the contest are open to audiences. Among those who come to watch are other snipers.

"It's good to see the mindset these guys are in," Irving said. "Seeing those guys, I know that look. They're so deep in thought, they're in a bubble. They probably don't see the people watching them."

The contest offers prestige within the elite community.

"The camaraderie is there, but it's also your branch, your unit," said Irving, whose team finished one slot shy of the top three. "Your name goes down in history. Every sniper knows you."

Aside from offering bragging rights to winners, the contest serves valuable purposes.

"It's fun, there's the prizes, there's the spirit of competition," said the Army National Guard team's Sgt. Nick Mitchell. "But in the end, it's always a learning event."

"I learned a lot from it, a lot that I can bring back to my unit," said Specialist Jonathan Rojo, who competed as part of the Army's 7th Infantry Division team.

Organizers deliberately try to foster a knowledge exchange among competitors.

"We try to pair snipers who might not normally be together," Doolittle said. "Law enforcement guys are better at close-in shooting. Military are better at long distance. They trade tips and tricks."

Some civilian law enforcement teams came to the contest never having shot past 200 yards, Doolittle said. Geared toward close quarter urban operations, police may not have range space for longer distances; or, their rules of engagement confine them to firing within a certain span.

"They came in on day one and were flabbergasted," Doolittle said. "They found gaps in their own training." They brought those lessons home. "They are training new guys based on what they learned here," Doolittle said.

The 18th annual contest pulling snipers out of the shadows and into the limelight will take place next October at Fort Benning.

Said Doolittle: "It's a big training exercise wrapped into a competition."