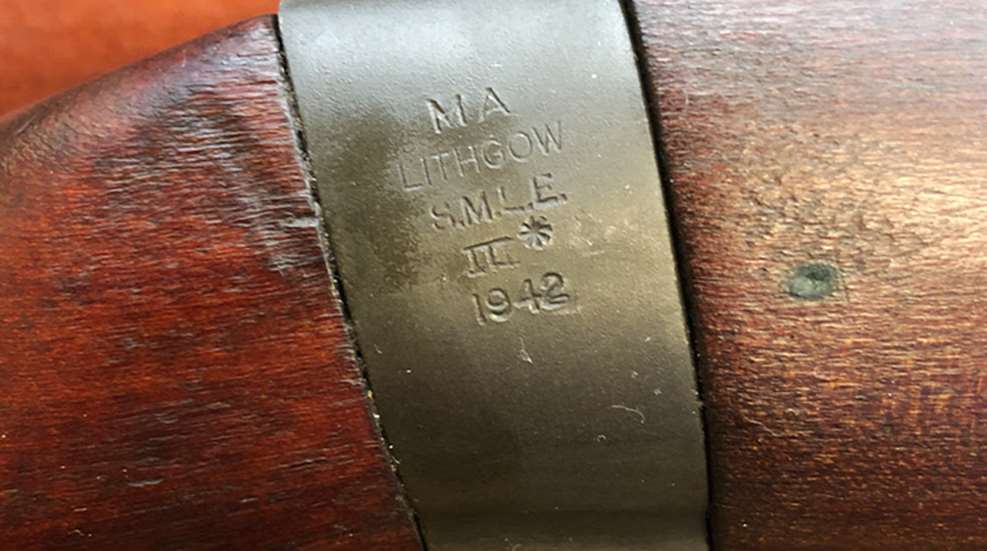 From the archives: a reader inquires about the sling swivel on his Lithgow No. 1 Short Magazine Lee-Enfield Mk III.
Question: I have a Lithgow No. 1 Mk III, heavy barrel "Club Rifle" SMLE. In front of the trigger guard is a competition sling swivel. How do you use this type of swivel?
Answer: The Lithgow Small Arms Factory, in Lithgow, Australia, manufactured the Short Magazine Lee-Enfield (SMLE) Mk III from 1912 to 1953. The heavy barrel indicates that the rifle in question was modified by the Australian Army for use as a sniper rifle during World War II and the Korean Conflict.
During World War I, the sling swivel at the front of the trigger guard was omitted for ease of manufacture and was replaced with a loop. The loop was used to secure a canvas breech cover to keep mud out of the action during combat. The SMLE with the breech cover loop is more commonly found than the sling swivel.
The sling would be attached to both the forward sling swivel near the muzzle and the swivel in front of the trigger guard. The sling is lengthened and twisted one turn. The left arm, for a right-handed shooter, is placed through the loop and the left hand is placed under the fore-end of the stock. Experimentation is necessary to get the correct sling length so that it provides adequate support.
Please submit your questions to [email protected].
Lead photo is of American Rifleman Digital Managing Editor Evan Brune's personal Lithgow No. 1 Mk III. Unfortunately, we could not locate the original photo supplied by the reader.
---
See more:
Lee-Enfield Rifle—Workhorse Of The British Empire