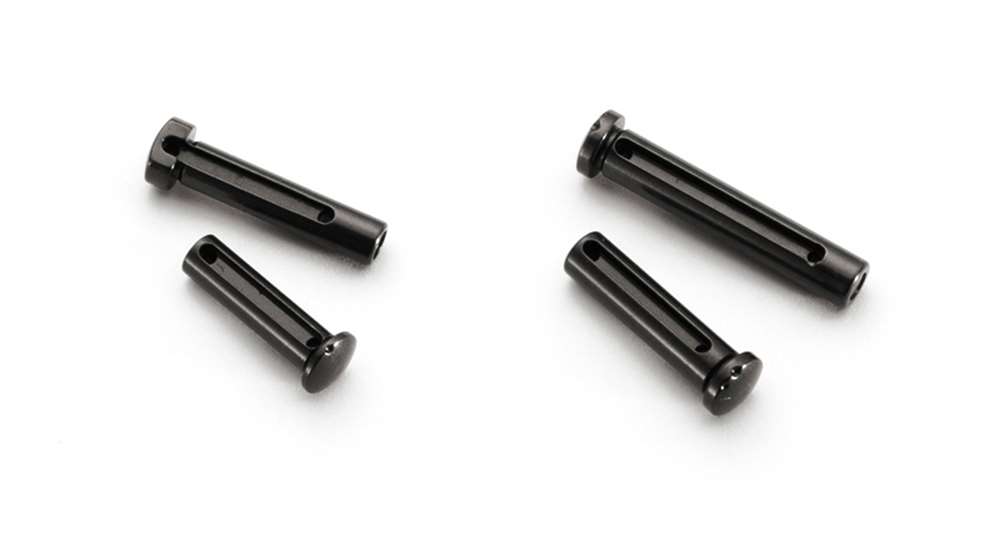 Above: MicroFit takedown pins sets are available for small frame .223 (left) and large frame .308 (right) AR receivers.

A loose receiver can quickly frustrate anyone working on an AR build. Not only is it an annoyance—it can also limit rifle accuracy. JP Rifle's new MicroFit takedown pins present a new solution—the company says they can "bring most receivers up to a rock-hard fit and can dramatically improve even the sloppiest receivers."
The MicroFit pins come in three sizes; mean, oversized and undersized for both the front and rear of the receivers. The mean pins match standard takedown pin sizes—while the over and undersized are offset slightly from that base size. These pins allow for five unique fits, and the maximum loose and tight combinations can change receiver fit. Both loose or tight receivers can benefit from these takedown pins. For example, very tight receivers (such as post-Cerakote) can be remedied with the undersized pins.

"We've been fighting the issue of poor receiver fit for 20 years, which is when our original Tension Pin debuted," said the founder of JP Enterprises, John Paul. "Ask any bolt gun shooter. They will tell you that a rifle loose in its stock will not reach its accuracy potential. An AR with a loose upper/lower is no different. The MircoFit pins require no modification to the receiver. They simply replace your current pins."

MicroFit pins are bright polished to a shiny black finish with a QPQ coating for durability. Additionally, the pins feature a two-faceted punch or bullet capturing recess—allowing the user to apply force to the pins safely—without the risk of scratching the receiver.

MSRP: $15-$28. MicroFit pins will be will be the new standard on all JP rifles, and will also be sold as replacement sets or individual pins.