With 2020 nearly upon us, now is a great time to share the best digital magazine covers from the past decade, as chosen by Shooting Sports USA editorial staff.
Although it was difficult to narrow the list down to just 10 with so many great options to choose from, we decided to select a single cover for each year, spanning from 2010 to 2019.
See the top 10 SSUSA covers of the decade below. They are listed in chronological order.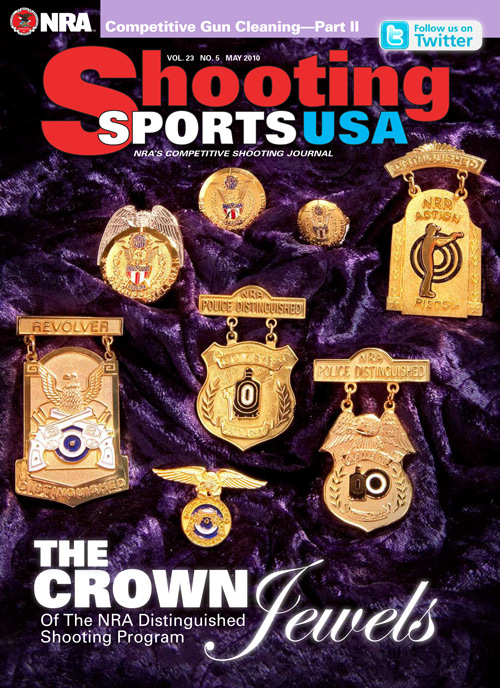 As far back as 1884, excellence in shooting sports has been recognized with the "crown jewel" of marksmanship awards—the Distinguished designation. As such, for smallbore rifle, action and conventional pistol, police combat pistol and air rifle, Distinguished medals represent the best of the best in NRA competitive shooting sports. What makes them so special? Well for starters, anyone can compete for this honor and you may be surprised to learn that you have already shot in a match that counts towards the distinction. This article, with contributions from Hap Rocketto and the late Paul Nordquist was published in the May 2010 issue, and summarized how to get started toward your first "leg" match in the Distinguished shooting program, covering the five aforementioned NRA disciplines. (Cover photo by Kari Murphy.)
---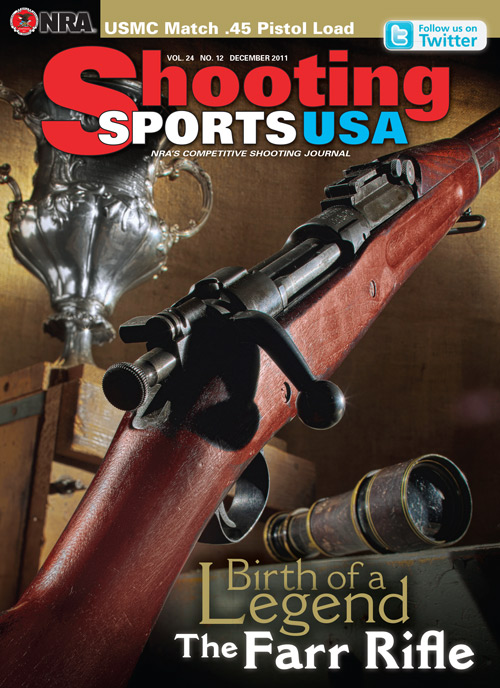 For the better part of a century, George Farr's record-setting rifle has been a cherished keepsake among his family's estate. In case you are unfamiliar with the story, when George Farr arrived at Camp Perry in 1921 for the first time, he set a string of records in feat that is now considered legendary. In 2010, the Farr family donated the rifle and monocular to the NRA National Firearms Museum where the two now rest quietly in the Camp Perry exhibit. Nearby is the silver Farr Trophy, named in honor of his accomplishments. National Firearms Museum Senior Curator Doug Wicklund penned this article published in the December 2011 issue that covered the donation of this rifle that was the centerpiece for the birth of a legend in the competitive shooting community. (Cover photo by Alex Sutherland.)
---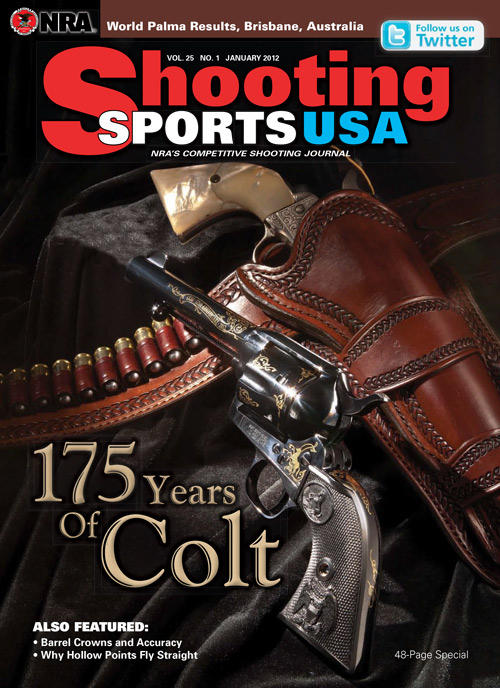 In 2011, Colt celebrated its 175th year as one of the most celebrated and iconic firearms manufacturers worldwide. Managing Editor Chip Lohman shared the abbreviated story of Colt, from family-owned business to its current place in history as one of the most iconic gunmakers of all time. Pictured on the cover of the January 2012 issue is the "Outlaw" holster from John Bianchi's Frontier Leather Company. The rig shows a typical 1880s Double Mexican Loop style gun rig with saddle stitching that was common for the frontier era. The mother-of-pearl-handled Texas Ranger revolver is a 1906 Colt Single Action Army in 38 WCF from the NRA National Firearms Museum collection. The blue 175th Anniversary special edition revolver is a newly produced Colt Army Single in .45 Long Colt with a 5.5-inch barrel. Only 175 were distributed in that barrel length. (Cover photo by Lloyd Hill.)
---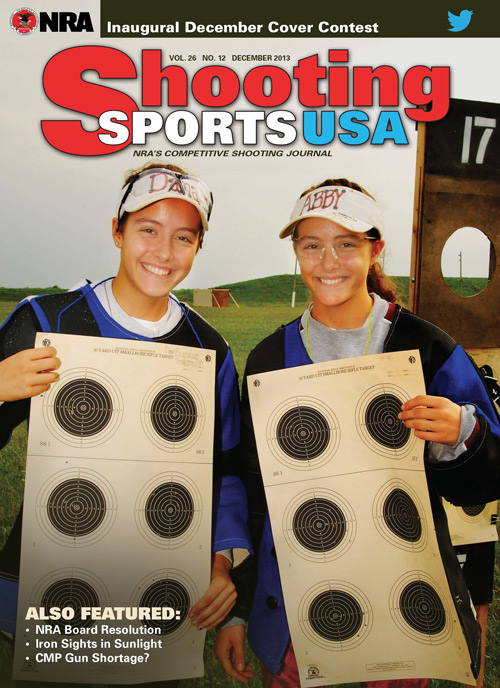 The December 2013 cover is the all-time favorite of former Managing Editor Chip Lohman. That year, SSUSA conducted a cover contest, which netted two submissions from the National Matches Junior Smallbore Camp at Camp Perry, including the winning one on the cover. Senior staff members from the Executive, Photo, Art and Editorial Departments within the NRA Publications Division nominated their favorites from a pool of 23 submissions. Their top choice received 4 points, their second received 3 points, and so on. The winning cover had 14-year-old twins Dana and Abby Buesseler smiling with their standing position practice targets. While the annual cover contest was a great idea, it did not continue beyond that year. However, the spirit of capturing great shooting sports moments with imagery lives on in the current photo caption contest that includes great prizes in the digital magazine every month. (Cover photo by Russ Evans.)
---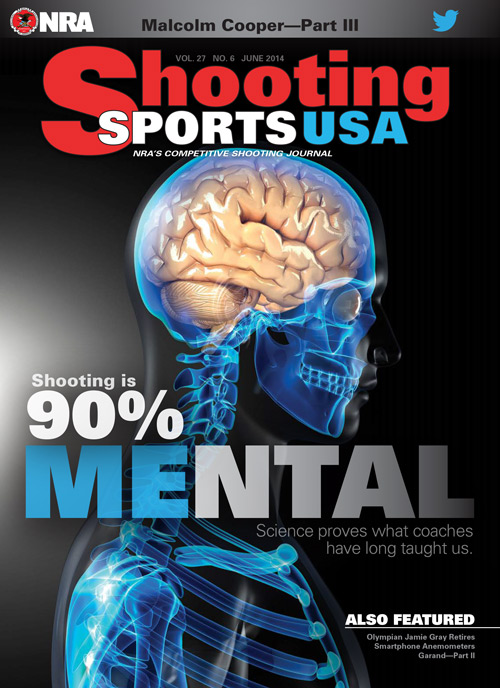 The June 2014 cover, with a stylized human brain and skeleton, supported a feature story emphasizing scientific advances in understanding the mental aspects of competitive shooting. In his article, Chip Lohman inventoried the latest neuroscience (at the time) as it relates to the shooting sports. He included important studies in not only critical thinking, but also brain fitness and brain modification (plasticity), all from the perspective of the shooting sports. Lohman said, "Our coaches have been telling us about the importance of the mental game for a long time. With the help of two doctors who are also accomplished marksmen, we inventory the most recent science on the topic." The article is one of the most popular ever published in Shooting Sports USA. (Cover photo by iStockPhoto.)
---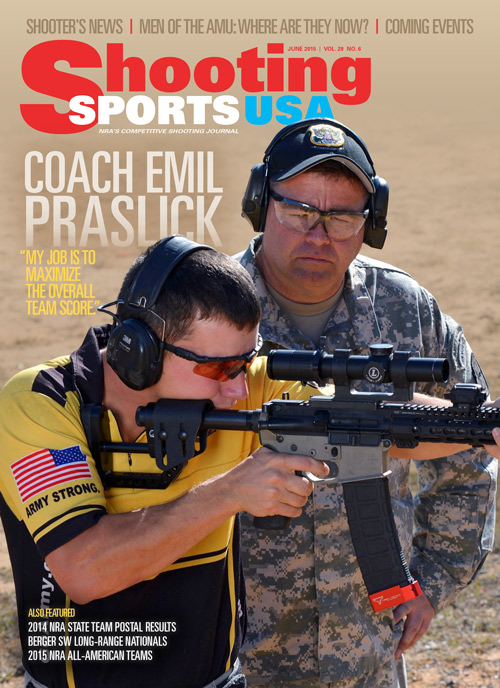 In March 2015, newly minted SSUSA Managing Editor John Parker headed to Fort Benning, GA, the home of the U.S. Army Marksmanship Unit (AMU), where he spoke with the outgoing Service Rifle Coach SFC Emil Praslick about his illustrious career and coaching philosophy. The cover features Coach Praslick guiding AMU Action Shooting team member SFC Daniel Horner, who would go on to become one of the most acclaimed shooters on Team SIG after leaving the Army in 2018. Parker's interview with Praslick, which was published in the June 2015 issue of the digital magazine, honored the man so well known for guiding the Army Service Rifle Team to victory at the National Matches and a host of other major tournaments for many years. (Cover photo by Chris Fletcher.)
---
At the 2016 Summer Olympics in Rio de Janiero, Brazil, a little known (at the time) 19-year-old woman from the U.S. captured the world's imagination for a moment after she won the first gold medal of the Games. All the attention wasn't because she was a woman or a teenager, however, it was because she was a rifle shooter. After winning the Women's 10-meter air rifle gold in Rio, Ginny Thrasher went on to a great collegiate shooting career with rifle powerhouse West Virginia University, which was where the October 2016 SSUSA cover photo was taken. And what an iconic photograph it is, with Thrasher wearing her gold medal around her neck, while triumphantly holding the U.S. flag. This is Executive Editor John Parker's favorite cover of the decade. (Cover photo by WVU Athletic Communications.)
---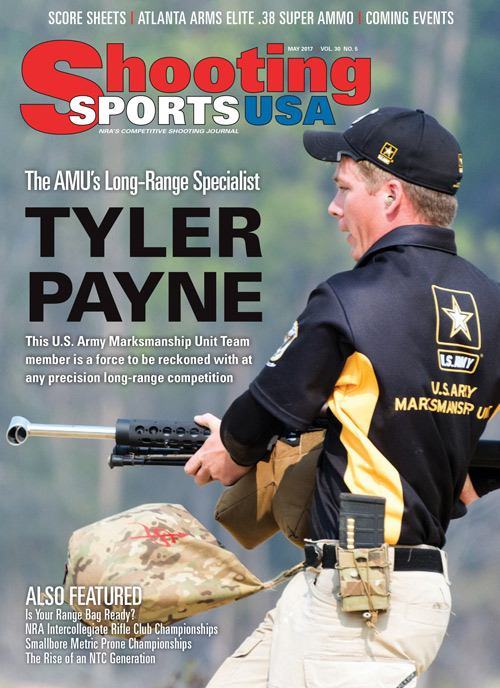 Towards the second half of the decade, the precision rifle sports were really beginning to gain some steam and the May 2017 Shooting Sports USA cover and accompanying feature article reflected this new trend in competitive shooting. Always on the hunt for interesting stories, John Parker attended the inaugural Precision Rifle Series Gas Gun event in Baker, FL, that March. While there, he captured this great photograph of AMU long-range rifle expert Tyler Payne while he was on the move at a stage requiring competitors to sprint about 20 yards to reach the first firing position. Payne would go on to win the match with much fanfare. The gear on the cover: rifle, JP Enterprises LRP-07 chambered in 6mm Creedmoor, topped with a Vortex Razor HD Gen2 4.5-27 riflescope. (Cover photo by John Parker.)
---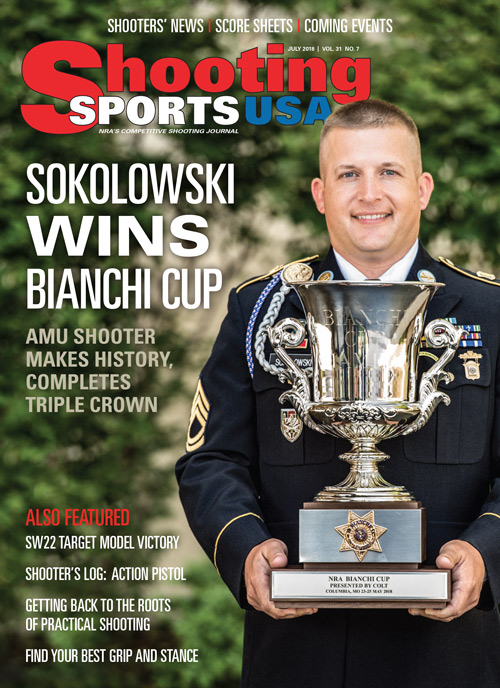 When U.S. Army Marksmanship Unit service pistol team shooter SFC Adam Sokolowski earned his first NRA Bianchi Cup victory in May 2018 with a perfect score of 1920-176X, he made history with a feat that is unlikely to be repeated any time soon. After winning the Production and Metallic Championships at Bianchi in previous years, the 2018 win completed his Triple Crown in the action pistol discipline, which squarely placed Sokolowski in rarefied territory alongside names that are synonymous with success in the sport, such as Rob Leatham. John Parker's coverage of the Bianchi Cup in the July 2018 issue included this excellent cover shot of Sokolowski as he holds the sterling silver cup, along with a full match report from what is sure to be remembered as one of the greatest years ever at the NRA National Action Pistol Championship. (Photo by NRA Staff.)
---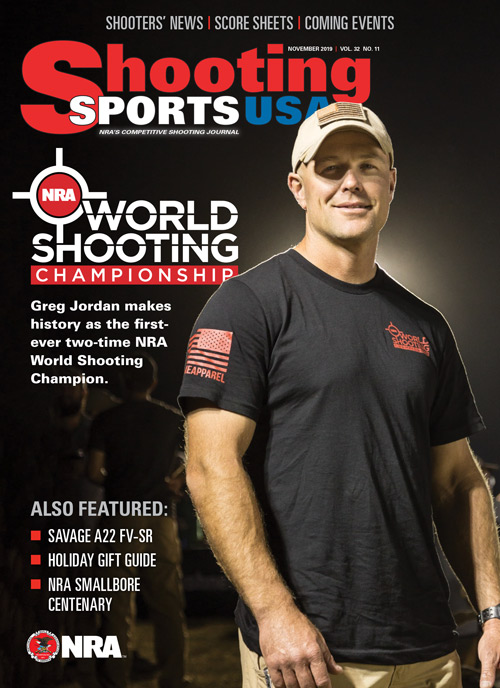 At the 2019 NRA World Shooting Championship, pro shooter Greg Jordan made history when he became the first to ever repeat as the winner of the match. Jordan had previously won the match in 2017. NRA Publications photographer Jesse Snyder used the light from a tower to capture this photo during the dark of night during the awards ceremony. The image itself has become an iconic representation of the match, which has all guns and ammunition provided to competitors. The NRA World Shooting Championship has become a fan favorite with competitive shooters, as it features 12 stages that cover the entire shooting-sports spectrum with pistol, rifle, shotgun and combined arms sections. Plus with a fat cash purse and separate prize tables for professional and amateur shooters, it is very much on the "must-do" list for competitive shooters around the world. Just ask Greg Jordan. (Cover photo by Jesse Snyder.)
---
See more:
Our Top 10 Articles Of 2019