by
at
USA Shooting
posted on April 7, 2023
Support NRA Shooting Sports USA
DONATE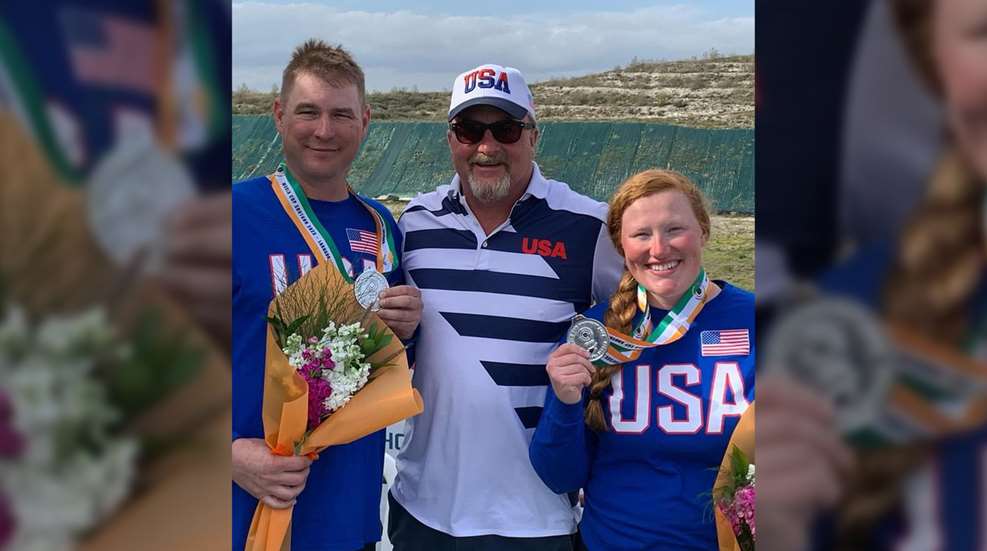 Alicia Gough and Glenn Eller, and Olympic gold medalist, earned silver in the Mixed Team Trap event at the 2023 International Shooting Sports Federation (ISSF) Shotgun World Cup in Larnaca, Cyprus, April 2.
The duo competed in the qualification round and had a shoot-off with Portugal and Slovakia due to a three-way tie (139). After winning the shoot-off, Gough and Eller faced another Portugal team in the gold medal match where they placed second to earn the silver medal. The final score was 7-3.
The competition in Cyprus marked Gough's third World Cup medal of the 2023 season. At the Doha World Cup, she earned a bronze medal in Women's Trap, along with a gold medal in Mixed Team Trap with Will Hinton.
As for Eller, he is no stranger to the international competition scene. A five-time Olympian, he has earned eleven World Cup medals, four World Championship medals and a Pan American Games gold medal over the course of his shooting career. The competition in Cyprus is Eller's second world cup of 2023.
Dustan Taylor competed in Men's Skeet at the 2023 ISSF Cyprus World Cup, going on to place fourth overall after making it to the final. In addition, Rachel Tozier advanced to the Women's Trap final and she placed seventh overall.
Taylor went on to compete in Mixed Team Skeet with six-time Olympic medalist and NRA Director Kimberly Rhode. The pair placed fourth overall, falling short to Chile, 6-2.
Gough, Eller, Taylor and Tozier are all soldiers in the U.S. Army Marksmanship Unit, in addition to being USA Shooting National Team members.
The shotgun athletes made four of the six possible finals at the 2023 International Shooting Sport Federation World Cup in Cyprus.
"We didn't win the medal count this time, but lessons were learned, and experience was gained as we build a strong foundation on our path to Paris 2024," Jay Waldron said about the competition. Waldron is the USA Shooting national shotgun coach.
Team USA was first place for overall medals at the past two World Cups of 2023. The team brought home nine medals at the Rabat competition—ahead of the four that Greece earned—and six medals at the Doha World Cup, triumphing over Italy's four.
See the full results of the 2023 ISSF World Cup Cyprus at the ISSF website.
Learn more about USA Shooting at usashooting.org.