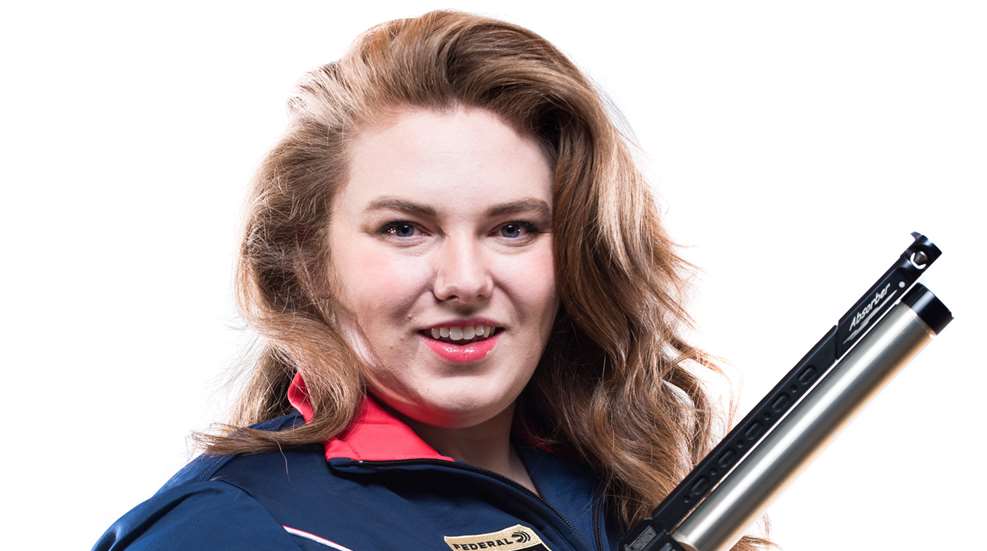 While some of us have a hard time determining our plans for next week, two-time National Champion pistol shooter Alexis Lagan already has her sights set on gold at the 2020 Olympic Games. Winning comes naturally to Lagan, who as a youngster often ended up beating the boys in rifle shooting, even sending one home crying once. Here's her story.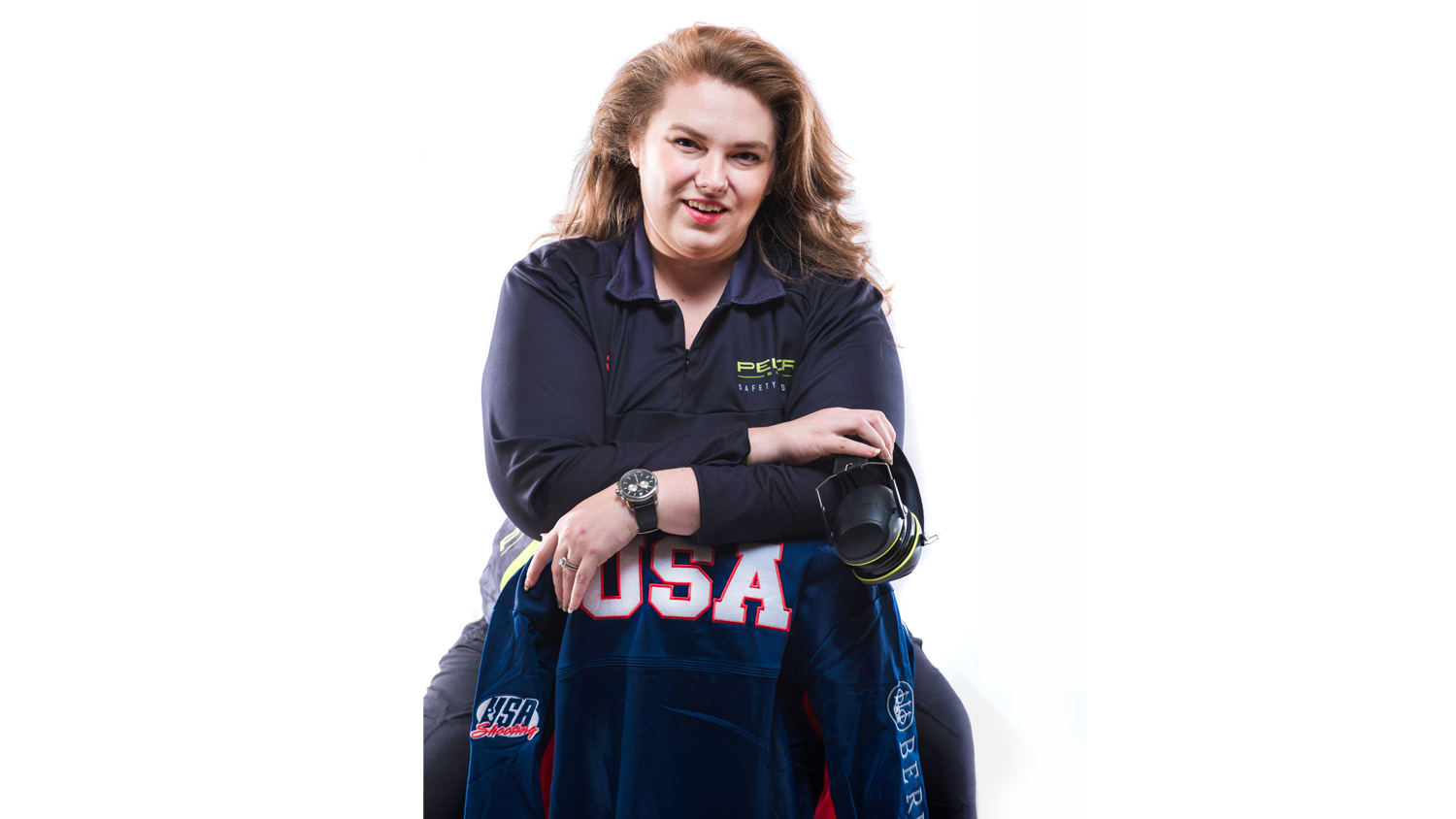 What are your first memories of handling a firearm?

After my dad taught me firearm safety, and felt I was a responsible young shooter, he made a custom pink stock and engraved my name in the side. Dad put it on a small .22 LR rifle and gave it to me for my eighth birthday. I loved that little gun, and would ask to see it any time dad opened his gun safe. We went out almost every weekend as a family to shoot, and I had my own special gun to bring along. I still have my rifle, and perhaps it will spur a tradition for our family.

Tell us about your start in competition shooting.

I started competing while attending the University of Utah. I didn't think it would be a huge deal. I really wanted to meet people and make friends. However, the more I competed, the more I wanted to improve. That competitive drive pushed me so much farther than I could ever have expected.

Share with us some of your major accomplishments.

Winning my first international gold medal and Olympic quota at CAT Games in Guadalajara, Mexico, is currently the highlight of my accomplishments. It was so rewarding to turn away from the targets and realize that I had done it. I went there to earn a quota—and I did it!

What firearms and other gear do you use for competition?

Currently, I shoot a Pardini K12 air pistol and a Pardini SP .22 LR. These guns are easy to use and adjust. Plus, if I have any questions or need servicing, I just call Pardini USA for help. For .22 LR ammunition I shoot Eley tenex in my pistol. They're very accurate with minimal malfunctions. For my air-pistol pellets, I am currently liking how RWS shoots. I've been able to get tight groups when pellet testing, and the weight has been very consistent, which is important when selecting pellets.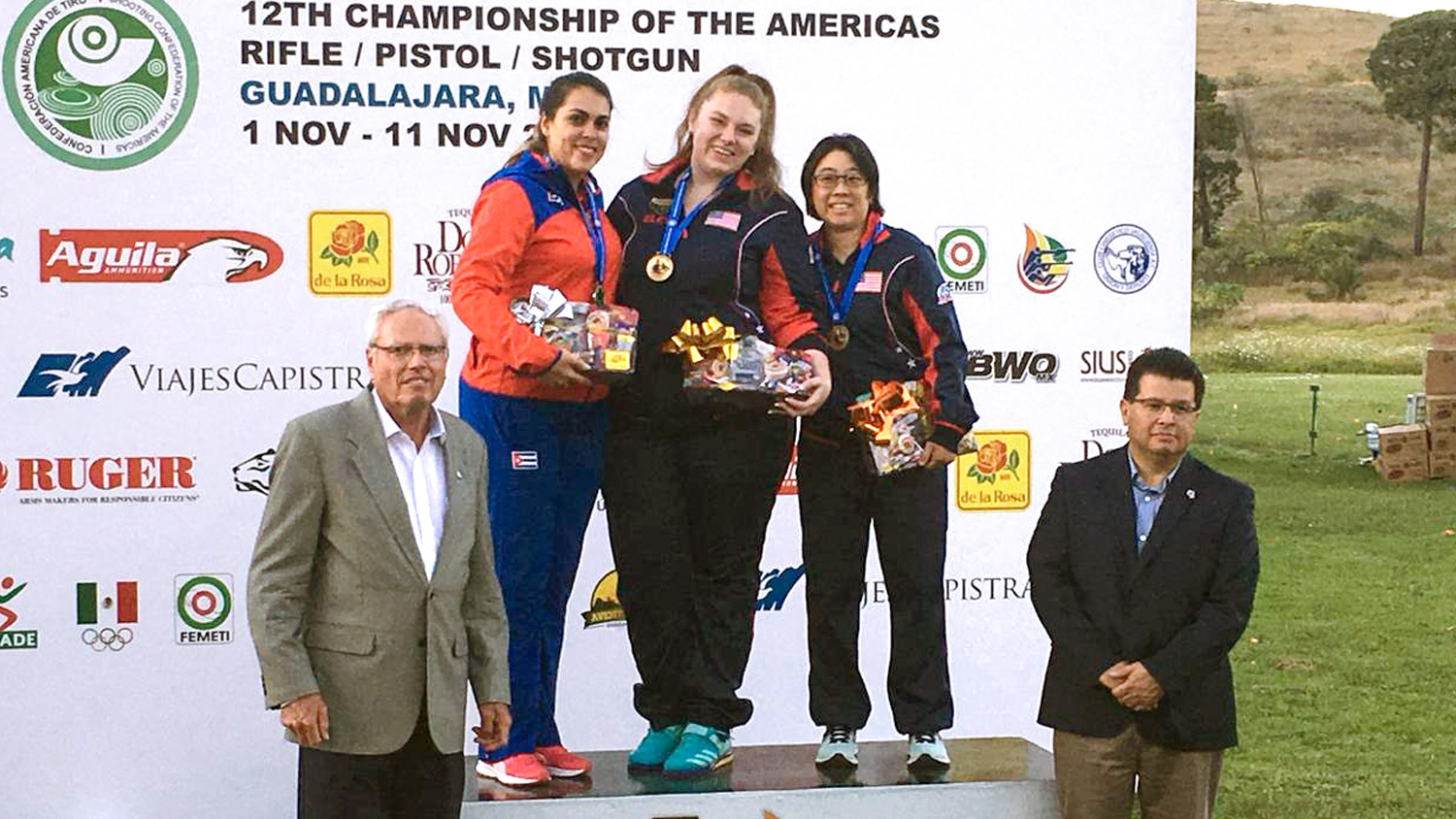 Tell us about your range bag and what you carry in it besides your firearms.

For a range bag, I use an SKB iSeries 2015-10 Waterproof Utility Case. It has plenty of room, without being too bulky or clumsy to carry. My favorite part is the extendable handle which makes it easier to get going in a hurry.

Beside my firearms, I keep quite a few things inside my case: 
Tools for repairs.
Cleaning set.
Stopwatch.
Towel.
Screwdriver.
Targets and drill papers for warmup before training or a match.
Adidas weightlifting shoes (great for pistol shooting) in a small bag with sport tape, lavender oil, gum, safety pins, extra locks, pen, pencil and icy-hot cream.
Knobloch shooting glasses and Peltor Sport tri-flange reusable earplugs in a small hard case.
Two sets of outer ear protection, Peltor Sport Shotgunner II earmuffs for matches and Peltor Sport Tactical 500 earmuffs for training. The Tactical 500 connect through to my phone with Bluetooth allowing me to train with music—yet still hear my coach and any commands.

I also carry my USA Shooting Under Armour backpack with supplies for traveling, including: 
Small first aid kit.
Water, juice and snacks.

An extra hat, jacket, pants and sometimes even shoes—depending on the weather.

I never leave the house without my In The Leafy Treetops planner. It has all my schedules for shooting, work and personal life. It's also my shooting journal where I keep track of training sessions and matches. The book even contains a meal planner for trips, budgeting and a place to keep emergency numbers. I love it!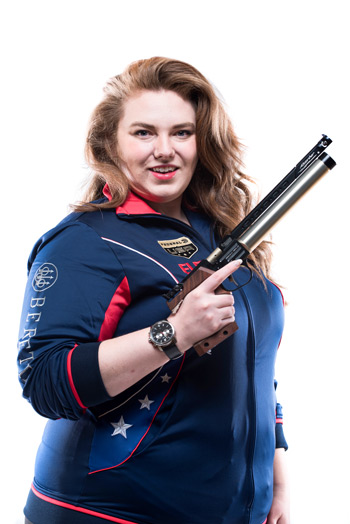 What do you do in your free time?

A lot of my time is spent working. It is expensive to shoot at these big matches all over the world. Even with so many wonderful sponsors and donors, funding for the U.S. Pistol team is in short supply. I do my best to be self-reliant, but working part time around my hectic shooting schedule doesn't pay the big bills.

I belong to the Church of Jesus Christ of Latter-Day Saints and enjoy fun activities with other members and volunteer groups that serve in the community. I also love singing and playing piano, as well as hiking and camping in the beautiful mountains surrounding Colorado Springs.

What would you tell someone interested in finding out more about your sport?

Go to USAShooting.org, which is great for new shooters who are interested in trying out the sport and staying up-to-date with the USA Shooting team's matches and events. If you can't find what you are looking for, do not hesitate to reach out for more information to our great staff. Another great resource is SSUSA's Coming Events section. This is a great sport and wonderful community, and we would love to see more members join.

Any tips for the new shooter?

Do not get discouraged. We make it look easy, but this sport is difficult. It's not just physical, but also mental discipline that won't come overnight. Keep at it!

Congratulations to Alexis on her recent marriage to Jacob Peterson this past January.

Photos by Chris DeWitt
---
See more Range Bag articles: