Hank Garvey has been shooting for half his life, considering he started at the age of 8 — on a shotgun. Since 2011, he has been concentrating on International Double Trap, and it doesn't look like he's missed his target or focus much.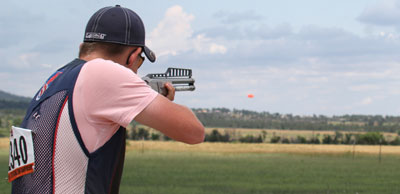 The 16-year-old high school student from Newburyport, Mass., credits the Scholastic Clay Target Program, where he won his first National Title last summer and a consequent appointment to
USA Shooting's Junior Olympic Team
, to his success. In January, Brownells chose Garvey as one of six representatives for the 2015 Brownells/National Rifle Association (NRA) Youth Shooting Sport Ambassador Program. 
Garvey loves to hunt, fish and be outdoors when he's not shooting competitively or practicing. He also likes to share the sport of clay shooting with others, "especially little kids." To young, aspiring shooters, he says, "Stay with it, keep with it and your day will come."
He chooses an Under Amour "USA Shooting" backpack. Here's what he packs in it:
• USA Shooting Team vest & towel
• Rain jacket
• Pilla glasses and lenses
• Molded earplugs
• Water bottle and Nuun hydration tablets
• Alkaline powder bag (in case hands get sweaty)
• Hacky sack and deck of cards (entertainment in between rounds)
• Earbuds (to listen to music while getting in zone)
• Chapstick and sunscreen
• G. Loomis baseball hat (lucky fishing hat)
• Oakley Sunglasses
• Small first aid kit
Website:
hankgarveyoutdoors.com
Instagram: @hankgarvey
Twitter at https://twitter.com/GarveyHank