by
posted on July 28, 2020
Support NRA Shooting Sports USA
DONATE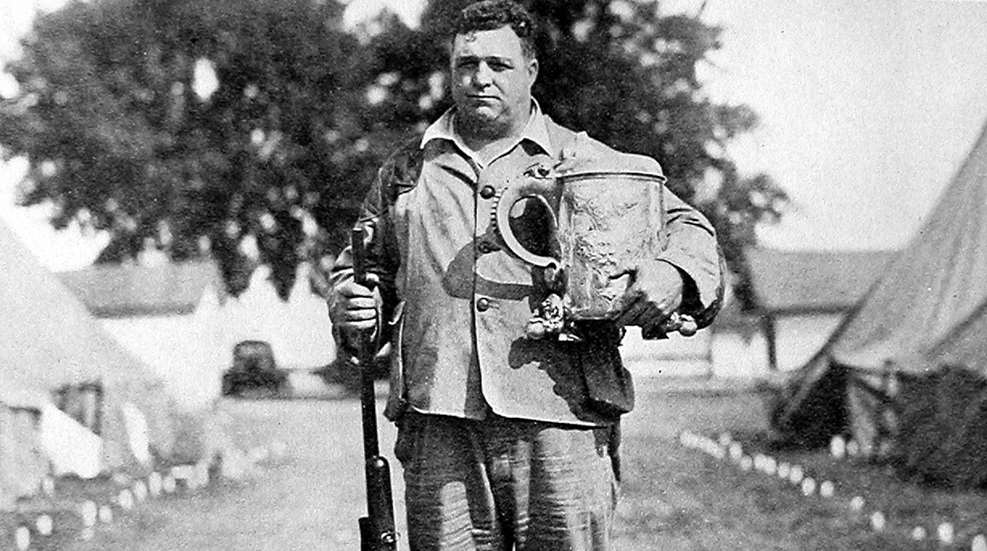 The Wimbledon Cup Match for 1935 recorded one of Camp Perry's more memorable "firsts." It was the first year in which a Wimbledon Cup winner used a rifle chambered for a "Magnum" cartridge.
The Cup for 1935 went to a stocky, broad-shouldered, barrel-chested shooter from St. Louis, MO, one Ben C. Comfort. Comfort had not made much of a national name for himself prior to 1935 (though literature of the time referred to him as a "veteran" rifleman) and little is known of him after that epochal year. An advertisement for Griffin & Howe (G&H), the firm that built his rifle, described him as "a businessman." Kendrick Schofield, who reported on the 1935 National Matches for American Rifleman, noted of Comfort only that he had "long aspired to the massive British trophy" but his victory was not without controversy. 
Comfort had only just received his custom-built rifle. He had no sighting data for 1,000 yards, and Wimbledon rules in 1935 did not provide for sighting shots. So Comfort entered the President's Match, which, in those days, had a 1,000-yard slow fire stage. The President's Match was, and is, a service rifle match, but Comfort's entry was accepted and the range officer allowed him to fire the 1,000-yard stage. Comfort, in effect, got 10 sighting shots from which to gather data and he made good use of them.
His action did not go unquestioned (not, unfortunately, until after he had won the Wimbledon), but, in Schofield's words, "the weight of opinion was that in [using the President's Match to get a zero] Comfort had done no violence to any rule and was therefore entitled to the fruits of his victory."
Comfort's score is variously reported as 100, 100-14V and 100-17V. Schofield credits him with 17 Vs and points out that the second-place competitor, Ernest Sellers of Alabama, had 100-14V. The NRA's trophy records list only the 100-point score. An advertisement for Western Ammunition lists Comfort's score as 100-14V. The Wimbledon Cup is engraved in two lines on the upper left side of its handle, "Ben C. Comfort / Score 100-14V 1935."
But what of Ben Comfort's rifle? Ben Comfort was first to win the Wimbledon using a magnum cartridge (a .300 H&H Magnum). Griffin & Howe, as noted, built the gun using a Model 1917 action (origin unspecified) as the basis. Stock work was done by G&H stocker Ernest Kerner. The barrel is described in the Western Cartridge advertisement as being of Winchester manufacture, 30 inches in length. G&H, in a 1936 ad promoting their product and workmanship, stated that Griffin & Howe "Ordnance steel" barrels, tapering from receiver diameter (1.3 inches to 1 inch at the muzzle "the same contour as Comfort's barrel") were available. Comfort's rifle was a single-shot, though G&H would build a magazine rifle if the customer wished. The G&H ad includes a photo of Comfort's rifle that shows what appears to be a Lyman 5A telescopic sight (described only as being of 5x magnification in the Western ad). Metallic sights are conspicuously absent.
Comfort fired Western .300 H&H ammunition especially developed by Western ballisticians and loaded at the plant in East Alton (across the river from St. Louis, MO) using 180-grain Western match bullets.
Comfort had some highly regarded company when he won the 1935 Wimbledon. The top-scoring eight competitors posted clean, 100-point scores. Sellers finished second. Marine Sgt. C.J. Anderson, who finished third at 100-14V, also shot on the winning Herrick Trophy Team for 1935. Ben Harrison, a civilian from Massachusetts, shot a 100-13V fourth-place score using a National Match Springfield "service rifle" and would have won the Farr Trophy had it been in competition in 1935.
The fifth-place finisher, also at 100-13V, became a legend among reloaders and benchrest shooters, but not before he earned near-legendary status among service rifle and pistol competitors. His name was L.E. Wilson ("Sam") and he was from Cashmere, WA. Wilson began shooting in the National Matches in 1916 and was one of the first civilians to become Double Distinguished, earning his Pistol badge in 1923 and his Rifle badge prior to 1929. Wilson reloading tools are still the standard by which other, similar tools are judged.
Sixth went to Vere Hamer, shooting for the South Dakota team, better known as the 1929 smallbore champion. Seventh was an Illinoisan, Conrad Nordhus. Nordhus switched to a service rifle for the 1935 National Trophy Individual rifle match and shot a gold-medal winning 11th place score (out of 1,600 entries). And, in eighth place was an Olympic and International champion, another competitor of titanic stature among both rifle and pistol shooters in the first half of the 20th century, Marine Sgt. Mag. Morris Fisher.
---
See more: 
Amanda Elsenboss: Long-Range Specialist