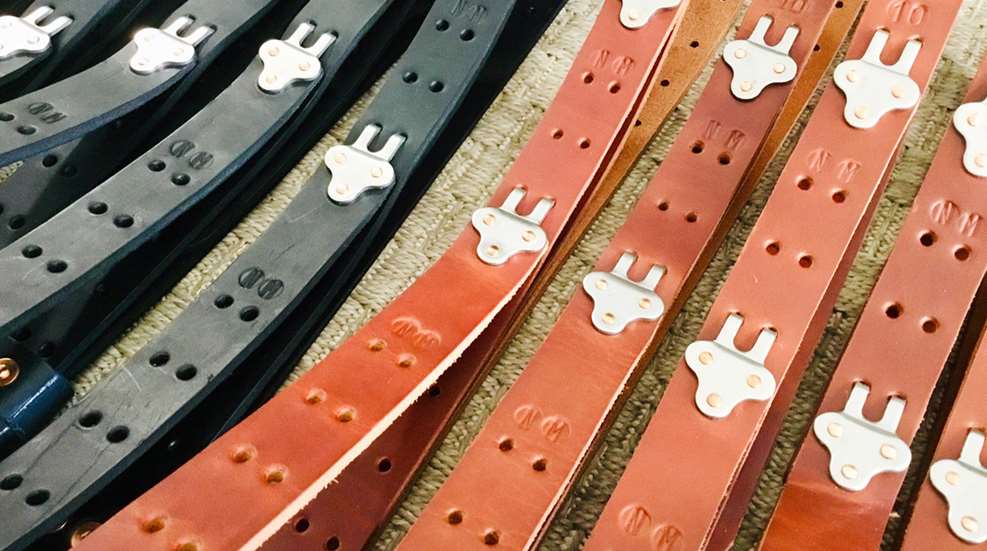 Nearly everyone starts competing with a web or synthetic sling. As one advances, equipment begins to make a difference in scores and most graduate to a leather sling. For high power shooters, the options were clear but a choice had to be made. Les Tam was the premier sling maker on the West Coast, but with a lead time of two years per, procuring one of his slings was a waiting game. Dr. Jack Jones, sling maker for the U.S. Army Marksmanship Unit, is well-known and loved in the East, particularly in his home state of Ohio. The issue here was not a long lead time, but finding the elusive champion himself. Shooters scouring the internet for information on how to obtain one of his slings will find elaborate theories involving midnight rituals in the woods among other outlandish ghost stories. Enter Eric Hollis.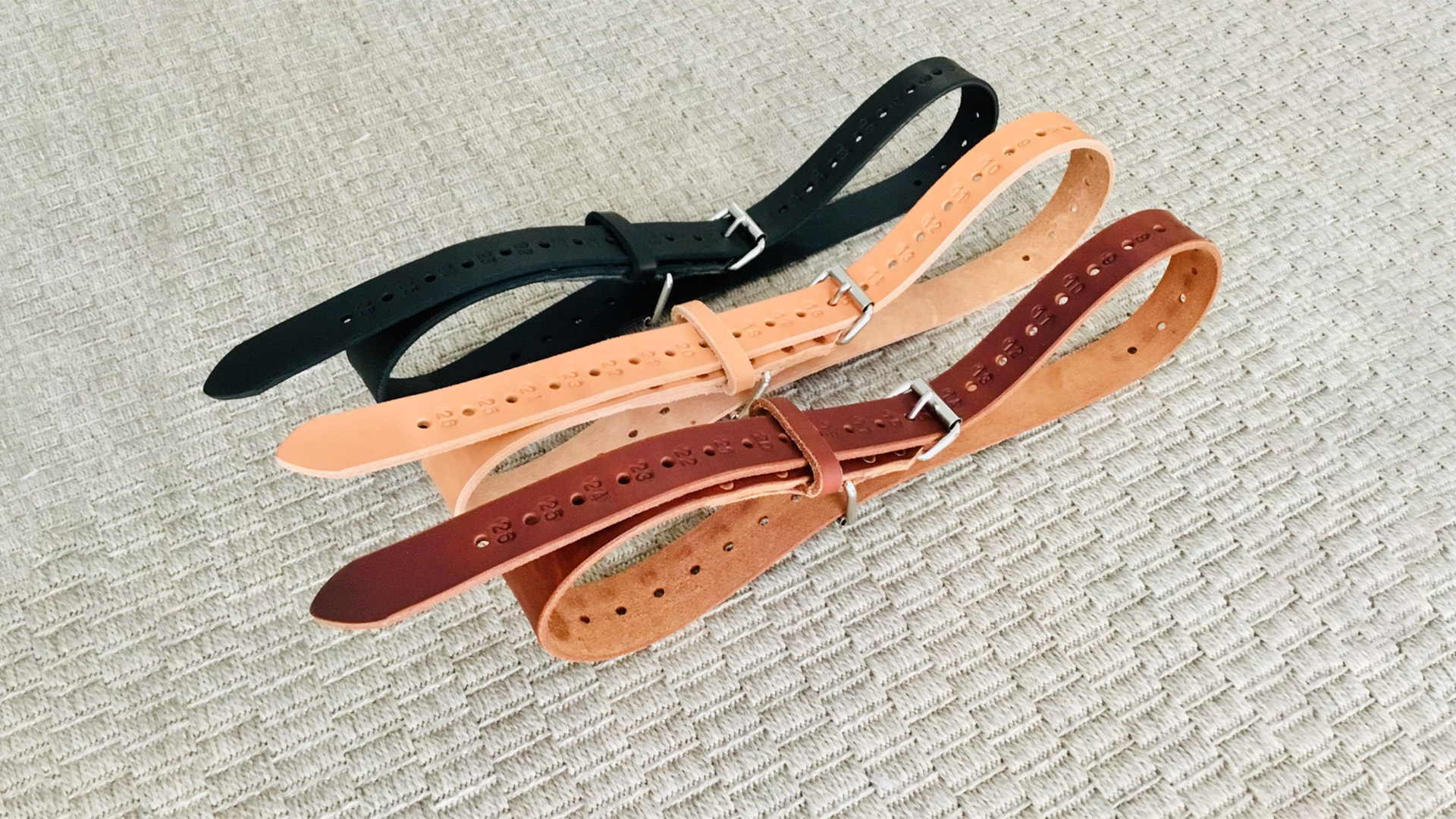 Looking to give back to the high power community, Eric Hollis of Palm Coast, FL, never dreamed he would fill the need for an easily reachable quality sling maker. Hollis was raised and attended culinary school in Michigan, working at the top restaurants in Detroit. His rave reviews led him to San Francisco, tied with New York City for elite status in the food scene. After 25 years, Hollis realized that he needed a change.
"I got in in a place like San Francisco which doesn't allow many people to be chefs … there's a lot of restaurants. To be a top 5-star chef at a really nice place takes a lot of work. That kind of work is 16-hour day work. I was blessed that I had a job and I got paid really well, but once I had kids, I never saw them."
Hollis specialized in French Classical fine dining and opened over eight restaurants in California. So how does a top tier chef come to start a sling making business?
Though not an avid shooter, Hollis had some firearm experience. During a two-year stint in Florida, he met a man at a gun range who introduced him to high power. Hollis unknowingly signed up for a match by agreeing to come observe the competition style. He was placed on first relay with a loaner coat and AR-15 A2. Trial by fire led to return trips to the range, aggregation of his own equipment and an untimely call back to California for work. He was welcomed by the California high power community who insisted he must order a sling from Les Tam in Hawaii. Hollis ordered one sling, waited two years for it to arrive, and decided then he should purchase another. When he called to order, Tam asked if he would like to order more than one. His declining health left no guarantee he would still be making them in two years.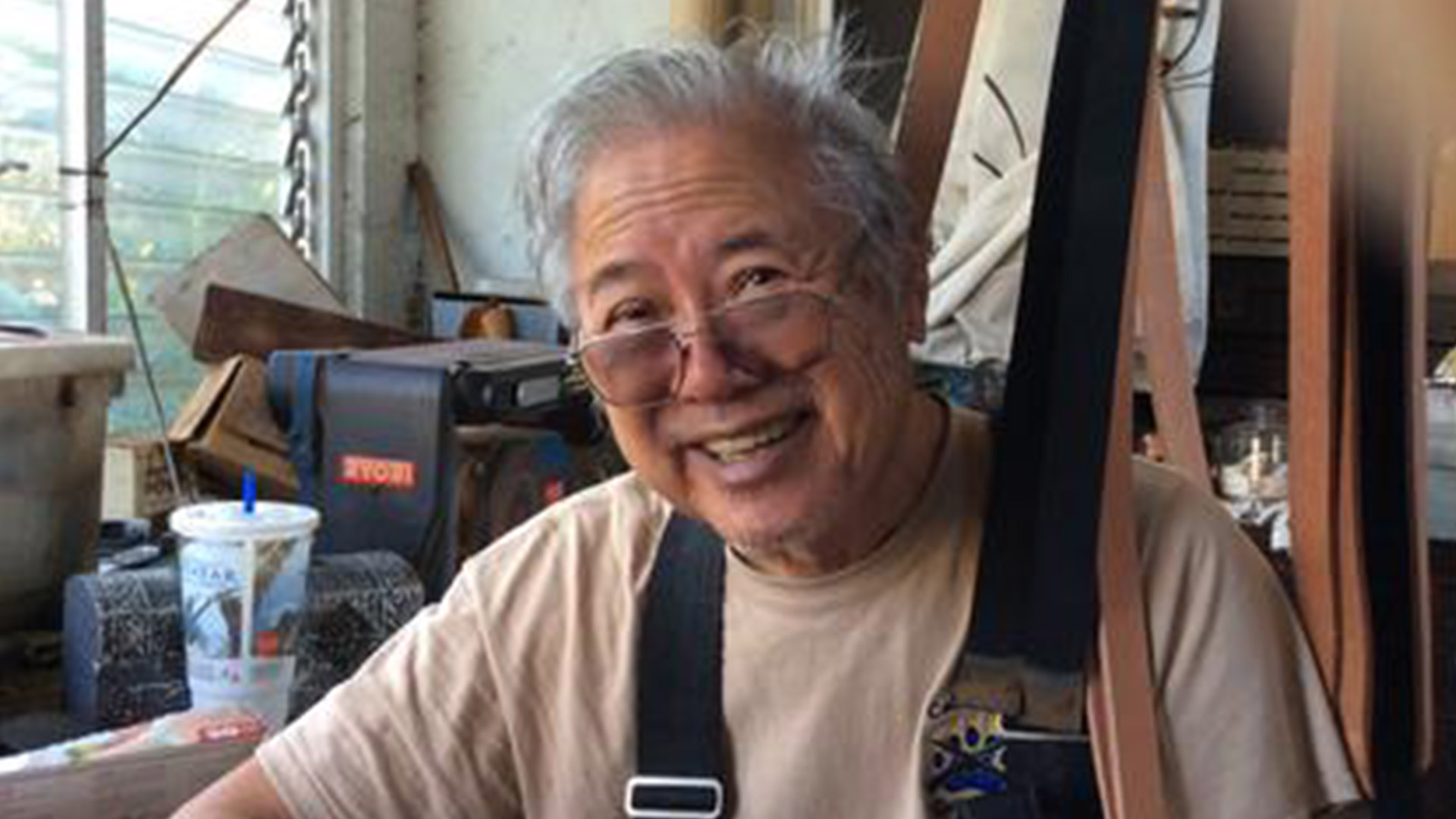 In that moment, Hollis made a decision. "I'm gonna ask him if he'll teach me his trade," he told his wife Veronica. "Because I'm a chef I work pretty well with my hands and I've got an artistic kind of view to life because culinary arts. I think if he taught me I could pick it up." Tam agreed and with the support of his family, Hollis used his scarce vacation time to travel to Hawaii and learn from Les Tam. Hollis was surprised that Tam volunteered his in-law suite and vehicle for a stranger to use. "He kinda jokingly said that he background checked me but I think I would have background checked myself also."
"[Les Tam] gave me all the opportunity to go forward," Hollis said. "He doesn't feel I'll infringe on his business…he's trying to get out and he wishes me luck." After about two weeks in Hawaii and with Tam's blessing, Eric and Veronica made the decision to leave California and start an entirely new life with their two kids. The crazy state that they loved was no longer the same. It was prohibitively expensive and their kids were growing up in the city, not to mention the anti-gun atmosphere. "A lot of the reason we were gonna change our lifestyle is so that we could be present with our kids." A house near the beach in Florida offered countless opportunities for the family as well as inspiration. "The ocean and waves, at least for me, they give me good energy, which translates into my creativity," Hollis said.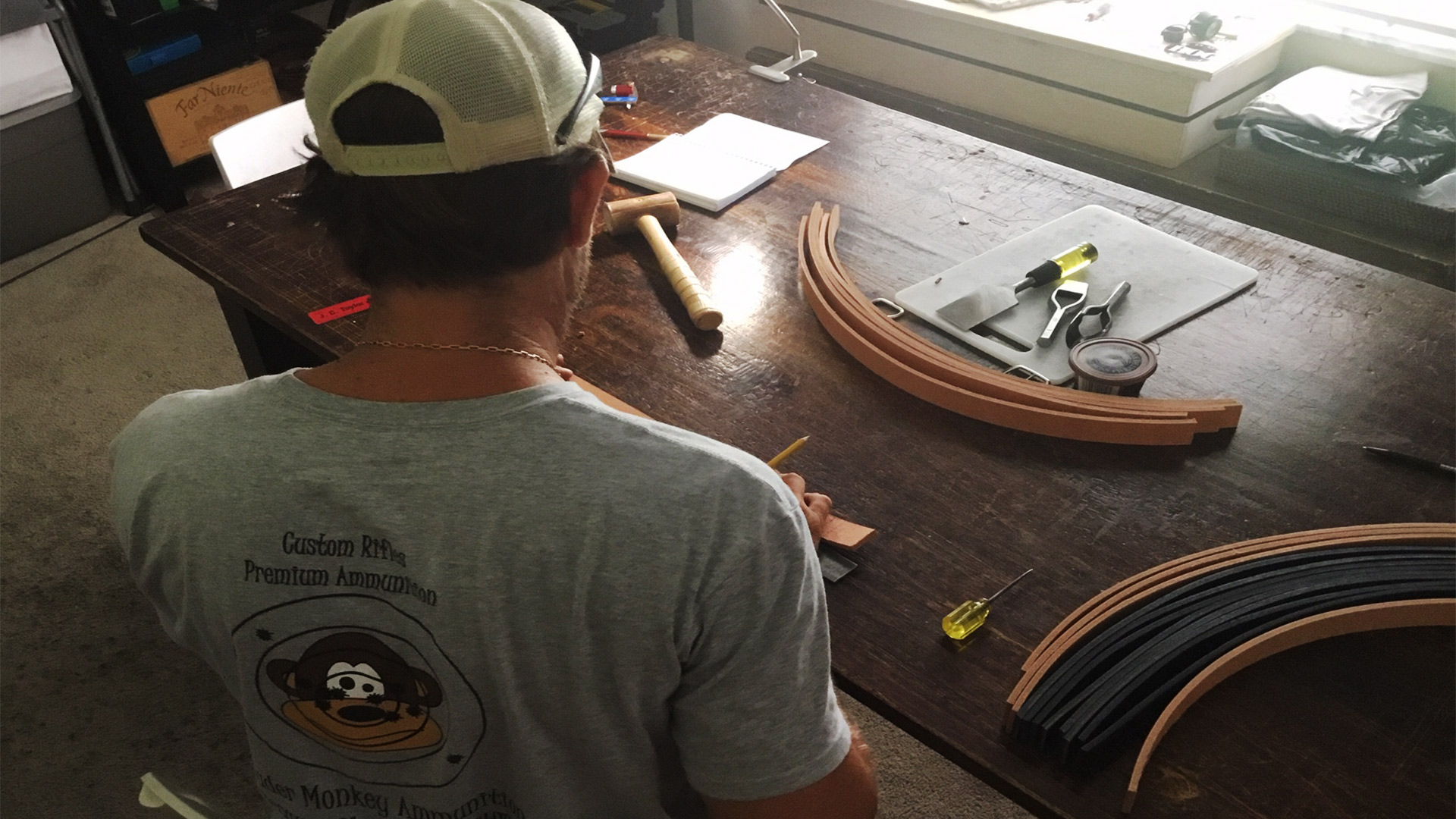 Eric Hollis Slings LLC made its debut in 2017 at the Florida Orange Blossom Regional. What started as an attempt to save a dying art turned into a career due to the high cost and purchase quantities of leather. Though his wife helps with the business, Hollis is the master craftsman. "We're trying not to mass produce but we try to make as many as we can and still be artistic. I make every hole—no hole gets punched by machine. I do all your rivets; I form all your keepers. It's something that we make by hand."
The Eric Hollis product line currently includes two styles of match rifle slings, a service rifle sling, two styles of belts, a dog collar and a dog leash in various colors of leather. Future offerings include a hunting sling. "I truly believe that if you're a sling business, you should try to make slings for every type of rifle, not only competition, but use there is."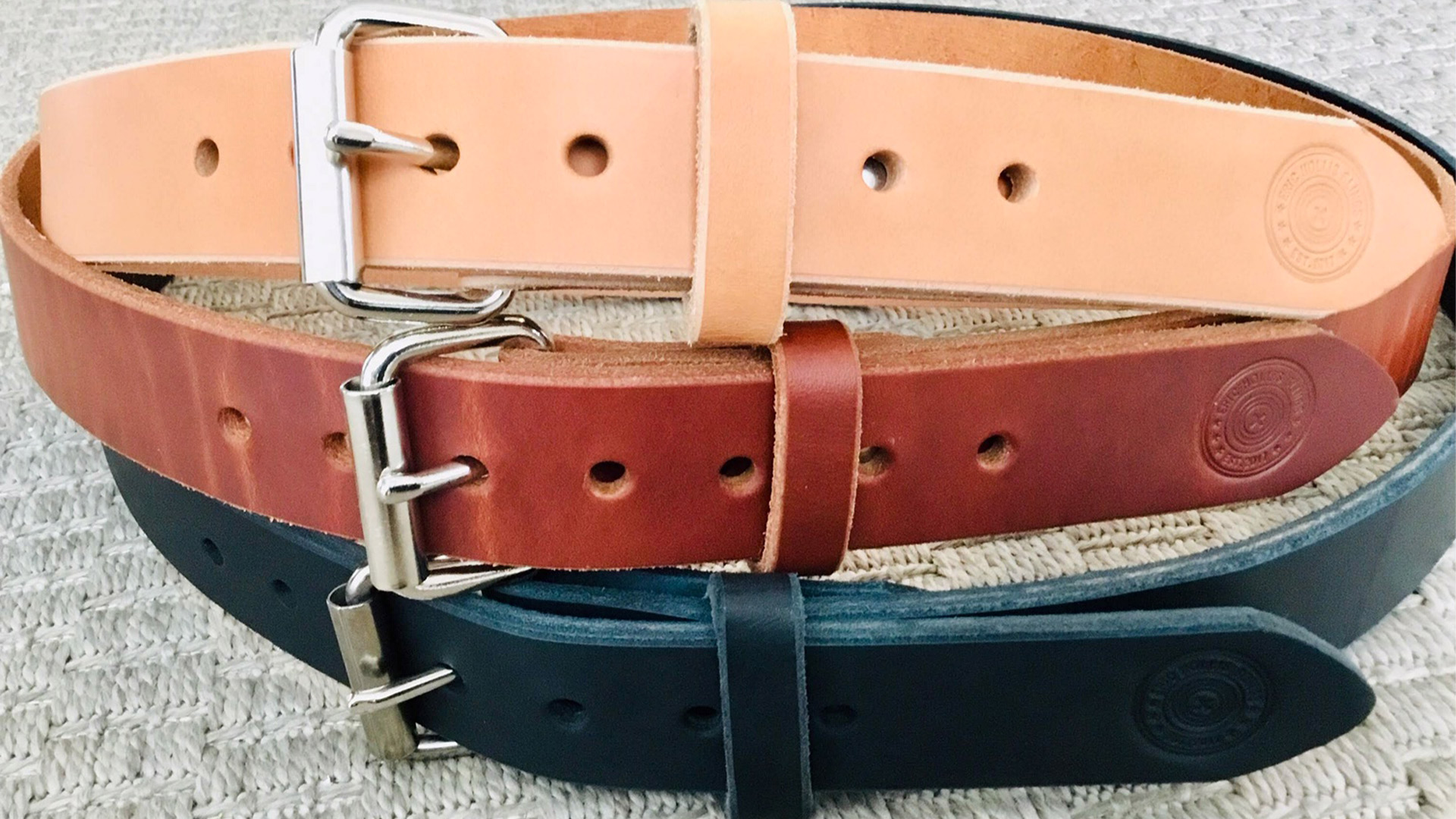 Through donations to junior teams across the nation and offering his slings at various EIC competitions as "First Leather" awards, Hollis is giving back to the shooting community and reviving old traditions. He has preserved the art of making a quality and affordable competition sling, while making it possible for him be there for his kids, strengthening those bonds.
Learn more at erichollisllc.com.
---
See more:
Excellence in Competition Rifle: Then and Now