Hopefully, PO1 Charlie Petrotto has a lot of free wall space at his house. He's going to need it.
At the 2018 New England Travel Games, held by the CMP at the Camp Ethan Allen Training Base in Vermont this past September, the 34-year-old shooter took home seven plaques—winning every single pistol event at the competition.
Pistol competitors at the match saw periodic rain showers, but according to Petrotto, the biggest challenge wasn't the precipitation, as much as the darkness brought on from the clouds overhead.
Says Petrotto, "Obviously you need to be hard on your front sights and smooth on the trigger, and it was hard to do the first part, so it was hard to get on your sights and stay on your sights—the target was so bright, and your sights were so dark. It was easy to jump to the target. I shot a couple of sevens that way, not paying attention to my sights."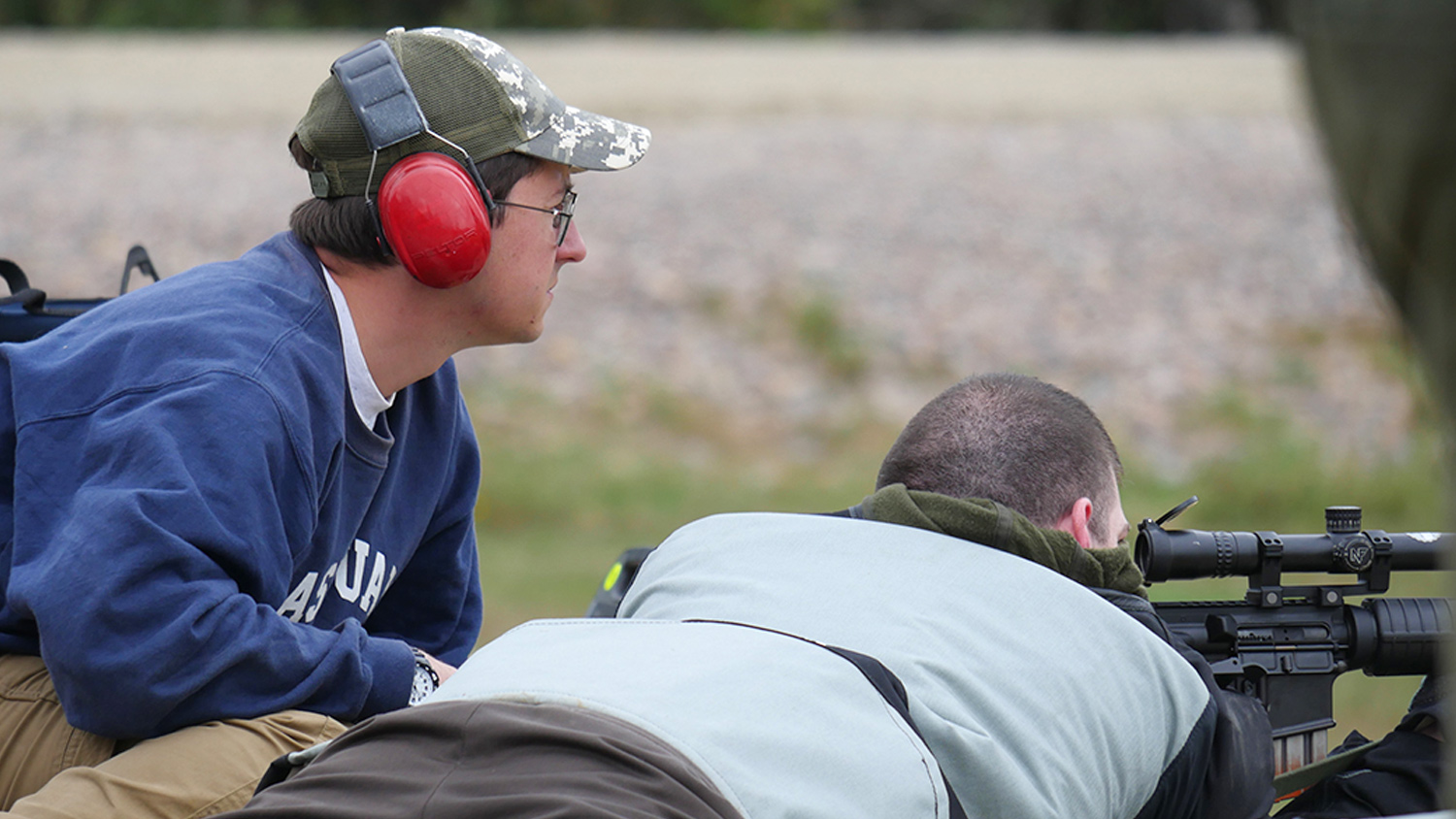 Petrotto, a petty officer first class, gunners mate in the Coast Guard, is passionate about marksmanship. Currently stationed at the U.S. Coast Guard Academy, he studies marksmanship and works with cadets and OCS candidates.
"With that, we get to do a lot of shooting," said Petrotto.
He came to the Academy already having earned President's Hundred and Pistol and Rifle Distinguished Badges—which are remarkable achievements. Now, with his fourth consecutive year of reaching the President's Hundred in pistol at Camp Perry, Petrotto continues to train at the Academy—remaining grateful for the supportive environment that it provides for him.
"It's really a [great] opportunity," said Petrotto. "I get to come in early to work, we have a range where I shoot air pistol, free pistol, .45, .22—[all] before we have a cup of coffee and get to work. I'm trying to capitalize on the opportunity while I'm there."
Becoming a champion
His love for marksmanship and competition began while in A-school in the Coast Guard. One day Petrotto, while perusing an ordinance manual, found pictures of the various Distinguished Badges—becoming fascinated with the concept. After making copies of the pages, he put them in his locker and told himself, "I have to get that."
As he honed his talents, Petrotto eventually connected with a double-Distinguished marksman who took him under his wing by lending him pistols and rifle gear.
"Of course, I did terrible my first time out," said Petrotto, laughing. "Ever since then, I've been totally hooked."
In the future, he'd like to move to international shooting, with the hopes of becoming the first triple-Distinguished Coast Guard shooter.
"[It's] one of those lofty goals, but something to keep my sights on," he concluded.