The West Virginia University rifle team ended the fall semester at No. 1 in last week's Collegiate Rifle Coaches Association (CRCA) Poll.



The rankings are based on the last aggregate score shot by each team.

CRCA Top 20 Rifle
West Virginia
Murray State
TCU
Alaska
Ohio State
Air Force
Nebraska
Kentucky
JSU
Memphis
Nevada
NC State
Army
Navy
Akron
Ole Miss
Morehead
UTEP
UTM
North Georgia
Most recently, the undefeated West Virginia squad tallied a 4711-4684 win over Ohio State on November 21.
Murray State jumped one spot to No. 2, after topping 4700 for just the second time in school history last week. Since breaking 4690 earlier this season, Murray State has now shot at least 4692 in each of its five matches since.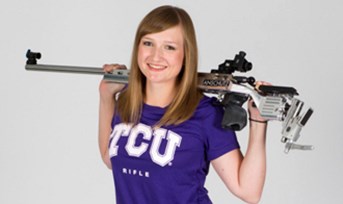 TCU fell one spot to No. 3, closing out the fall season with a win at Army. For the fifth time this season, the Horned Frogs surpassed the 4690 plateau, posting a team score of 4697.

Alaska-Fairbanks remains at No. 4 for the second straight week, and Ohio State sits at No. 5. Air Force drops one spot to No. 6, while Nebraska climbs four spots to No. 7. Kentucky, Jacksonville State and Memphis complete the top 10.

The Collegiate Rifle Coaches Association membership consists of coaches from the 33 represented schools who compete in NCAA competition rifle matches.