by
posted on January 27, 2020
Support NRA Shooting Sports USA
DONATE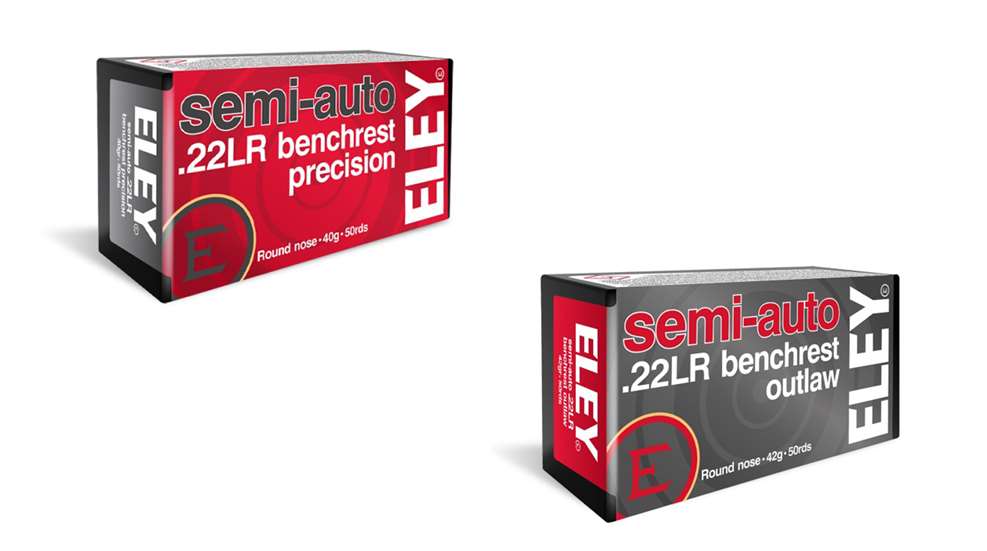 At SHOT Show 2020, Eley had two brand new semi-automatic rounds in its Benchrest ammunition line on hand. The new Benchrest Precision and Outlaw rounds both benefit from Eley's engineering expertise that we've seen for decades in classic favorites like the Tenex .22 LR flat-nose target round. The company says these new benchrest semi-automatic cartridges feature "ballistic characteristics to outperform the rest and dominate in the most demanding conditions."
Shot-to-shot consistency comes from internal ballistic performance, and Eley is well-known for pouring into research and development to obtain favorable ballistic characteristics. With a 40-grain round nose bullet, the Benchrest Precision round has an average velocity of 1,030/1,070 fps, and maximum RSD of 4.9 mm. (Velocity data from Eley rifle test barrels.)
The Benchrest Outlaw cartridge increases the bullet weight to 42 grains, and has an average velocity of 1,040/1,090 fps. Max RSD is 7 mm. UPDATE: We learned after SHOT Show that the Precision ammunition is available for purchase now at the Killough Shooting Sports website for $9.99 per 50-round box. Outlaw will be ready in February 2020 with pricing TBD.
Learn more at eley.co.uk.
---
See more SHOT Show 2020 coverage: