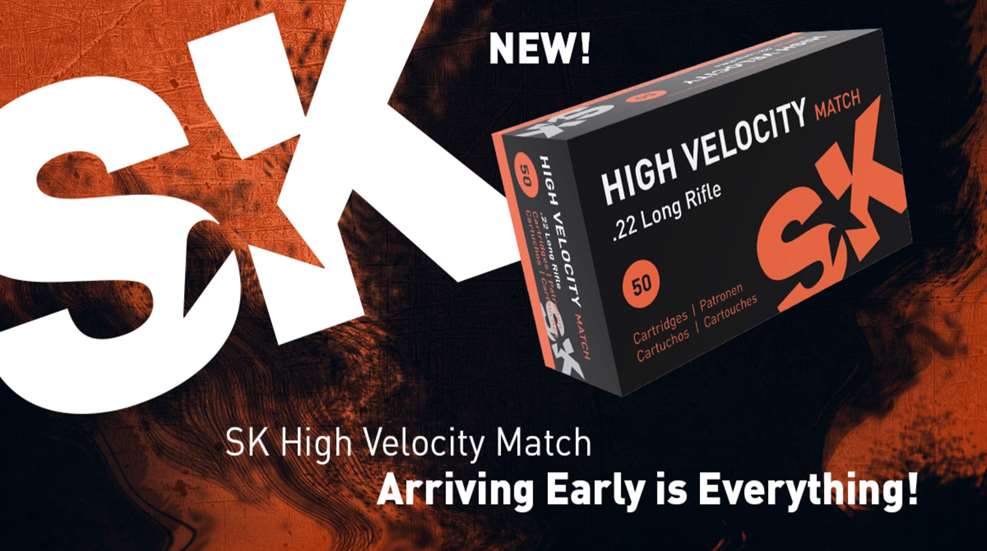 SK Ammunition recently announced a new addition to the company's line of .22 LR ammo—SK High Velocity Match. This new .22 LR offering is geared towards PRS Rimfire and NRL22 competitors.
With lightning-fast speed, SK High Velocity Match exits the muzzle at a 1,263 f.p.s. (385 m/s). To put this in perspective, the SK Long Range .22 LR load released in 2019 has a muzzle velocity of 1,099 f.p.s. (335 m/s). The new load includes SK's 40-grain, round-nosed projectile (BC G1: 0.172), which is combined with a proprietary blend of clean-burning, high-energy propellant for reliable functioning in all platforms—shot after shot. And for competitive shooting applications where every second counts, SK says "High Velocity Match [will] strike on-target with both speed and precision."
While many high-velocity rimfire offerings have not been updated in generations and are best used for plinking, SK's new High-Velocity Match offers shooters a high-performance .22 LR round.
SK High Velocity Match .22 LR ammunition will be available this spring. Learn more at sk-ammunition.com. For the latest updates, subscribe to the free SSUSA Insider newsletter.
---
Read more:
All About Capstone Precision Group