The
new Carry Optics division
is growing steadily. Locally, more and more people are participating in matches with a slide-riding dot on their pistols. The Everyday Carry and "tactical" world are also places where slide-riding optics are 
becoming mainstream
.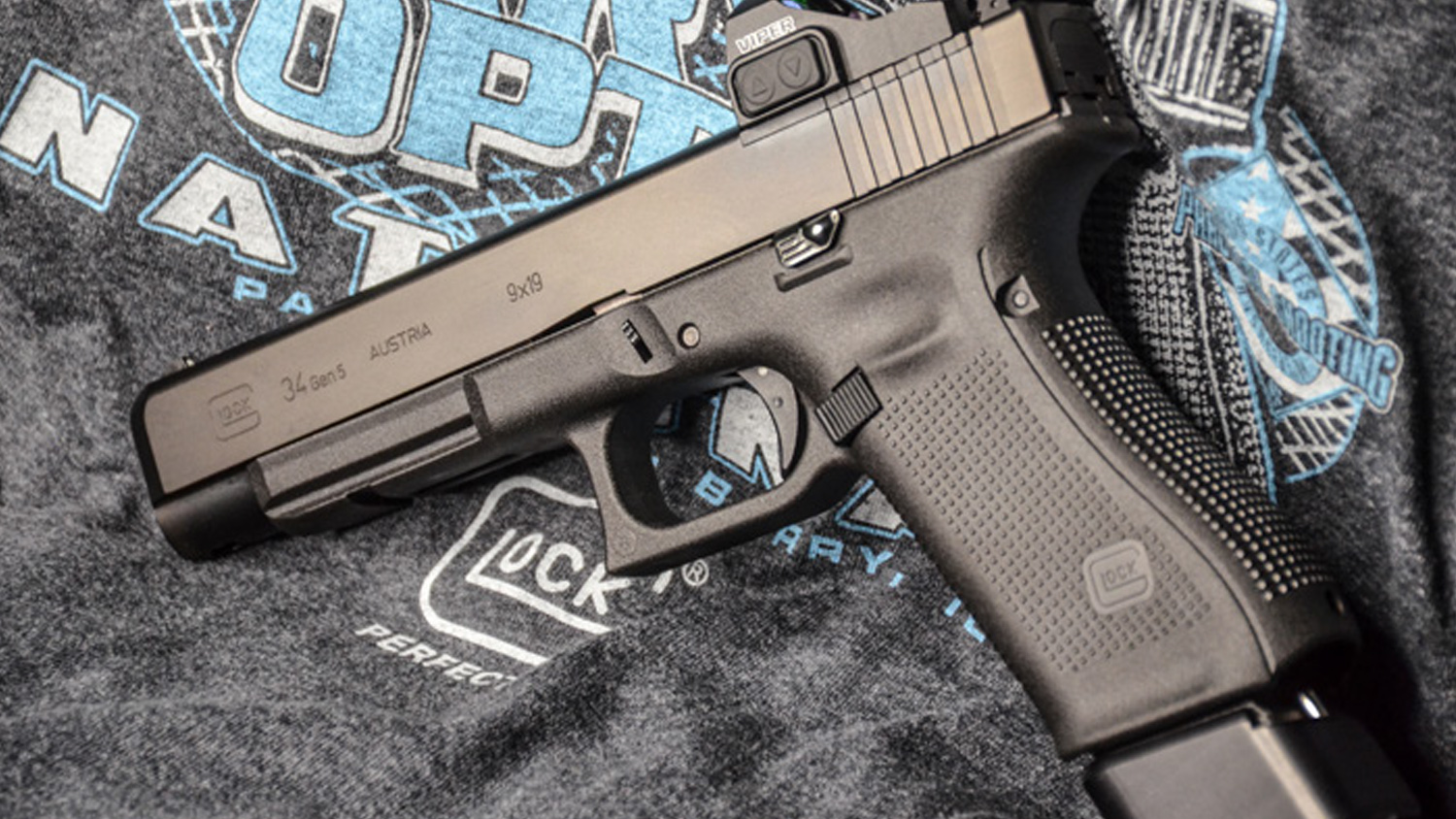 This developing technology of slide-riding optics is going to be a part of the shooting world for quite some time, for several good reasons: sighting with a dot is faster than using traditional iron sights; humans are hardwired to look at threats and the target rather than having a front sight focus, so the optic is more natural than a front sight; dots let nature take its course when it comes to shooting a pistol, and is simpler and faster. The other fact is that time creeps up on all of us; vision deteriorates and seeing a dot is much easier for older eyes. Being in the midst of my mid-life crisis, I am somewhat of an authority on dimming vision.
One other factor is that most gun people like gear. They find optics and pistols fitted for them to be cool, and they are right.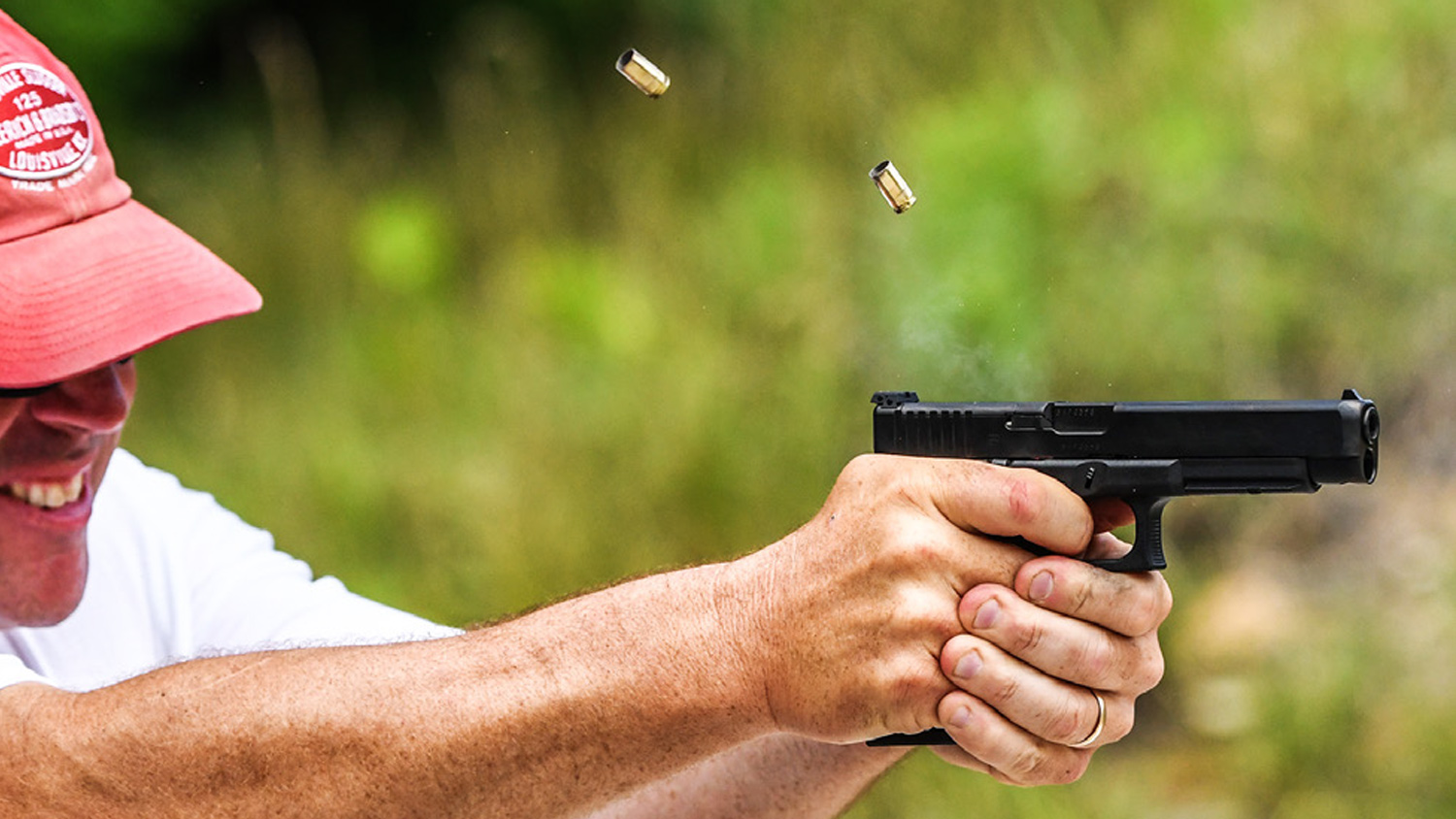 When Jake told me we had a
Glock G34 Gen 5 MOS ($721.99, Brownells.com)
on the way for review, I was not too excited. Everyone in the shooting world is
familiar
with Glock pistols and probably has strong feelings one way or the other about them. There are a few Glock pistols sitting in the safe a few feet away from me. They shoot just fine, but I do not carry one. I would describe myself as a moderate when it comes to Glock, not a fan, but not a hater. Would this Gen 5 MOS affect my position on Glock?
At first glance, the Gen 5 looks like the earlier versions of the Glock
G34
. The Gen 5 has the same front sight and adjustable rear sight as the Gen 3 and has the adjustable/interchangeable back straps that are a good idea on any pistol (and are becoming standard in the polymer frame world). The light/accessory rail is the same as earlier renditions, and the magazine release and slide release are the same size and shape as earlier models. However, the Gen 5 has an ambidextrous slide release. Kudos to Glock for thinking about the left-handers and the weak-hand-only shooting that this gun could be involved with in
competition
or carry. The grip is slimmer than the Gen 3, and the finger grooves are gone. It fits the hand better than the Gen 3. Will the fit and feel generate better results on the range?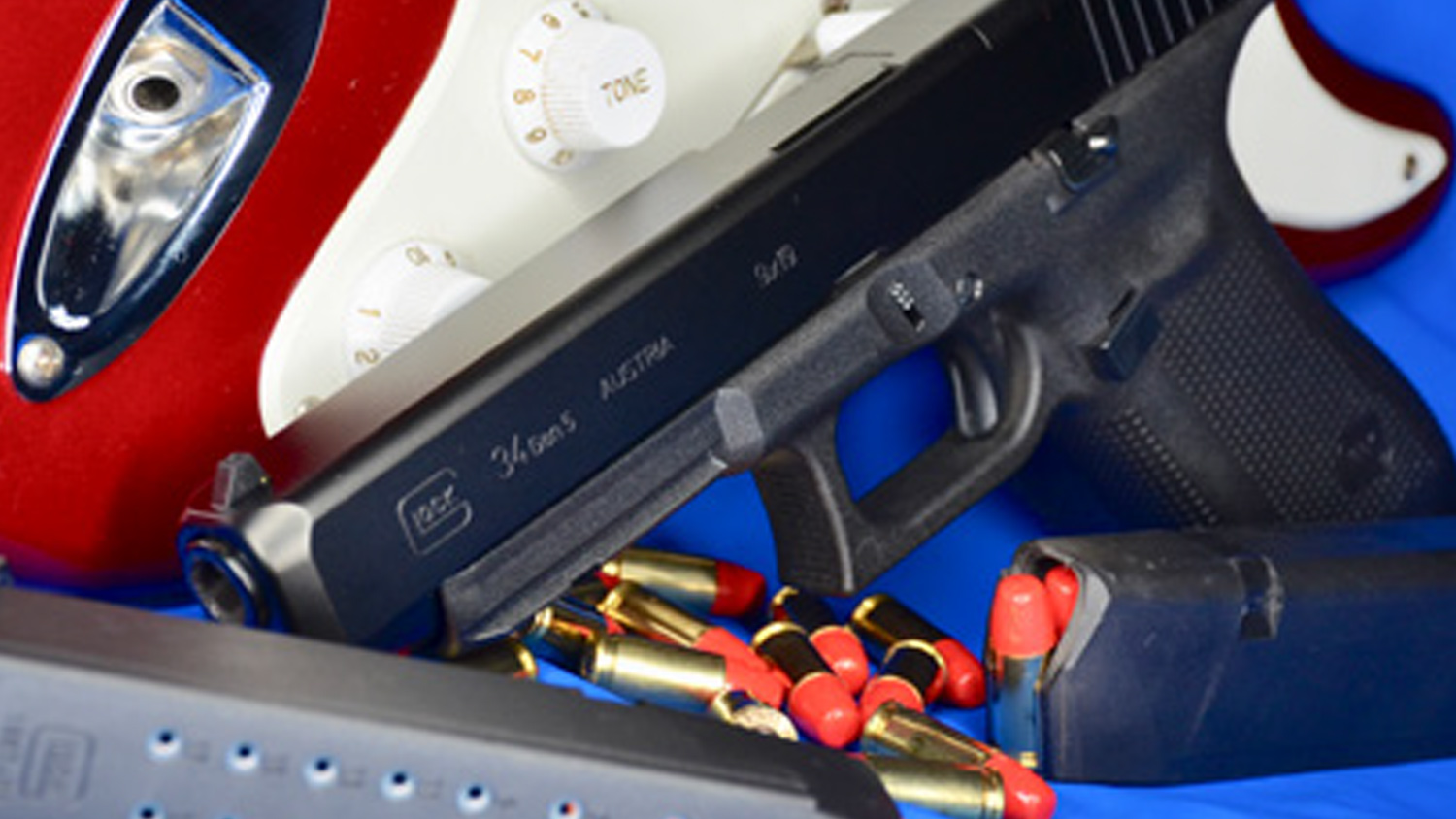 The slide is an area where things have changed. The Gen 5 does not have an open top slide behind the front sight. It is a solid, full slide on the muzzle end of the gun, machined to accept the optic between the ejection port and the rear sight. The slide cap is held in place by two screws, which can be removed so the cap can be replaced by an adapter plate to fit the desired optic. The test model arrived with a Glock MOS adapter set of four adapter plates, a set of screws, and a small tool to install the floor plate and the optic. (The adapter set is necessary and comes with the pistol.) Glock is getting the job done in this area for certain; I am now starting to shift more toward the Glock fan side of the spectrum. But how will it shoot?
After receiving the Gen 5, I went right out on the range and fired a couple magazines of rounds through the gun. The iron sights did not need any adjustment, and it seemed to perform well enough at 10, 15 and 25 yards while shooting groups. My Gen 3 does fine also in this type of shooting, but not so well in matches and drills shot at speed. At this point, though, there was no evidence that the Gen 5 was not a shooter.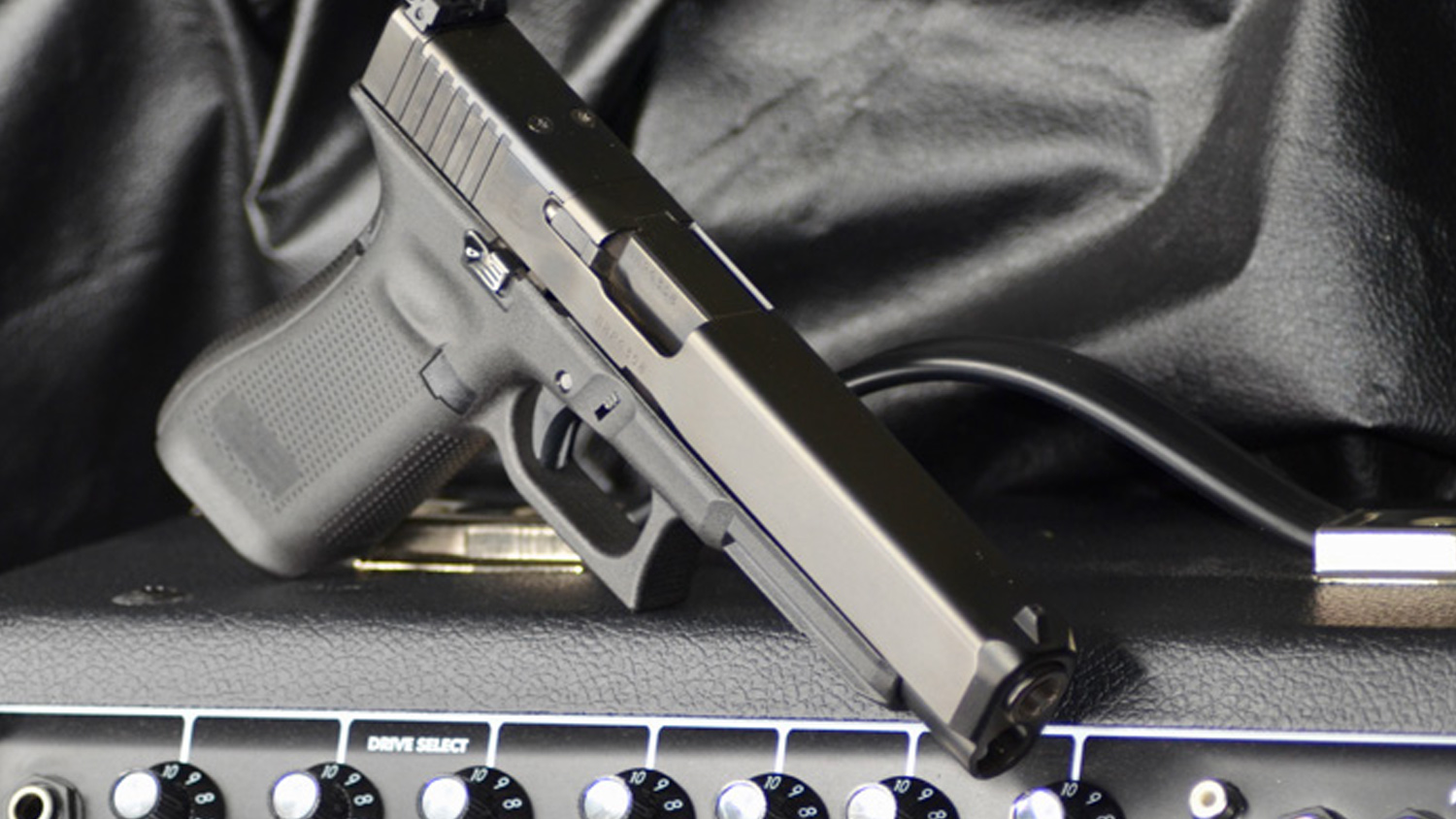 This year I have been starting range sessions with some longer-range shooting exercises, with targets at 30 to 50 yards while standing, doing these drills with either a Glock G34 or a G17. It was very humbling early in the year, but things are getting much better. I worked this Gen 5 into this role a couple of times and found it was very accurate at distance each of the times I used it in practice. With iron sights, it shot as well and probably better than the Gen 3. The trigger seems to be slightly better and it fits my hand better. My confidence was building in the accuracy of this gun, but without experience with anything resembling match circumstances.
The next test came in a carry gun match that was held in May at the
Riley Conservation Club
. After the match, I belted on the Gen 5 and ran each of the stages again for score. The format of this match required concealment, using a hit factor scoring system with minor scoring values on the targets. I had won the match with my own carry gun, but wanted to see how the Gen 5 would compare. I enjoyed the advantage of having already shot the stages and not having any real match pressure, so perhaps it was not a true apples-to-apples comparison, but it would be under match-like conditions and testing.
To paint a more complete picture, I had not previously drawn and fired the Gen 5 from a holster or on the clock. I was also fatigued from having run and scored every shooter through the match. My total time with my carry gun was 42.60 seconds for the match with 46 alphas and nine charlies. The Gen 5 bested that score with 39.03 total seconds for the match and 41 alphas, 13 charlies and one delta. As Buffalo Springfield has said, something is going on here
—
this Gen 5 performs better than my carry gun. Perhaps my moderate position on Glock is in jeopardy; the Gen 5 is performing well.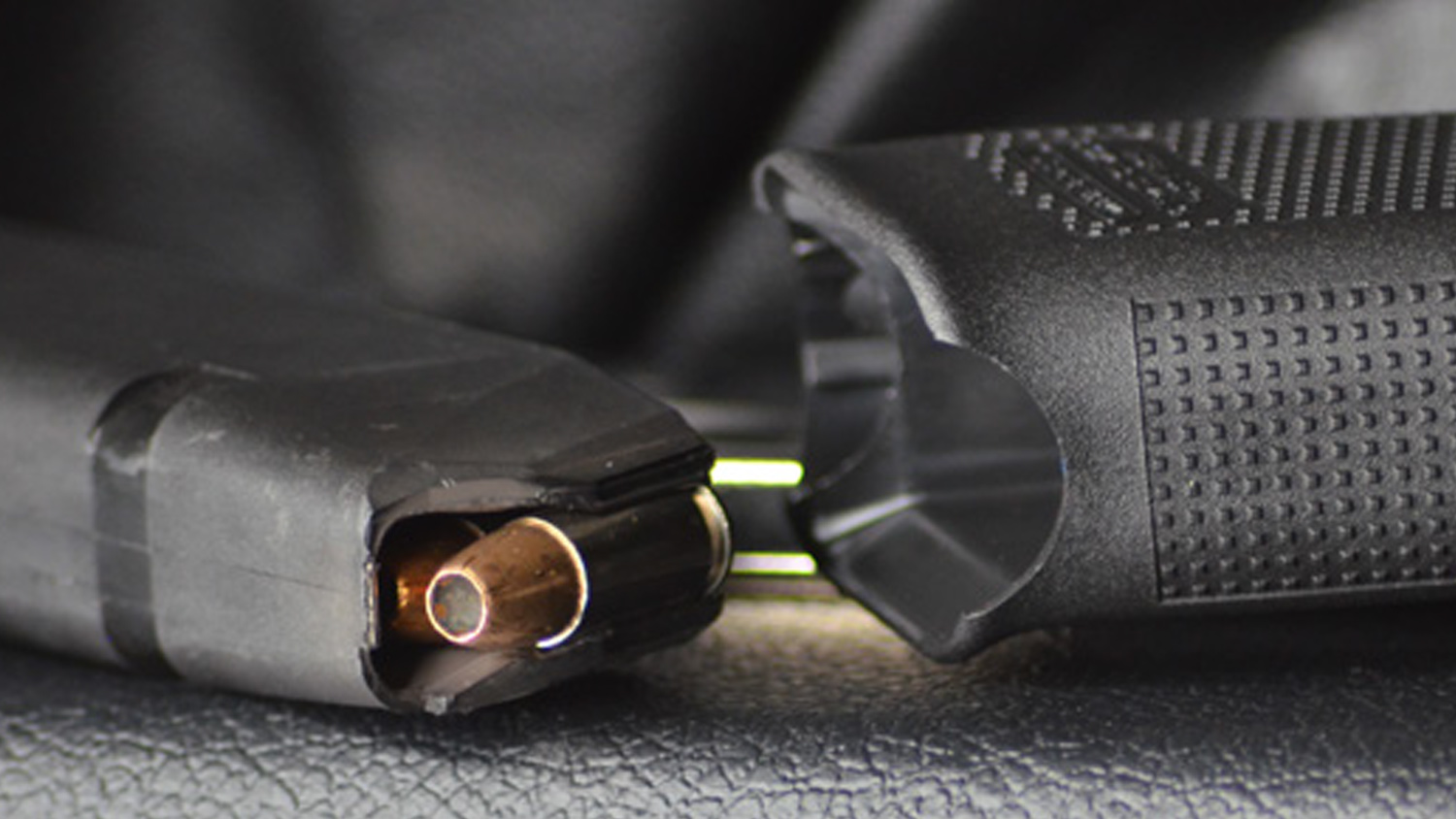 Jake Martens
and I got together at the Riley Conservation Club in July and tested this Gen 5 with some
USPSA-style shooting
. Jake would be shooting the Gen 5 equipped with a Vortex Viper 6 MOA red dot optic for Carry Optics. I shot with iron sights as would be found in the Production division.
The first exercise that we shot was Front Sight Forward, three full-size targets at 10 yards with a full yard between each target. My Production runs were 2.89, 3.48 and 3.01 seconds and the points were 26, 22 and a dismal 20 points on the three attempts. Minor scoring makes things tough and accuracy is a premium. On this one, Jake ran it in 3.22, 3.01 and 2.69 seconds. His points were 26, 22 and 20 respectively. Yes, these are very similar results and they are correct. We took notes. Over the years, Jake and I have had many similar results while doing things on stages and in matches in very different ways. Weird but true.
The next phase of testing was the Bill Drill. The Production runs generated were 2.38, 2.28, 2.39 seconds and 28 points accumulated on each run. Jake cranked out times of 2.52, 2.31 and 2.42 seconds; his points were perfect on the first two runs, but the third was a wild 22 points. Jake pulls the trigger faster than I do, but I normally edge him on the draw stroke, and I am more accustomed to this style of holster. I think those factors were involved in the way this drill shook out.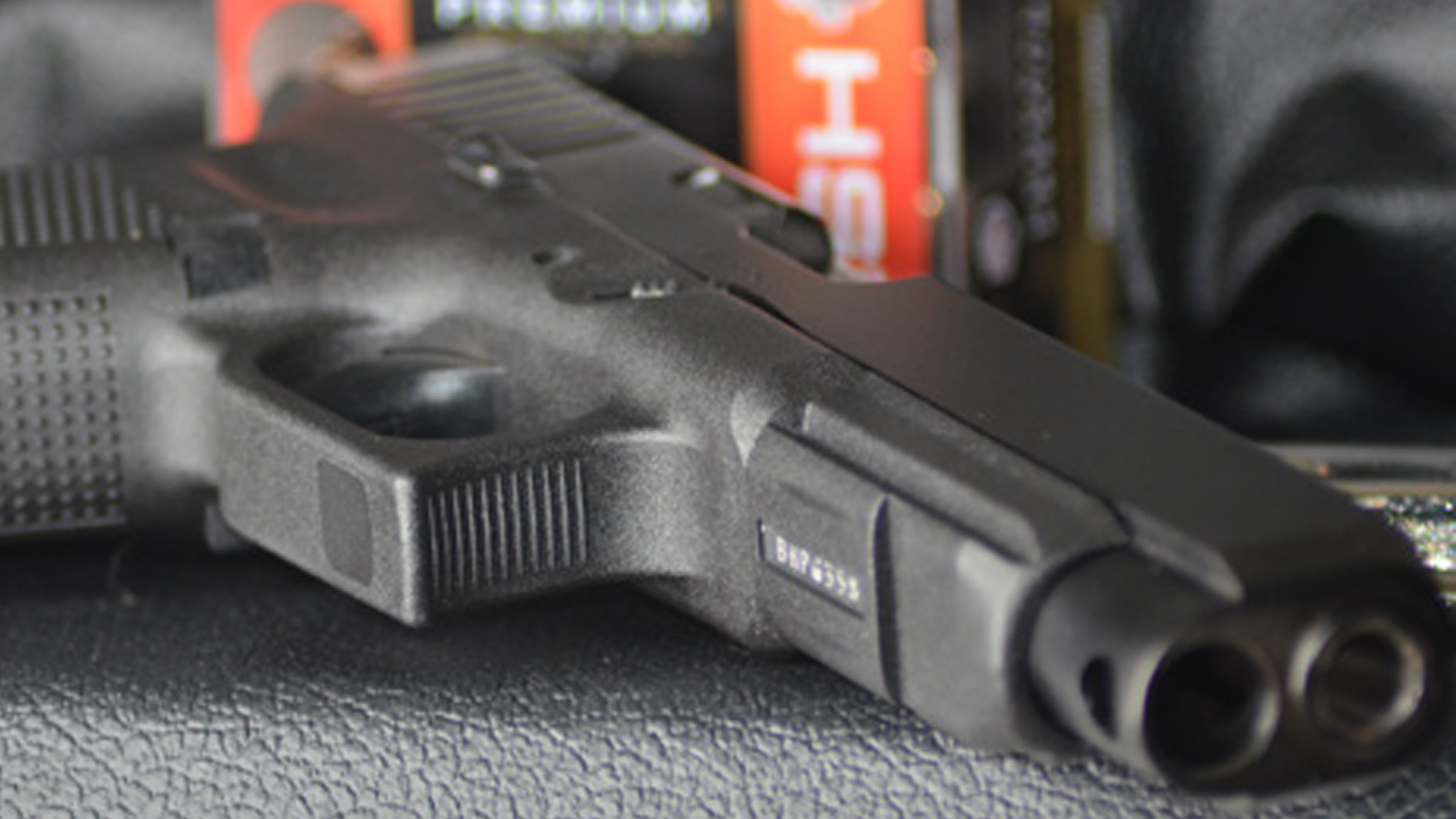 After a couple of "grip it and rip it" drills, we moved onto the Near to Far drill. The distance to the near target was 10 yards and the distant target was 30 yards, with two other targets splitting the difference. My first two Production runs were embarrassing. The times were 4.44 and 4.72 seconds, which is nothing spectacular, but the points, 14 and 21, made the times look good. I had pulled off the second and third target and but was hitting the far one. How does one pull off targets going that slow? I cannot explain it; however, I do it all the time
—
so the anger level was way up for the third run. I was determined to get the hits. The time was 5.40 seconds, with 38 points. You do your part and the gun does its part. Why does this lesson have to be relearned so often?
Jake stepped up and tried to best my showing on Near to Far. His Carry Optics times were 5.07, 4.47 and 4.82 seconds, but the points were less than stellar at 24, 16 and 22. It seems I dragged him down to my level. We tried pick up our egos and rally on
El Prez
.
The
uprange start and reload of El Presidente
are common elements in USPSA
stages
, so this drill brings more match conditions to the testing. The Production runs were 6.77, 6.59 and 7.23 seconds. Two of the runs had 52 points accumulated and one had 37 points. The Carry Optics runs logged times of 6.62, 6.83 and 7.52 seconds, with a range of from 20 to 42 points.

We followed these drills up with some other speed shooting on similar arrays. In total, we put somewhere between 500 and 600 rounds through the gun on a hot July day, with not one single malfunction. Glock perfection was on display
—
during testing, with no less than 15 types of ammunition and nearly 1000 rounds fired during five or six range trips
—
the reliability was 100 percent. There's no room for a moderate stance on reliability, and the Gen 5 aced it.
This review began with a lackluster attitude on my part, but the gun performed very well and opened my eyes much wider to the Gen 5 MOS world. This gun will run, and it will run well
—
it is a great choice for the
Carry Optics division
and is more than suitable for the Production division. Glock has a proven track record in both competition and carry arenas.
The
Gen 5 Glock
will stand the test of time and further enhance Glock's long, hard-earned reputation. If you are a Glock fan, you will probably check it out without any prompting. If you are a Glock moderate, then you should do yourself a favor and give the Gen 5 a test drive. If you are a Glock hater, you are missing out to a much greater degree than you know. It is a great gun. Get one and see for yourself.

Article from the November/December 2018 issue of USPSA's FrontSight

 

magazine.