by
Art Merrill, Field Editor
posted on March 12, 2020
Support NRA Shooting Sports USA
DONATE
What would you say to walking 12 miles of aisles over four consecutive days while dress shopping with your wife? Me too. But few shooters would forgo such a concrete hike to attend at least one SHOT Show.
The National Shooting Sports Foundation's annual Shooting, Hunting, Outdoor Trade (SHOT) Show is an extravaganza of manufacturers, authors, inventors, businesses and organizations large and small from around the world proudly displaying their latest and greatest products and services to the industry. About 60,000 attendees crowd the 16 acres of floorspace on any given day, and several thousand more visit the booths, bays and firing lines during Industry Day at the Range the day before the floor opens.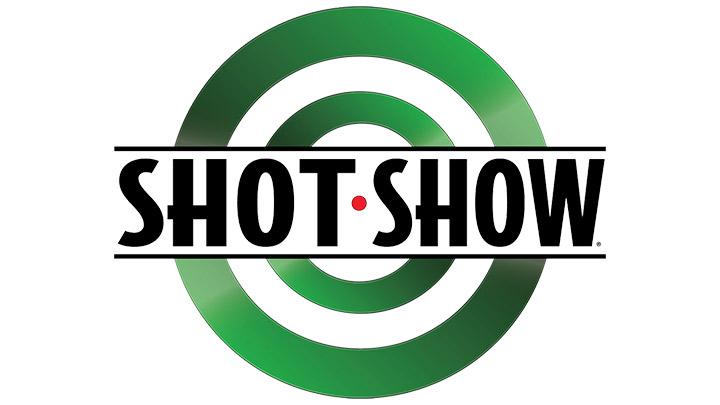 Tasked with sharing with you my five favorites found at SHOT Show 2020, I could certainly name five guns (or even 10 guns). Who couldn't? But the shooting sports isn't just about firearms, and for every gun we own we've probably got 17 pounds of accessories, ammo and camo. So, I'll limit myself to two firearms and cover a wider field of possibilities.
SOCOM 16
Industry Day at the Range afforded me the opportunity to shoot the new Ruger 57 semi-automatic pistol (a very smooth shooter), Springfield Armory's Hellcat (surprisingly easy to control) and a full-auto AK-47 (thank you, Barnaul Ammunition). On the trap range, I found Rock Island Armory's 12-gauge AR-15 so easy to shoot that I never missed a clay after the first one—and I'm not a trap shooter. It might have gotten the nod as the Range Day fav but for my bias toward steel, wood and rifling.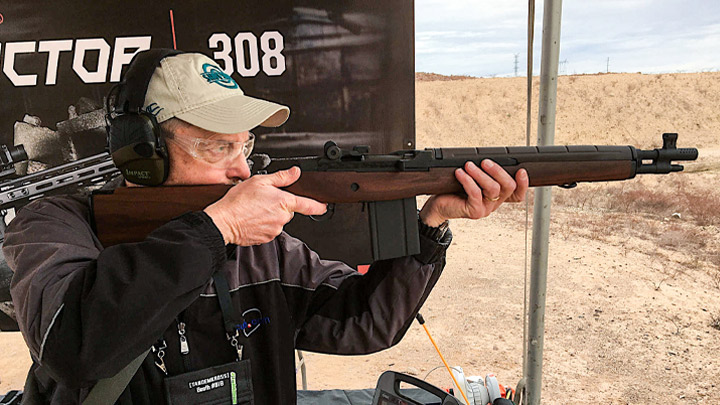 On the rifle range, Springfield Armory's SOCOM 16 Tanker stole my heart. The Tanker is essentially that firm's M1A .308 Win./7.62 NATO semi-automatic rifle sporting a barrel shortened to 16¼ inches. Stocked in walnut with a fiberglass handguard, the M1A is a semi-automatic clone of the National Match M14 rifle I shot while on a Navy High Power team, so it's got some nostalgia appeal for me as well.
Shooting the shortened barrel version, one would expect more muzzle flash and muzzle climb, and perhaps a bit more recoil, but without a side-by-side comparison to a standard M1A, I can't say whether the Tanker behaved any differently than its progenitor. In my hands it simply felt like a sweeter rifle to handle, thanks to lopping off about eight inches of gun to make the Tanker configuration. Perhaps the attached muzzle brake simply works as intended.
Firing a handful of rounds at a 100-yard bullseye target demonstrated the Tanker is not a match rifle, nor is it intended to be. The Tanker's rear sight adjusts in 1 MOA clicks and the aperture is slightly enlarged, presenting a "ghost ring" sight picture. The post front sight has a tritium insert, and both are well-suited to the rifle's abbreviated length and its function to serve as a handy yet full-bore battle rifle. MSRP $1,987; springfieldarmory.com.
Tandemkross
Competitive shooters tend to be gearheads, there's a big market in aftermarket upgrades, and in less than a decade Tandemkross has become a major supplier of quality parts truly advantageous to the rimfire competitor. Those shooting Ruger MKIV 22/45, Smith & Wesson SW22 Victory and Browning Buckmark pistols, plus the Ruger 10/22 rifle have all benefitted from Tandemkross triggers and parts to lighten them, extended mag releases, sights, grips, compensators and much more.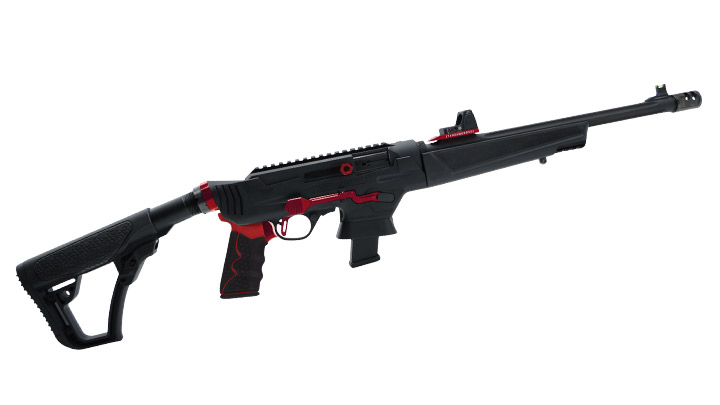 Now Tandemkross has moved into centerfire territory. Seeing the rising popularity of Ruger's PC Carbine for 3-gun competition, the company focused on how to improve it and they came up with an even dozen improvements. Two of them—the AR-15 Stock & Grip Adapter and the "Upriser" Chassis—pretty much make the PC an entirely new gun hot-rodded specifically for competition. For a base price of $180, you can get a package deal that includes the adapter, chassis, flared magazine well, "Hivegrip" AR-15 style pistol grip and a Titan extended magazine release.
Beyond what they've done for the Ruger PC Carbine, Tandemkross gets an accolade for their approach to examining a single firearm popular with competitors and then picking it apart to see where they can make it perform better for the game.
Inlands To Benefit Kids
Inland Manufacturing has made a very limited run of special Model 1911 pistols to benefit the Kids & Clays Foundation program, which in turn benefits Ronald McDonald House Charities; the latter, as you may know, supports programs that improve the health and well-being of children. We too benefit; while anti-civil-rights media continue attempting to create the illusion that gun owners and the industry are separate from the rest of society, Kids & Clays and Inland Manufacturing are openly demonstrating the very opposite in being acceptable by an entity as large and public as Ronald McDonald House Charities.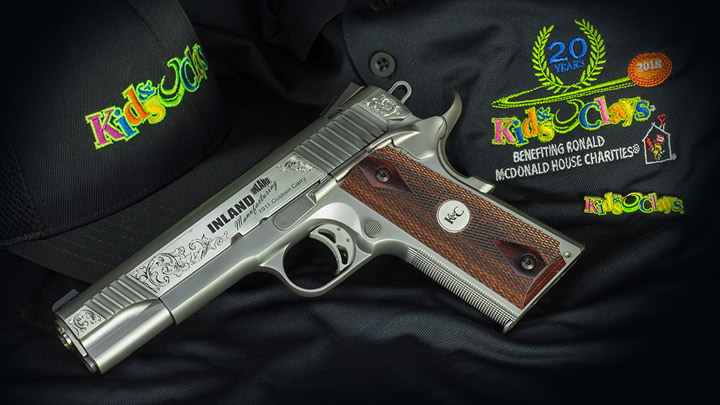 Above and beyond the many custom features already applied to Inland's stainless steel, .45 ACP 1911 Custom Carry pistols, the slides of the Kids & Clays pistols bear fine scroll engraving by Baron Engraving, Inc. of Trumbull, CT, and the checkered walnut grip panels sport special "K&C" medallions to commemorate the pistol's charitable cause. But that doesn't mean these pistols are necessarily commemoratives. They are, as the name says, eminently suitable for daily carry, with checkering cut into the front and backstraps, Novak sights, beavertail grip safety with palm pad, skeletonized hammer and a trigger that's adjustable for overtravel.
So, if you ever needed three reasons to buy a beautiful new pistol for $1,049, there you go. Call or email Inland for more information, (877) 425-4867, [email protected].
Knot Today
Another of my SHOT Show 2020 favorites isn't a product, it's a story—a story a veteran is telling about his PTSD and his failed suicide attempt when he'd reached the end of his rope.
On half a shared table somewhere back in the winding 12 miles of aisles, Air Force retiree Scott W.F. Aubin displayed his self-published book, co-authored by Janice Anne Wheeler, "Knot Today." Nearby, his service dog, Dash, a mellow Great Dane, lay curled by a folding chair. The humble setting was easy to miss, but Scott attended SHOT, not only to promote his book, but as part of his personal outreach to anyone who will listen to the problem of PTSD and suicides, especially among veterans.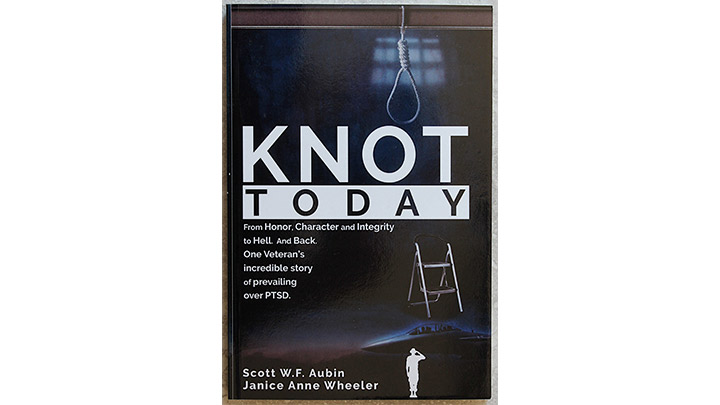 PTSD is not confined to combat veterans, but America's suicide rate among men is one-third higher among veterans than among non-veterans, and the rate is more than double among female veterans compared to non-veteran females. While nearly 70 percent of veteran suicide deaths result from use of a firearm, Scott survived his own attempt at hanging himself in his garage. He explains, with a veteran's typical gallows humor, "It's a damn good thing I joined the Air Force and not the Navy. In the Navy they teach you proper knots. The knot I tied around my neck didn't hold when I stepped off the ladder. Suicide? Knot Today."
Team Scott and Dash travel the U.S. as inspirational speakers (Scott does all the talking, of course) on PTSD and suicide.
If you'd like to bring them to your community or order a copy of Knot Today, email Scott at [email protected], or call (518) 578-8999.
Just around the corner from Scott's booth I found NSSF had set up a booth in partnership with the American Foundation for Suicide Prevention. Neither was aware of the other. I hooked 'em up.
A Different Pusher
Because I moonlight at a friend's gunsmithing shop, I've got a pretty keen sense for quality tools, and I'm particularly enamored of gunsmithing tools that really, really work. Using tools of low quality or goofy design inevitably lead to frustration and worse.
Replacing or even drift-adjusting pistol rear sights dovetailed into slides can be a source of angst for owners and armorers alike. The sight-to-dovetail fit is necessarily gorilla-tight to prevent the sight moving under the battering of recoil, and most shooters drift them with a hammer and a non-marring drift of brass or nylon. All well and good, until you have to deal with a rear sight sporting angled sides that won't give a drift a flat surface to purchase, or when installing tritium sights that don't take kindly to hammer blows.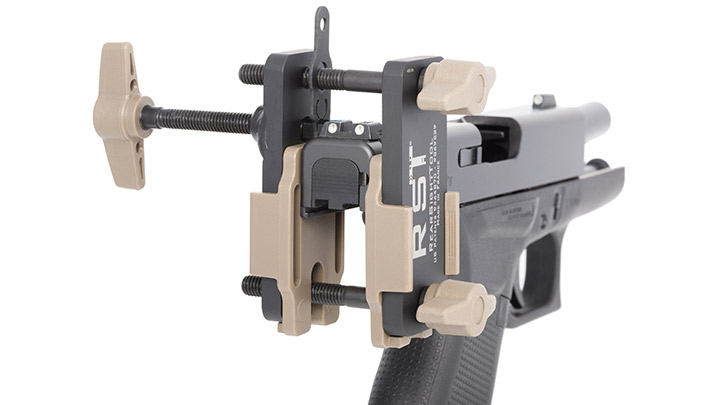 Several companies make rear sight "pushers," devices that clamp onto a pistol slide and push the rear sight by turning a threaded rod. Some work better than others, and those that do work are beefy blocks of machined aluminum and hardened steel rod intended to be mounted in a bench vise for use, not taken to the range.
But the RST RearSightTool Gen4 Universal Field Sight Pusher is different. It's small, almost spindly, and can be disassembled in seconds to fit flat in a range bag. Unlike with other pushers, it isn't necessary to remove the slide from the pistol to use it. More importantly, at the show I was amazed at how effortlessly it pushed a demo Glock rear sight—amazed enough to order one. I hope to give you an in-depth report on the tool later this year, after I've worked with it for a while. In the meantime, you can check out the "how-to" video at the RST website.
---
Check out more SHOT Show 2020 coverage: