From action pistol and bullseye champions, smallbore, high power and precision rifle masters, trapshooters and Olympic gold medalists—SSUSA has compiled this list of 50 (52 to be exact) female athletes that are influencing the ever-changing landscape of competitive shooting—for the better.

Note: This isn't a ranking, though we purposely grouped the first four women at the front in recognition of the attention generated by their respective shooting careers. Otherwise it's a random selection, with the goal of presenting female shooters from as many disciplines as possible.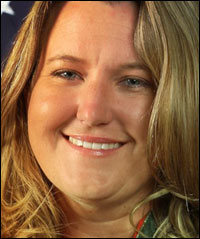 Kim Rhode: One of a few household names on this list, Kim Rhode and her Olympic bronze medal performance in Rio last year made her a six-time Olympic medal recipient. Kim has won an Olympic medal on five continents. Additionally she won the Women's Skeet Final at the 2016 ISSF Shotgun World Cup Final in Rome, Italy. She plans to "definitely [go] for Tokyo in 2020. If Los Angeles gets the bid for the next one, (even if they don't) I'll probably go to the 2024 Olympic Games. There's no reason for me to stop at this point." Kim was recently elected to the NRA Board of Directors.


---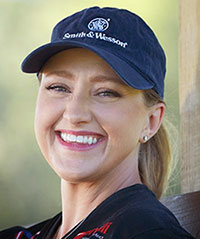 Julie Golob: The legend of Julie Golob begins with a young girl taping targets and picking up brass with her dad at their gun club. Working at these matches, she was able to observe some of best shooters in the world compete. After learning the basics of shooting, she knew that she wanted to become a champion shooter. Recruited from high school to shoot for the U.S. Army Marksmanship Unit Action Shooting Team, the rest is history. From Golob: "Ladies, get out there and give shooting a try. There is a shooting sport everyone can enjoy, whether it's accuracy-based competition or fast-paced action shooting."


---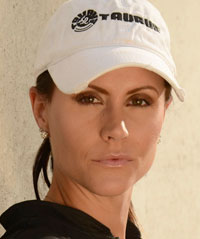 Jessie Duff: Jessie Duff started out in cowboy action shooting, progressing to USPSA, Steel Challenge, Multi-Gun and Bianchi Cup. She is a multiple-time National and World Champion in all divisions, and has appeared on Fox News as an expert on competition firearms. Besides shooting, her hobbies are hunting, aviation, horseback riding, traveling and just about anything outdoors. Jessie's advice to new shooters: "Let your fears go, and just enjoy it. There is a discipline that suits every shooter's interests—don't be afraid to find yours!"


---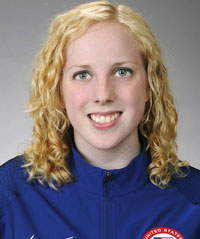 Ginny Thrasher: This Olympic gold medalist needs little introduction. Quietly arriving on the scene after years racking up smallbore and air rifle victories—Ginny Thrasher arrived at West Virginia University and made history. Not only did she win the smallbore championship at NCAA in 2016, but her performance at the Rio 2016 Olympics started a media frenzy. Winning the first U.S. gold medal of the Games will do that. Prior to glory on the international stage, Ginny was winning NRA smallbore championships as a member of Northern Virginia's own Junior Acorns team.
---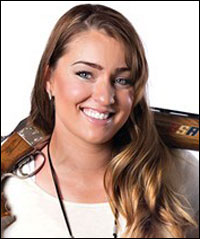 Corey Cogdell-Unrein: Growing up hunting with her father, Corey Cogdell-Unrein began shooting at 3 years old. A few years later, she joined the 4-H program and began developing her trap shooting skills. At her first international competition, the 2007 Changwon World Cup, Cogdell won the bronze medal. She first earned a spot on the U.S. Olympic Team in March 2008. That August, Corey won the bronze medal at the Olympic Games in Beijing. She marked her third straight Olympic appearance in Rio 2016 with another bronze medal win in Women's Trap.


---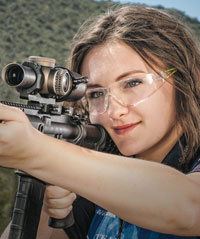 Lena Miculek: The daughter of master shooter Jerry Miculek, Lena burst onto the competitive shooting scene in 2005 with five consecutive Sportsman's Team Challenge Junior national titles. Moving on to 3-gun, by 2015 she had an astonishing 89 percent win rate. Lena was the 2016 NRA World Shooting Ladies Champion. Recently, she traveled to Russia to compete at the inaugural IPSC World Rifle Championship, along with these women on our list—her mom Kay Miculek, Ashley Rheuark and Maggie Reese. Lena and the rest of Team USA's women's team ended up winning gold in the women's open division, and Lena won a gold medal for herself in individual competition.
---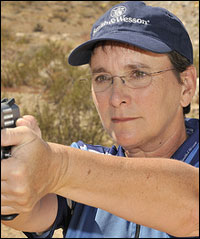 Kay Miculek: Wife to Jerry Miculek and mother to Lena, Kay is the daughter of legendary competitor and gunsmith Jim Clark Sr. A talented action shooter, Kay has multiple IPSC and USPSA handgun medals under her belt, including two gold at the IPSC Handgun World Shoot. She is a co-founder of the popular Babes with Bullets instructional camp. Last year at the NRA World Shooting Championship, Kay finished in second place for ladies behind daughter Lena. She was also on Team USA's gold medal women's squad in Russia earlier this year.


---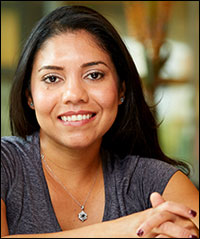 Gabby Franco: Team Remington's energetic Gabby Franco travels the country teaching firearms courses and competing in USPSA matches. A former pistol competitor on the Venezuelan Olympic team, she moved to the U.S. in 2002 after claiming three gold medals in the South American Games. Many know her from Season 4 of History Channel's "Top Shot" series. This confident shooter hosts informative live streams on Facebook weekly in both English and Spanish.



---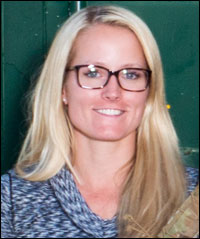 Candice Horner: Candice Horner has been shooting competitively since 2012. On average, Candice shoots one major match per month including 3-gun, gas gun, and precision long range bolt gun competitions. Her background is diverse—she's a USMC veteran, Registered Nurse, and prior federal law enforcement. Candice believes in letting passion drive your life. Candice contributes to SSUSA, and is a staff writer for www.BreachBangClear.com as well as director of business development. Additionally, Candice conducts a top-notch precision long range shooting clinic for ladies only that has been well-received by students.
---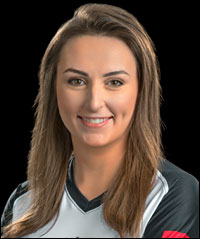 Ashley Rheuark: The newest member of Team GLOCK, 18-year-old Ashley Rheaurk began rifle hunting with her dad for deer at age 10. Her competitive shooting career so far includes becoming the first woman IDPA Distinguished Master, IDPA world champion and STI Ladies national champion. At the USPSA Multi-Gun Nationals earlier this year, she won the ladies tactical division title for the second year in a row. Ashley recently traveled to Russia for the IPSC World Rifle match, shooting for the gold medal-winning U.S. women's team.


---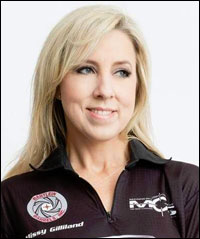 Melissa Gilliland: Vice President of Operations for Armageddon Gear, NRA instructor, precision rifle competitor and host of Trigger Time TV—there isn't much that Melissa Gilliland can't do. Growing up in a hunting family, she began shooting competitively after attending a match with her husband. "It looked like so much fun. At first I thought it was just for law enforcement and the military." Besides the challenge, what appealed to her most about long range shooting was the scientific aspects. "There's so much more that goes into it than just pulling the trigger. That's the thing that excites me about it." Melissa was on the cover of the May 2016 Shooting Sports USA digital magazine.
---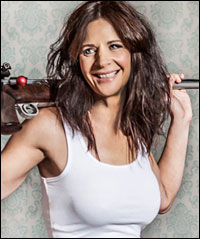 Anette '30CalGal' Wachter: A relative newcomer to competition, Anette Wachter was introduced to NRA high power rifle by her ex-husband in 2006. After learning the basics, she ended up finishing second at her first match ever—the Washington State High Power Rifle Championship. With a passion for long range, she now shoots high power rifle, Palma, F-Class, precision, and 3-gun. Anette is a member of the NRA High Power Rifle Committee and also the U.S. National Rifle Team.




---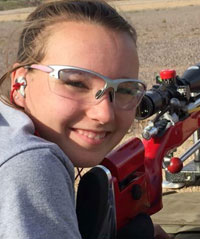 Madison Bramley: In 2016, Madison Bramley traveled to Ireland to compete at the F-Class Emerald matches. The youngest member on the team at 14, they ended up taking home the gold at this international long range competition. A member of the U.S. F-Class Under-25 team, at the 2016 Arizona Mid Range Championship, Madison set a national record in F-Class Open—scoring 591-28X.





---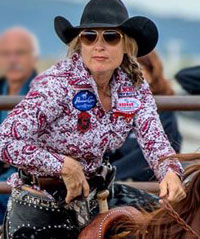 Kenda Lenseigne: Cowboy Mounted shooter Kenda Lenseigne is a five-time World Champion Cowgirl, CMSA Hall of Fame inductee and holder of seven world records. Although she rode horses her whole life, gun handling was something new to her. Taking lessons on working a single action revolver, after she shooting her first CMS stage she was hooked for life. One of the greatest Cowboy Mounted competitors of all time, Kenda also is well-known for her five consecutive wins at the NRA Bianchi Cup Colt Celebrity Pro-Am from 2009-13.



---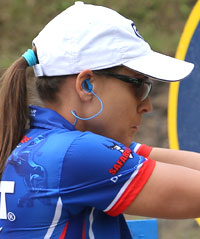 Maggie Reese: Team Colt's Maggie Reese started shooting around 18 years old when her dad took her out (against her will). According to Maggie, she has "loved it ever since." Best known for being the final woman eliminated during season two of "Top Shot"—this past March she won high lady at the 2017 Superstition Mountain Mystery 3-Gun match in open class. Maggie loves working with all new shooters—but especially women. She was a member of the women's rifle team that won gold earlier this year at the IPSC Rifle World Shoot.



---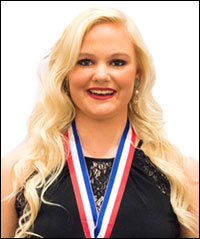 Liz Buerling: Liz Buerling has accumulated several bullseye pistol shooting accomplishments, such as winning High Female Junior at Camp Perry Pistol Nationals 2012-14. Four years straight her Ohio junior team won High Junior Team for .22, .45 caliber center-fire, and the 3-gun aggregate. Now competing for the Ohio State University Pistol Team, she has contributed to three consecutive Buckeyes wins at the NRA intercollegiate pistol championships from 2014-16.




---



Lanny and Tracey Barnes: Both highly decorated Olympic biathletes, the identical Barnes twins have been on the World Cup circuit for over a decade. At the age of 18, they made their first World Junior Championship team and medaled in the World Junior Championships the next year. Lanny competed in the 2006 and 2010 Olympics, and Tracy competed in the 2006 and was an alternate in 2010. Lanny posted the best U.S. finish in 16 years in 2010 with perfect shooting. These days, the twins compete in 3-gun and Sportsman's Team Challenge—and also are serious hunters.
---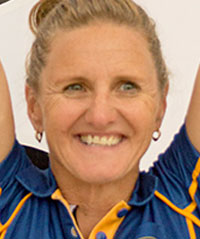 Cherie Blake: Australian NRA action pistol competitor Cherie Blake recently won her first Bianchi Cup Women's Championship, triumphing over a talented field of lady shooters including the Army Marksmanship Unit's Sgt. Katie Bahten, previous Bianchi champ and fellow Aussie Anita Mackiewicz, and extremely talented pro shooter Jessie Duff. She has represented her country six times at the Bianchi Cup, and won the Australian Championship eight times. For those interested in learning more about the shooting sports, Blake says that "heading right to your local shooting club" is the best way to begin.


---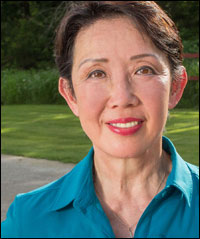 Vera Koo: Action shooter Vera Koo began competing in Steel Challenge in 1992. Earning her first big win at age 50, Koo went on to win her first Bianchi Cup Women's Championship in 1992, repeating the feat a remarkable seven more times—most recently in 2008. Vera Koo personifies the talent necessary to shoot at such a high level, combined with her grace she performs as an ambassador and role model for women everywhere interested in the shooting sports.



---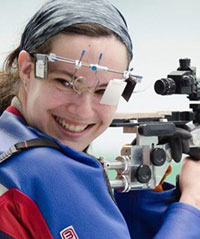 McKenna Dahl: McKenna Dahl is a 20-year-old competitive shooter that had only one goal: compete at the Paralympic Games and represent the USA. McKenna's interest in shooting began after attending Camp Access, a summer camp in Washington, when she was six. Proving that dreams do come true, she won a bronze medal at the 2016 Paralympic Games in Rio de Janiero, Brazil—becoming the first woman ever to medal in Paralympic shooting for the U.S team. 




---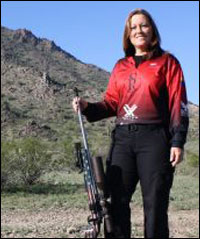 Regina Milkovich: Regina Milkovich was not only the first woman to ever win a PRS match—she was the 2016 Precision bolt gun season high lady. She was offered a spot on the Surgeon Rifle team for the 2017 season. After talking it over with her current gunsmith, Marc Soulie, she accepted. "I've shot for Marc since the PRS started, so it'll be a big change for me, but I'm very excited about being given the opportunity to shoot on the Surgeon team as I've admired them for years."



---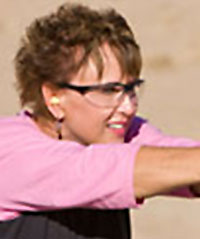 Deb Ferns: One of the OGs of getting women into competitive shooting by co-founding Babes with Bullets (along with Kay Miculek), Deb Ferns began shooting in 2004. Babes with Bullets have instructed over 5,200 students since the academy's inception. She is the Babes with Bullets camp director as well as a multi-gun competitor, winning a 3-Gun Senior Tactical Heavy division title in 2013 among others.




---



Team Impact X: Lynzie Graham, Jana Voges, Makenna Graham, and Bailey Bass: You might remember when SSUSA reported on the four young ladies of Team Impact X breaking records at last year's F-Class Nationals. All four were all new to competitive shooting until Coach James Graham began to mold the four into an F-Class super squad. Bailey Bass was the 2016 Texas State F-Class Junior Champion, and Lynzie Graham was the 2016 National F-T/R Junior Champion.
---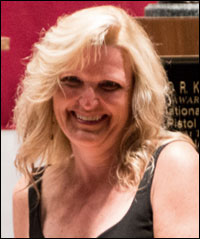 Kimberly Hobart Fleming: NRA precision pistol competitor Kimberly Hobart Fleming won High Woman at the NRA National Pistol Championships seven times, most recently in 2015. She holds 12 national records in bullseye and has also fared well as an action pistol shooter. Regarding the sport she loves, Kimberly said, "Shooters are an amazing group of people whose camaraderie brings me back year after year to this mecca [Camp Perry] that my dad first brought our family to in the early 1970s. We are into our third generation of shooters and volunteers, and I have to say that it's pretty awesome to come from a nine-year-old girl who watched the awards and wanted to be on stage, to walking up there myself."
---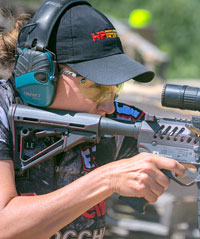 Dianna Muller: Self-described as "One part girl, one part policeman, one part competition shooter," Team Benelli's Dianna Muller was the Ladies Champion at the 2015 NRA World Shooting Championship and 2016 USPSA Multi-Gun Nationals Lady Champion. Muller discovered USPSA at the Pike-Adams Sporting Alliance Park in Barry, IL, where she and her dad would shoot pistol matches there. The park hosted big matches—where they watched some great shooters like Judy Wooley, Mike Plaxco, Brian Enos and Rob Leatham shoot. Dianna was definitely paying attention, and it shows at the range.
---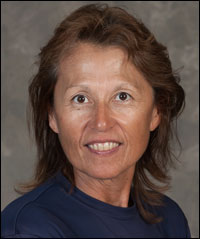 Deborah Ohye-Neilson: American trapshooter Deborah Ohye-Neilson was the first woman to complete the ATA Grand Slam. She started registered ATA shooting in 1981, six years later she had one her first of an impressive 77 Grand American trophies. A 2005 inductee of the American Trapshooting Hall of Fame, Deborah has been named to every ATA All-American team since 1988—being honored as team captain multiple times.





---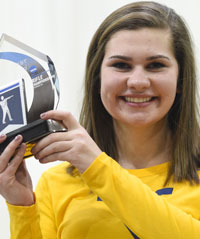 Morgan Phillips: 2017 NCAA smallbore rifle champion Morgan Phillips had a stellar freshman year with the WVU rifle team this past season. Repeating a smallbore title win for the Mountaineers (Ginny Thrasher won in 2016 before her gold medal run), Morgan shot a career-best score earlier this year, contributing to WVU's fifth consecutive NCAA rifle championship.





---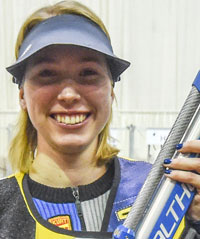 Milica Babic: A native of Belgrade, Serbia, freshman Milica Babic mirrored her WVU rifle teammate (and roommate) Morgan Phillips performance after winning the 2017 NCAA air rifle championship. During the finals, Babic and Phillips both shot a perfect 10.9 on the second to last shot. Milica won the title by a thin margin—9/10ths of a point.





---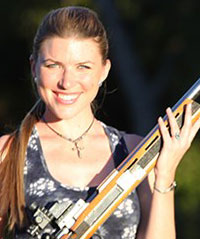 Kirsten Joy Weiss: Before making great trick-shot videos on YouTube, Kirsten Weiss was a smallbore rifle champion, winning high lady and second place overall at the NRA 3-position smallbore nationals in 2012. Remarkably, Kristen shot the any sight match with iron sights, while many of her fellow shooters were using scopes. For those new to rimfire, Weiss says, "It is almost always better to start with iron sights rather than a scope. Scopes can be a crutch, but interestingly enough they can also help in developing bad habits if your fundamental marksmanship skills aren't developed yet."
---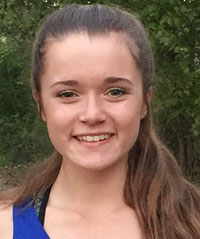 Cheyenne Dalton: 3-gun and rimfire shooter Cheyenne Dalton has come a long way since she first picked up a Ruger 10/22 at just 6-years-old. After growing up on the family farm in Missouri, she is a NSSF rimfire world champion, and also has won quite a few state championships. A master communicator, she is poised to pick up the social media mantle pioneered by Julie Golob.




---



Jalise Williams and Justine Williams: Team Springfield's Jalise and Justine Williams began shooting when they were just 3 and 4 years old, respectively. Both girls were bitten by the competition bug a few years ago when they started shooting Tuesday Night Steel Pistol at their local club. Their first major match was the USPSA Nationals—and under the tutelage of Rob Leatham, both have a stellar career ahead of them.
---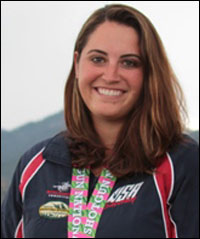 Caitlin Connor: Skeet competitor Caitlin Connor is also a sporting clays shooter who enjoys hunting and playing the fiddle. She began shooting at 15 years old in the 4-H program. Three years later, she took home her very first international medal from the Minsk World Cup. Now, along with fellow skeet shooter Sydney Carson, Connor is in the hunt to qualify for the 2020 Games in Tokyo.


---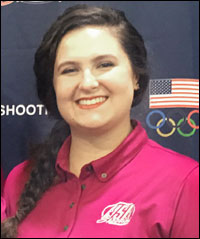 Sydney Carson: Starting out in skeet after joining a SCTP team, Sydney Carson was a Junior World Championships silver medalist by the time she turned 19. She credits good coaching from her dad and others for her success in competitive shooting. Carson won the 2016 USA Shooting national women's skeet title.






---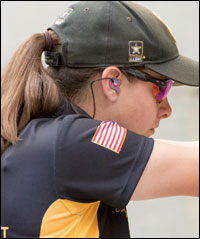 Sgt. Katie Bahten: U.S. Army Marksmanship Unit (AMU) shooter Sgt. Katie Bahten had a 3-gun background before joining the service pistol team. At the 2017 Bianchi Cup she finished third with a score of 1876-148X—not too shabby for shooting the match for the third time ever. Be on the lookout for Sgt. Bahten at Camp Perry shooting NRA precision pistol this summer at nationals.




---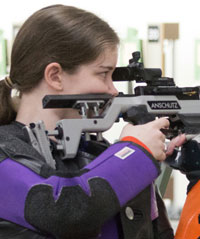 Rachel Mangan: Clemson University club rifle shooter and team captain Rachel Mangan had an impressive performance at the 2016 NRA Intercollegiate Rifle Club Championship, winning the individual combined and individual air rifle titles. Rachel repeated the feat in 2017—concluding her collegiate career with the highest score at the match.





---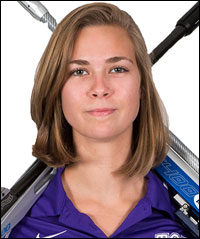 Mindy Miles: Texas Christian University rifle team shooter Mindy Miles accomplishments include: top air rifle shooter for the 2015-2016 season, as well as finishing second in the individual finals at the NCAA championship. Best of all, she performed a true act of sportsmanship back in 2016 by self-reporting a misfire—earning that year's NCAA Sportsmanship Award.





---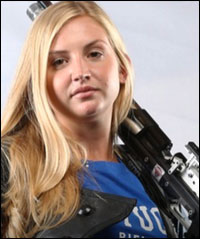 Heather Kirby: Standout University of Kentucky Wildcat rifle shooter Heather Kirby was named a First Team Air Rifle All-American for the third consecutive time this year. Kirby finished her senior season with a 593.93 air rifle average, shooingt a career-best 598 in the discipline in November 2016, leading the Wildcats to their first top 10 win of the season over Nebraska. She matched her former career-high score just two days prior to breaking it—her highest aggregate score of the season.


---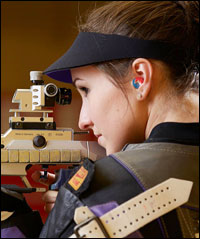 Sarah Beard: Sarah Beard began shooting in 2006, practicing air rifle in her basement. Her father William Beard was a member of the 1984 Olympic Shooting Team. They still shoot together. Beard was a four-time NCAA All-American in both air and smallbore rifle while competing for the Texas Christian University Women's Rifle Team. During her tenure the program earned a pair of NCAA championships—helping lead the program to a 48-3 record during that span. In addition to shooting, Sarah loves a good hunt.



---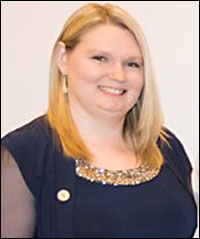 April Engle: The University of Akron rifle club coach and daughter of the school's varsity coach, April Engle is a former shooter for the Zips. April has set the bar high for club teams looking to win at the NRA Rifle Club Championship with her example of starting a winning school club rifle team from scratch. The Zips won the 2017 NRA Rifle Club Championship with a score of 4459—outscoring runner up Clemson University by over 50 points.



---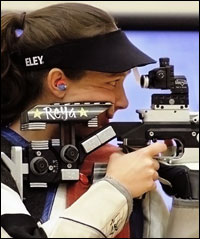 Reya Kempley: Smallbore rifle shooter Reya Kempley has competed at the National Smallbore Rifle Championships for years, as well as at the international level. Notably, in 2013 she won the iron sights prone championship at Camp Perry with a perfect score. A multi-talented individual, Reya is a contributing writer to Shooting Sports USA, and also literally wrote the book on aviation safety.




---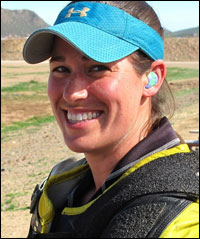 SSgt. Amanda Elsenboss: AMU high power rifle shooter SSgt. Amanda Elsenboss recently competed on a combined U.S. Nationals team at the 2017 Texas High Power Service Rifle Championship in May. Her team set a new 4-man team record—beating the old record by nine points. At Camp Perry in 2015, she won the Women's Rifle trophy in the individual matches with a total score of 490-19X, also placing first in the Women's President's Match.



---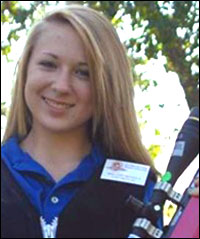 Mallory Nichols: The youngest shooter to earn Master class in NRA silhouette history, Mallory Nichols is a smallbore and high power rifle shooting powerhouse to say the least. Starting her championship run as a sub-junior, Mallory has set national records in both silhouette hunting and standard rifle. In 2015, SSUSA sister publication NRA Family predicted her future success—"Mallory has both the talent and the attitude to make it big in the shooting sports." They were right.



---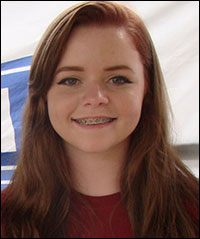 Cora Heisterkamp: Cora Heisterkamp has been shooting local smallbore silhouette matches since 2012. Not long after beginning the sport, she was an AAA class silhouette shooter, won eight state titles, over 30 first place finishes and qualified for Nationals. "It's great to be a kid in a sport and still be able to compete not only against other kids, but also adults. Juniors should try silhouette shooting—it's more fun than you can imagine and the thrill alone is enough to get you hooked."



---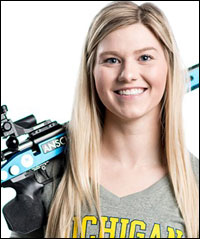 Elizabeth Harty: A graduate of the University of Michigan and former member of the school's rifle club team, Harty earned a spot on the Randle Team traveling to England this summer—representing the USA in smallbore rifle. The swimmer-turned smallbore and air rifle competitive shooter is on the cover of the June issue of Shooting Sports USA.





---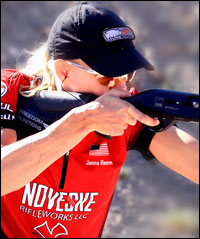 Janna Reeves: An interest in conceal carry led Janna Reeves to her local gun store to buy her first gun. It wasn't long before she earned her NRA certification and began teaching firearms courses. Also known as Miss BattleBorn, Janna arrived on the competitive shooting scene in 2013 after falling in love with the sport. That year she won High Lady at the Rockcastle 3-Gun Pro-Am. She gave this advice for prospective competitors to The American Woman Shooter—"Starting out can be intimidating … After you have some experience shooting and can safely draw from a holster—there's no reason why you can't participate in a local match … I encourage anyone starting out to let go of the notion that everything has to be perfect before you get out there."
---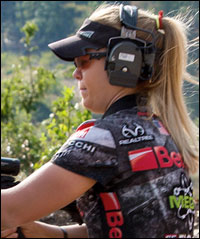 Heather Miller: Team Benelli's Heather Miller finished second High Lady and 64th Overall at the 2017 PRS Gas Gun Opener earlier this year—her very first Precision Rifle Series match. Originally from rural South Texas, Miller is also a 3-Gun champion and competes in USPSA and IDPA competition. She advises new lady shooters to "be sure to try the guns and gear before you buy them."




---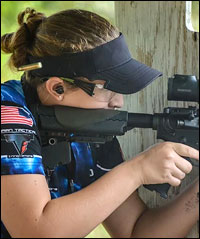 Sydney Rockwell: Junior competitor Sydney Rockwell started shooting with her dad when she was 9. By age 10, she had completed her NRA hunter safety course and after bagging her first deer on a hunting trip, she had the bug. She began competing in IDPA and Steel Challenge in 2015, adding 3-gun to her repertoire a year later. Sydney's team placed fourth overall at the 2017 Rockcastle 3-Man 3-Gun match earlier this year, and also won high lady at the Indiana Multi-Gun Series.


---

Did we miss any one? Email [email protected] and let us know!