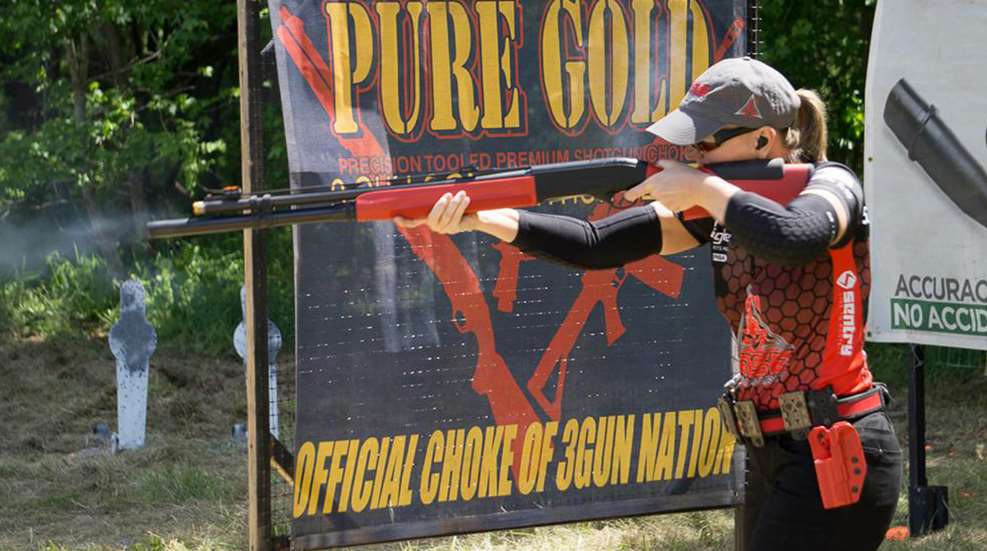 Although technically Rebecca King learned how to shoot a rifle in the Navy, she doesn't credit the military for her skills. Having only one shooting experience in boot camp followed by four years at a desk job doesn't count in her eyes. The credit goes to her husband, who taught her how to shoot pistols, rifles and shotguns. In the beginning, she wanted to learn how to shoot to defend herself and her family. It grew from there.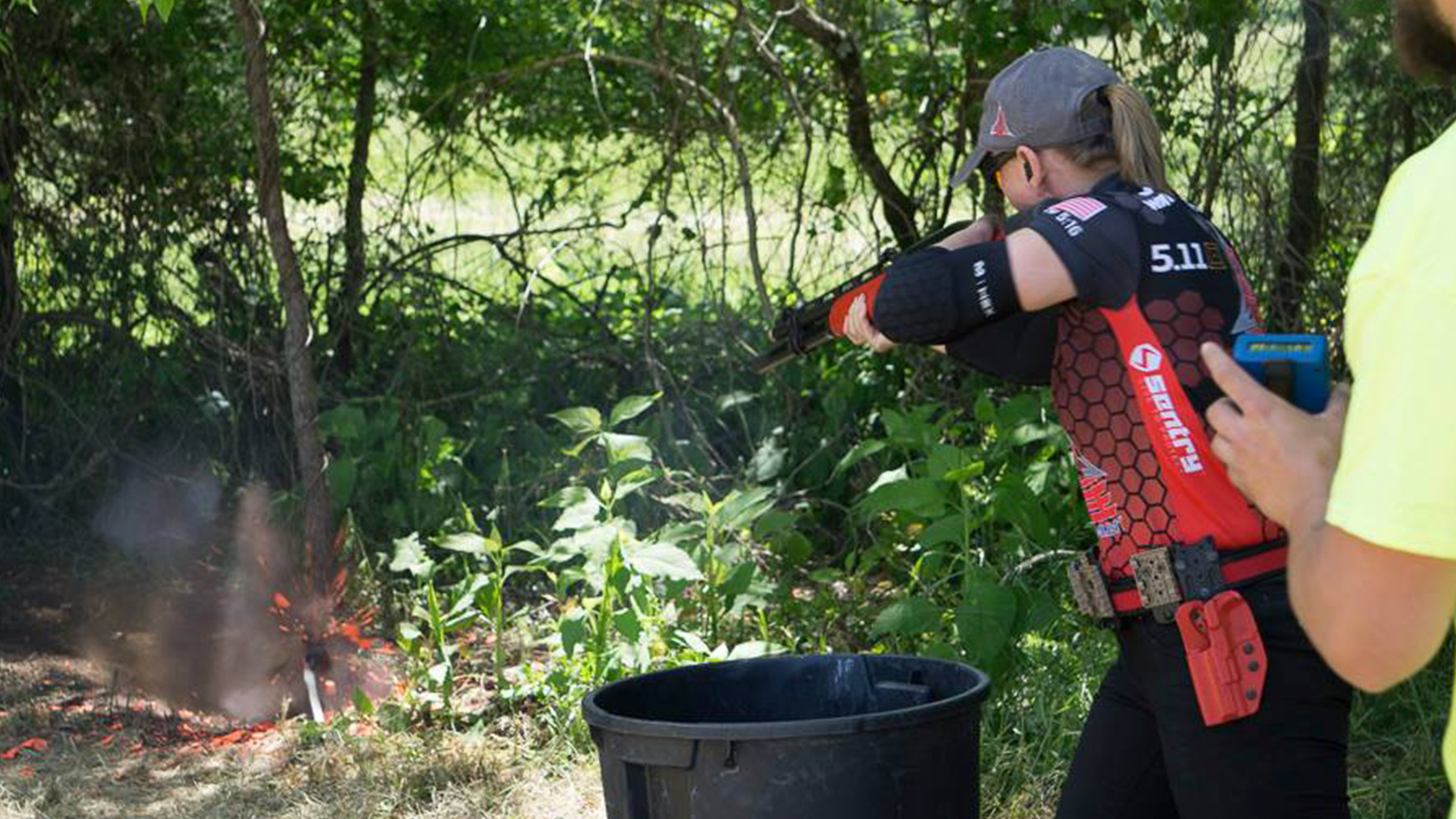 While Rebecca's husband taught her how to shoot, it was her eldest son that got her involved in competition. When he was 10, he joined the local 4-H club where they were shooting a bullseye pistol program. Rebecca drove him to and from those events. One evening, a local instructor asked if she wanted to shoot since she was there anyway. He introduced Rebecca to the NRA/Winchester Handgun Qualification Program. That was the first time she was given a "course-of-fire." Her goal-oriented nature immediately took over and she started advancing up the ranks. The next step was to see how she would perform with a little added stress, so she began shooting local Steel Challenge and USPSA matches.

Rebecca's been married 20 years to a good man with three teenagers who love God, their parents, each other, and their country. She can't think of a more important accomplishment than that. However, in the shooting world, she placed High Lady Limited Irons at the Area 6 Championships in 2015, First Place Limited Irons at A Girl & A Gun 3-Gun University in 2015, High Lady Limited Irons (Amateur) at the Rockcastle Pro Am in 2015, Second Place Limited Irons (Amateur) at the Brownells Lady 3-Gun West and Second Place Limited Irons at A Girl & A Gun 3-Gun University in 2016.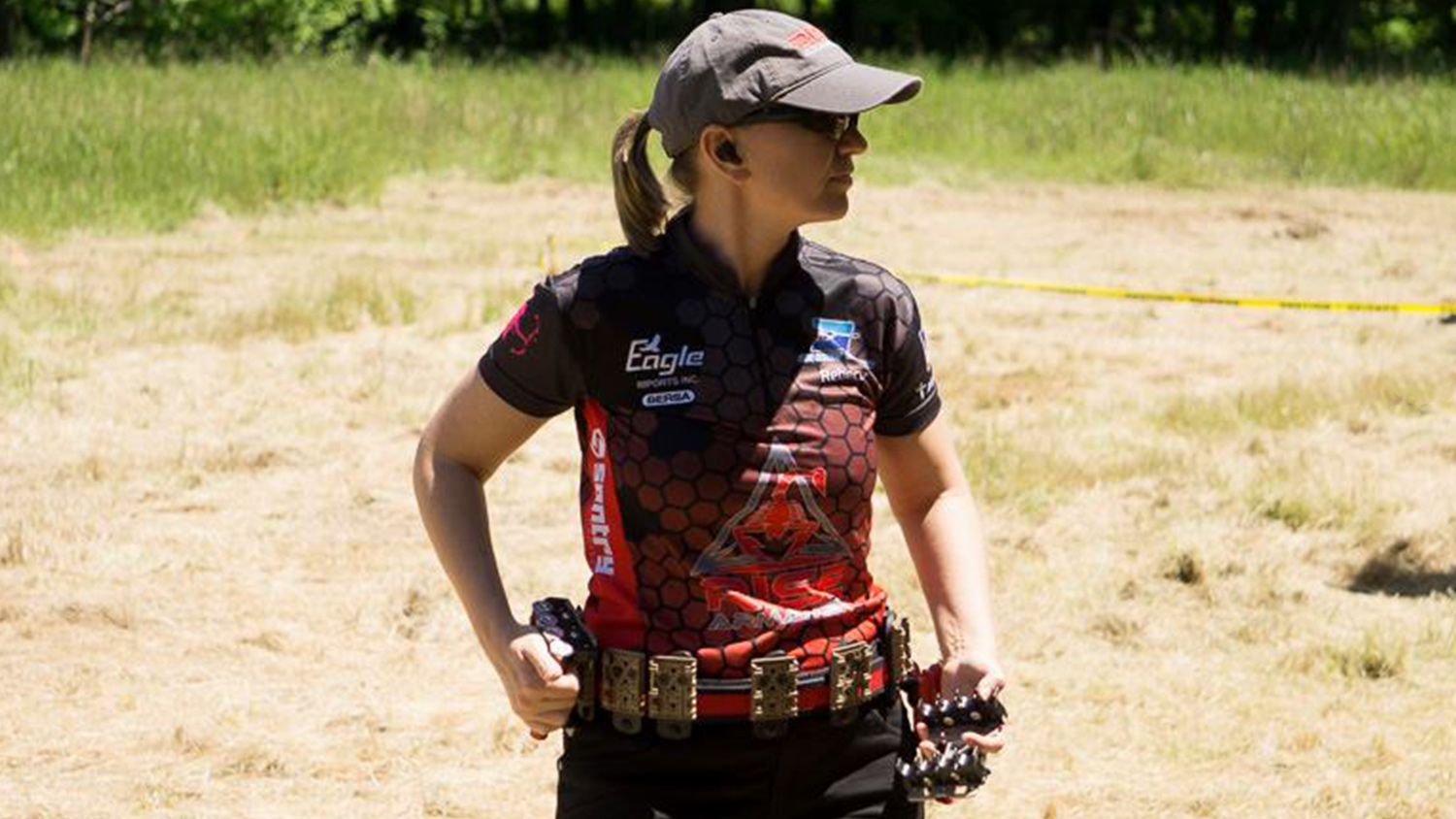 For range bags she uses the Sentry Sentinel Multigun and Pistol bags, depending on which sport she's shooting. Rebecca likes their looks and functionality. The removable dividers adapt the inside space to meet her needs. There's also side pockets to keep items she doesn't want to dig yet keep handy. These bags are durable and were designed with the shooter in mind. Rebecca also uses the Tuff Products ammo dump bags for her ammunition.

Inside the bag she keeps all the gear she needs to shoot a match, along with those just-in-case items that come up. Rebecca has a first aid kit, cleaning supplies, tools, sunblock, bug spray, rain gear and snacks. It's also important to her that she bring spare loaner gear in case a new shooter shows up. For this purpose she carries extra pouches, caddies, a small parts kit and of course—duct tape and zip ties.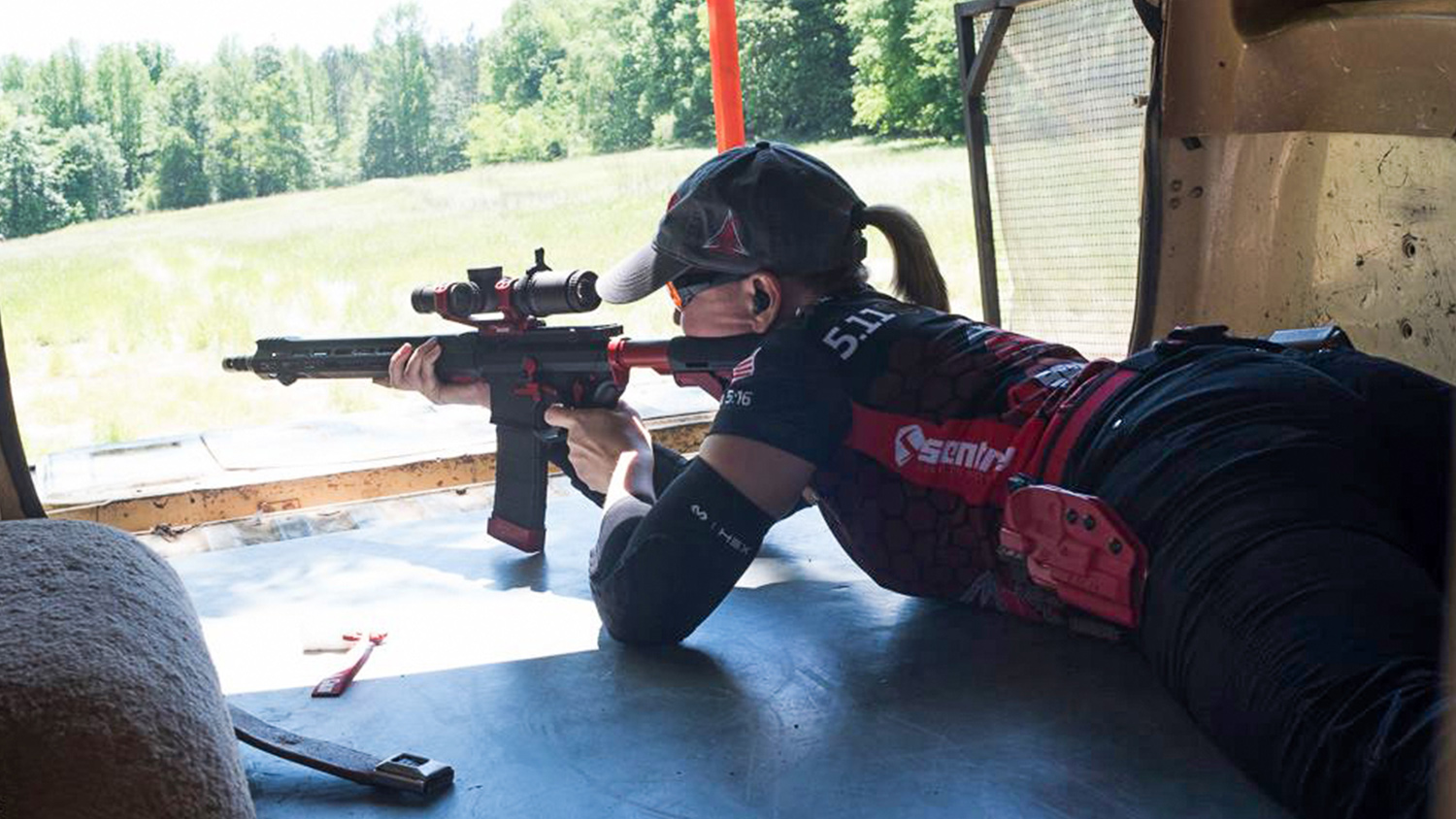 For competition, Rebecca shoots a Rise Armament RA-315C rifle with Hexmag grip and magazines, Next Level Armament charging handle and a Vortex Razor HD Gen II 1-6x24 with the VMR-2 MOA reticle from Kenzie's Optics. Her pistol is a Grand Power X-Calibur 9mm from Eagle Imports for 3-Gun and USPSA production, and a CZ 85 Combat 9mm pistol with Springer Precision magwell and extended base pads for USPSA limited. She also shoots a Beretta 1301 Competition shotgun with an X-Rail +5 magazine extension tube. For ammunition, Rebecca shoots Jesse James from Ammo, Inc. for both pistol and rifle, and Federal Target Loads and Fiocchi low recoil slugs for shotgun.

In her free time, Rebecca instructs with Shoot Like A Girl and the Oklahoma City (North) chapter facilitator for A Girl & A Gun Women's Shooting League. She loves teaching and shooting with others. She's also a bit of a homebody and enjoys spending time with her family. Rebecca has one kid in college and two still at home. Although school gives them a formal education, Rebecca strongly believes parents instill values and build character, so it's important for her to be a part of their daily lives. 

As for tips for the new shooter, Rebecca has some great advice. First and foremost, stay safe and have fun. None of this is worth it if you aren't enjoying yourself. In this sport you'll find pros and amateurs, young and old, men and women, and even families all mixed together at the same match, even on the same squad. We're a versatile bunch and we are all here and happy to grow our sport by welcoming new shooters, so talk to us. You will have a difficult time finding a higher level of camaraderie anywhere else. Also, put your name on everything. Not for fear of theft, but because sometimes items get lost or left behind on a stage and the last thing you want is to lose a $75 shotshell caddy because you didn't want to use a Sharpie on your gear. Finally, if you do make it to a match, remember to thank the sponsors and volunteers, publicly if you can—because you can't have a match without them.