From the vault: This April 1959 letter to American Rifleman magazine asks about an old form of marksmanship training called "candle practice." Read on to learn more.
Candle Practice
While reading an old treatise on rifle marksmanship, I ran across the term "candle practice," which was apparently a form of target practice engaged in by U.S. troops in the 1870s. What was the technique involved? —L.S.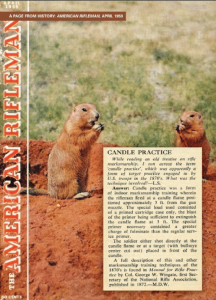 Answer: Candle practice was a form of indoor marksmanship training wherein the rifleman fired at a candle flame positioned approximately three feet from the gun muzzle. The special load used consisted of a primed cartridge case only, the blast of the primer being sufficient to extinguish the candle flame at three feet. The special primer necessary contained a greater charge of fulminate than the regular service primer.
The soldier either shot directly at the candle flame or at a target (with bullseye center cut out) placed in front of the candle.
A full description of this and other marksmanship training techniques of the 1870s is found in Manual for Rifle Practice by Col. George W. Wingate, first Secretary of the National Rifle Association, published in 1872. —M.D.W.
Lead photo courtesy of PhotographyCourse on Unsplash.
---
Read more articles about the history of the shooting sports: