by
Chris Christian, Field Editor
posted on January 13, 2020
Support NRA Shooting Sports USA
DONATE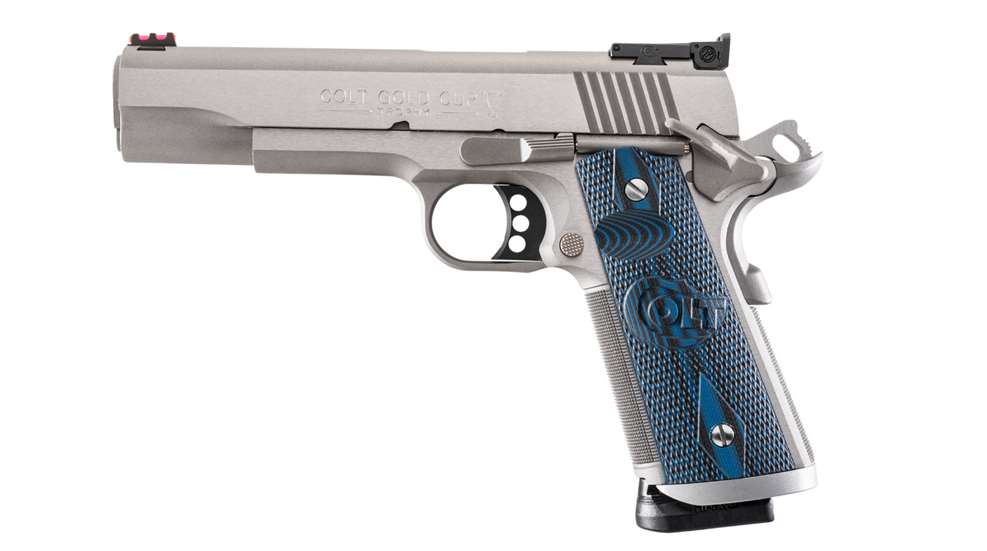 John Browning's classic 1911 design earned its reputation in .45 ACP and has become an iconic pistol for American shooters. Subsequent years, however, have seen the inclusion of additional calibers and many 1911 action-pistol shooters have begun to shift away from the .45 ACP.
The 1911 .45 ACP is still dominant in IDPA's CDP division because the .45 ACP with a 165 Power Factor (PF) is required. But the 1911 meets all equipment requirements for ESP division and only a 125 PF is required there. The 9mm makes that easily—and with less recoil than the .45 ACP. I know of at least one IDPA National Championship where an ESP shooter won High Overall with a Colt 9mm 1911.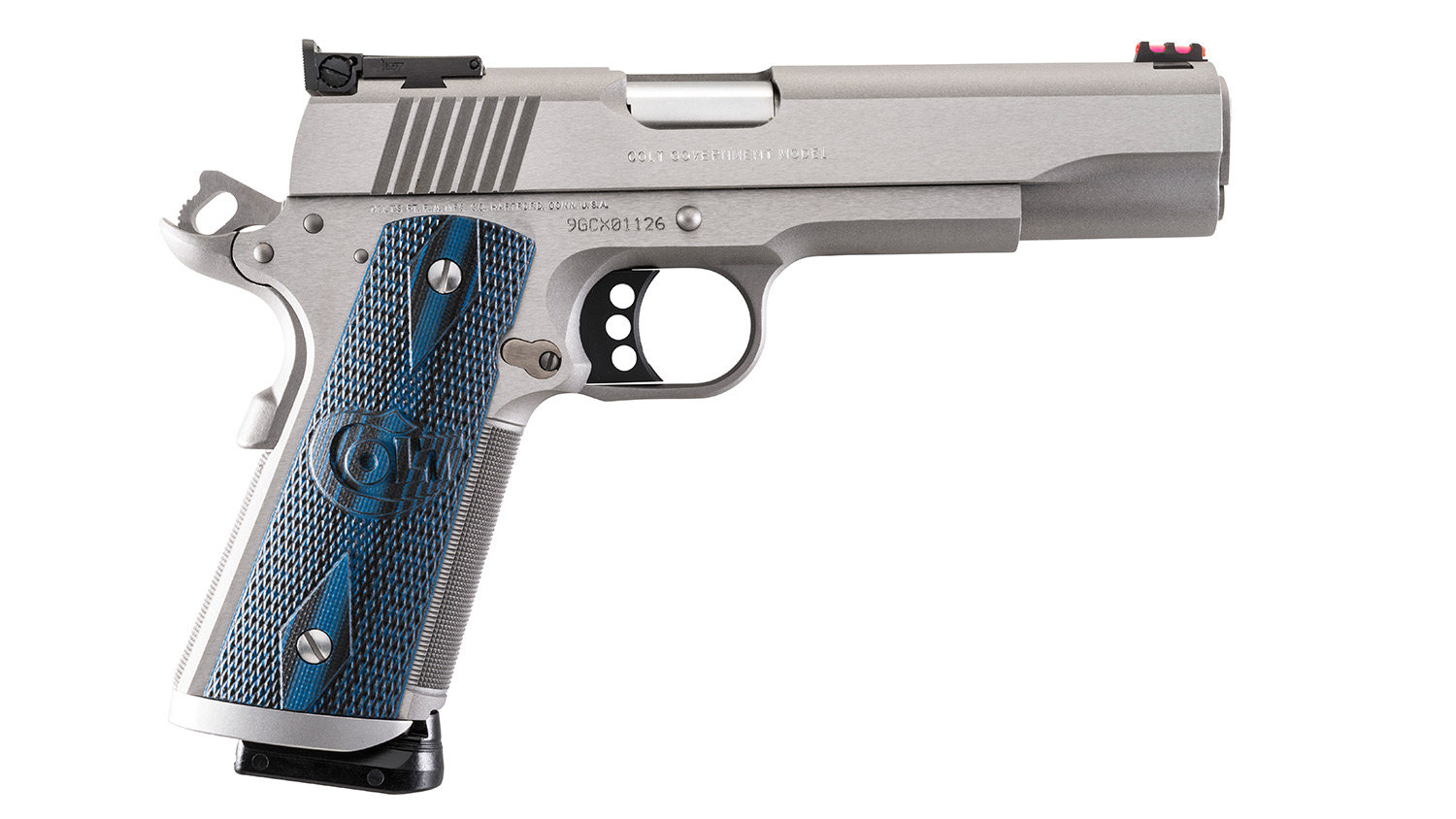 In USPSA Single Stack, the .45 ACP still has a role for those who want the 165 PF Major caliber scoring advantage. But the increased capacity and lighter recoil of the 9mm in Minor offer more options for speed through a course-of-fire and is earning the 1911 9mm a lot of trophies in those divisions.
In Steel Challenge Single Stack division, it's no contest. With no PF requirement, savvy handloaders can craft loads, experiment with different recoil springs and make 9mm recoil little more than a .22 LR; which isn't possible with the .45 ACP.
Competition 1911s in 9mm are making major inroads against the traditional .45 ACP dominance. The Colt 9mm Gold Cup Trophy ($1,699, Colt.com) is one of them.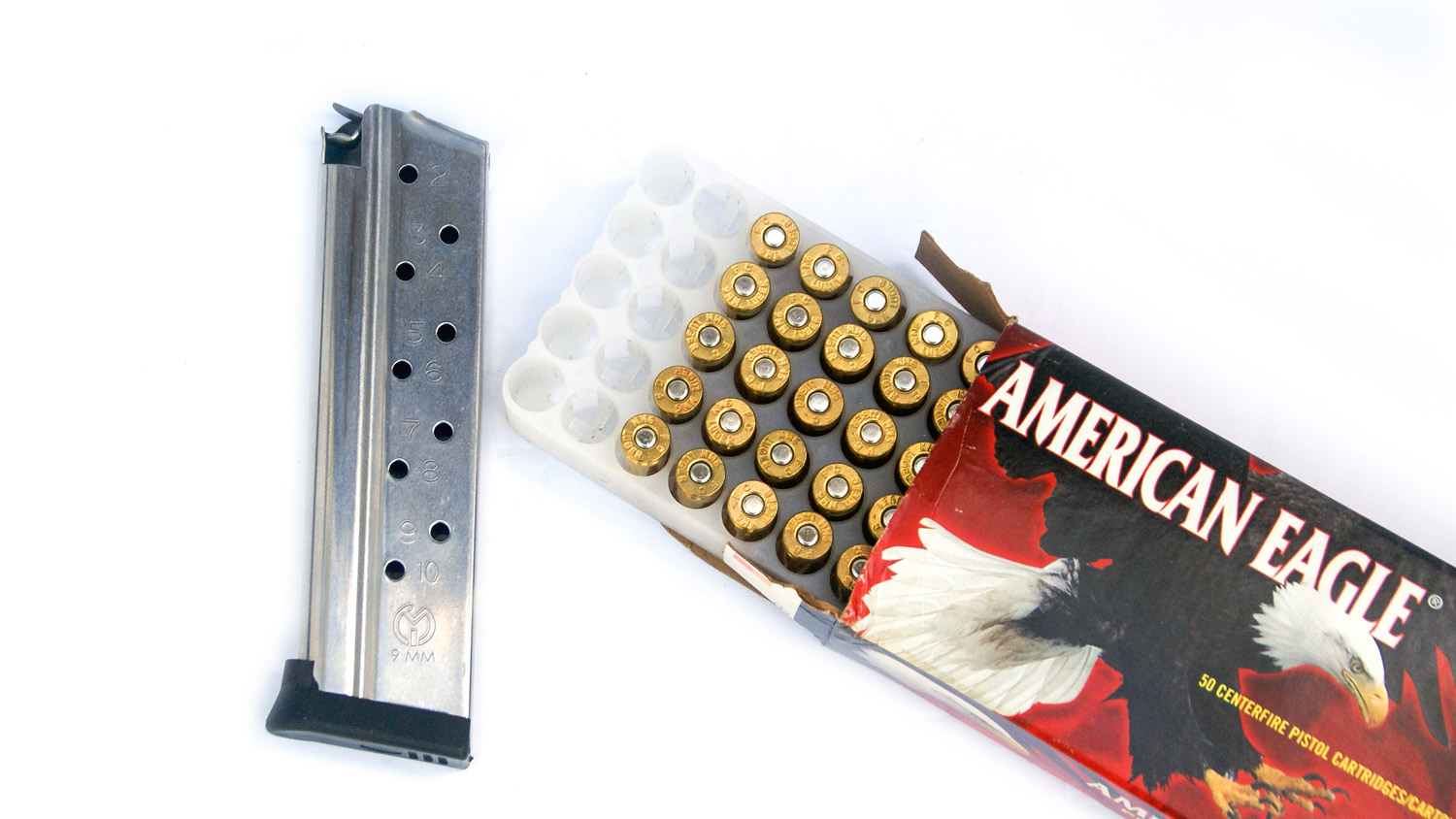 The Gun
Like Colt's .45 ACP Gold Cup Trophy, this gun uses the preferred Series 70 operating action and is a full-size 1911 with a five-inch barrel. The 9mm barrel has a 1:16-inch twist. The frame, barrel and slide are constructed from stainless steel with a brushed satin finish. The slide is a round top design, while the dust cover is smooth and sans rail. Empty weight is 38 ounces, with a width of 1.25 inches and an overall length of 8.5 inches.
The frame features an undercut trigger guard, with the front strap and rear mainspring housing cut with 25 LPI checkering. A modest mag well helps speed magazine insertion. The beavertail grip safety includes a speed bump and is an upswept design with the proper notch for the Commander-style round-spur hammer. Grips are checkered G10 models.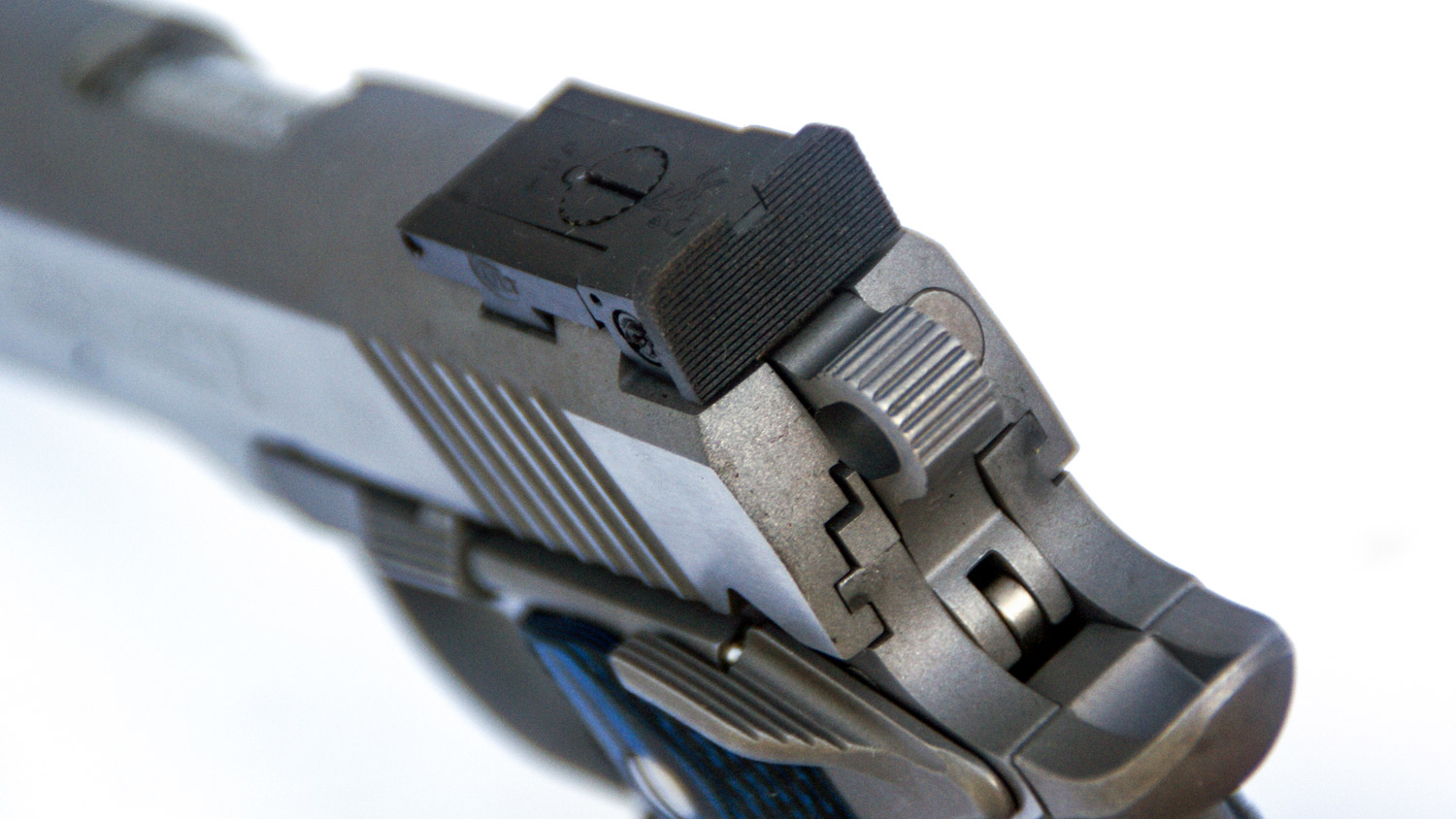 Operating controls are left-side—extended magazine release, extended slide release and a combat-style thumb safety. The trigger is a flat-faced three-hole aluminum design and features an overtravel adjustment screw. Out of the box the trigger pull measured 4 pounds, 3 ounces on my Lyman Digital Gauge. There was a hint of take-up and a very crisp break.
The rear sight is a fully adjustable Bomar-style with a serrated black blade. The front sight is dovetailed into the frame, without a ramp, and sports a FO rod that I measured at .080. Red was installed, but the design makes for easy replacement of the FO rod.
The Colt website noted that the 9mm Gold Cup Trophy comes with a nine-round magazine. The test gun I received had a very nice 10-round magazine with an extended base plate. Colt tells me that 10 rounds is correct. The gun came with one magazine, but additional 10-round magazines are available from Midway or Brownells.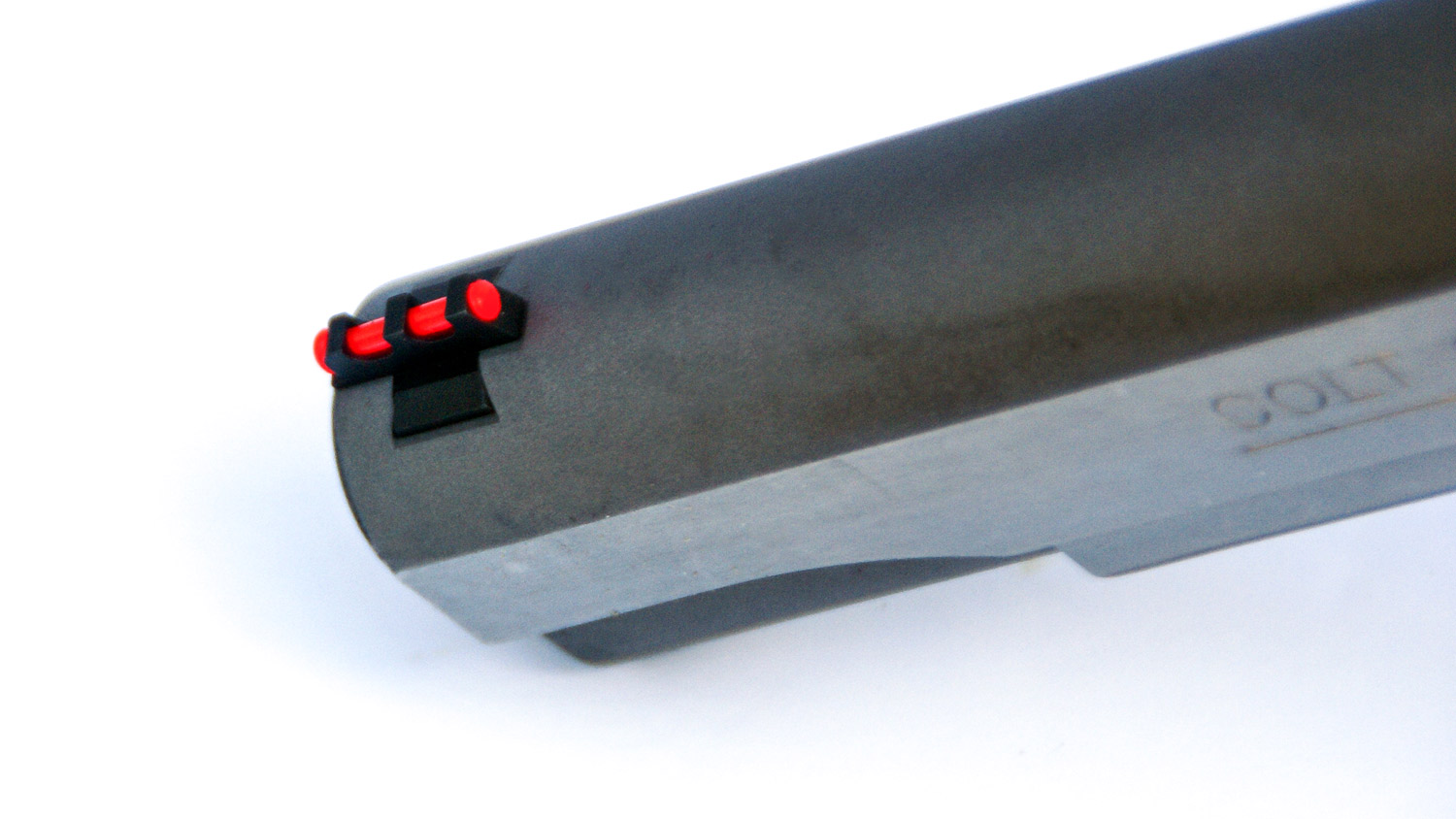 It ships in a foam-lined, lockable plastic case, with a bushing wrench, trigger lock, chamber flag, Instruction Manual and one 10-round magazine.
On The Range
As experience with tightly fitted 1911 guns has taught me, once my initial inspection of the gun was done I gave it a quick strip and lube before heading to the range. Match-grade 1911s don't normally run well when dry.
Given the multiple roles this gun can play in action-pistol shooting, I assembled a variety of loads. Some shooters prefer the softer recoil "push" of heavier 9mm bullets at a Minor PF, as opposed to the sharper "snap" that results when lighter bullets are driven to the velocities needed to make a comfortable 125 PF. I included two loads that have worked well for me—the 147-grain Federal American Eagle FMJ and the 147-grain Atlanta Arms FMJ load. Mid-range loads included the Federal American Eagle 124-grain FMJ, Aguila 124-grain FMJ and the Lapua 123-grain FMJ that had performed well during a previous test session. The last load was the SIG Elite Performance 115-grain FMJ.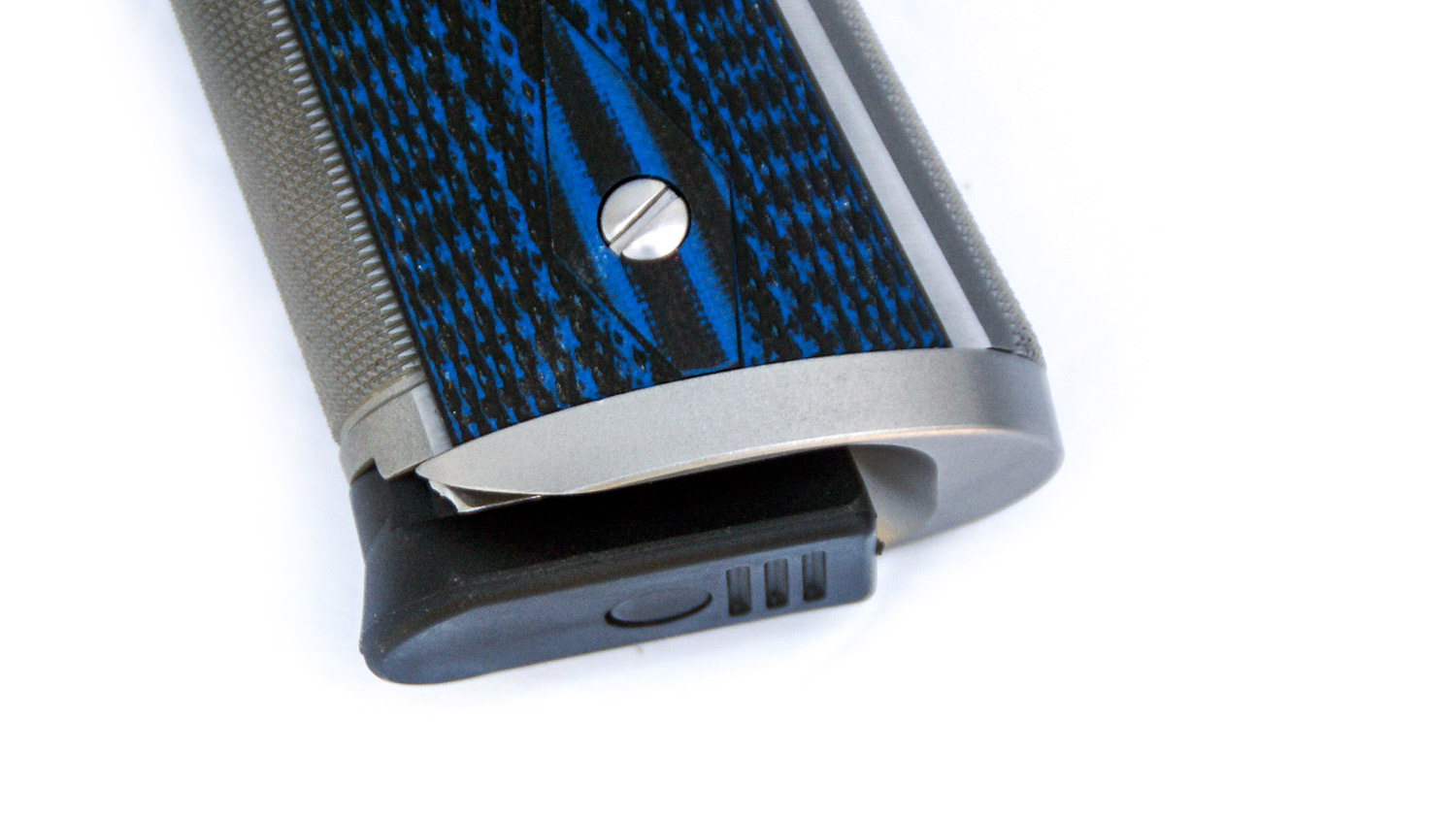 The first step was to zero the gun from a 25-yard benchrest and I used the Federal AE 124-grain for that. The gun was shooting quite a bit low, but windage was on and the Bomar-style rear sight got things centered quickly. The 10-round magazine took a bit of force to initially stuff all 10 rounds in, but subsequent loading was much easier. That's normal for new mags.
Only one magazine was provided with the test gun so shooting a match wasn't doable. Instead, I set up five targets on my backyard range (simulating a Steel Challenge stage where this gun would be a good choice for Single Stack) and ran drills from the holster while wearing my PACT timer.
Each load got three full runs through the magazine. There were no malfunctions of any type. The ejection pattern was consistent at about 4 feet right and 45-degrees rearward.
The handling characteristics of the gun were quite good. The big .080 fiber-optic dot fit snugly into the rear-sight notch and target acquisition was quick and accurate. The crisp trigger made sending those shots easy and the G10 grips provided a solid and repeatable hold.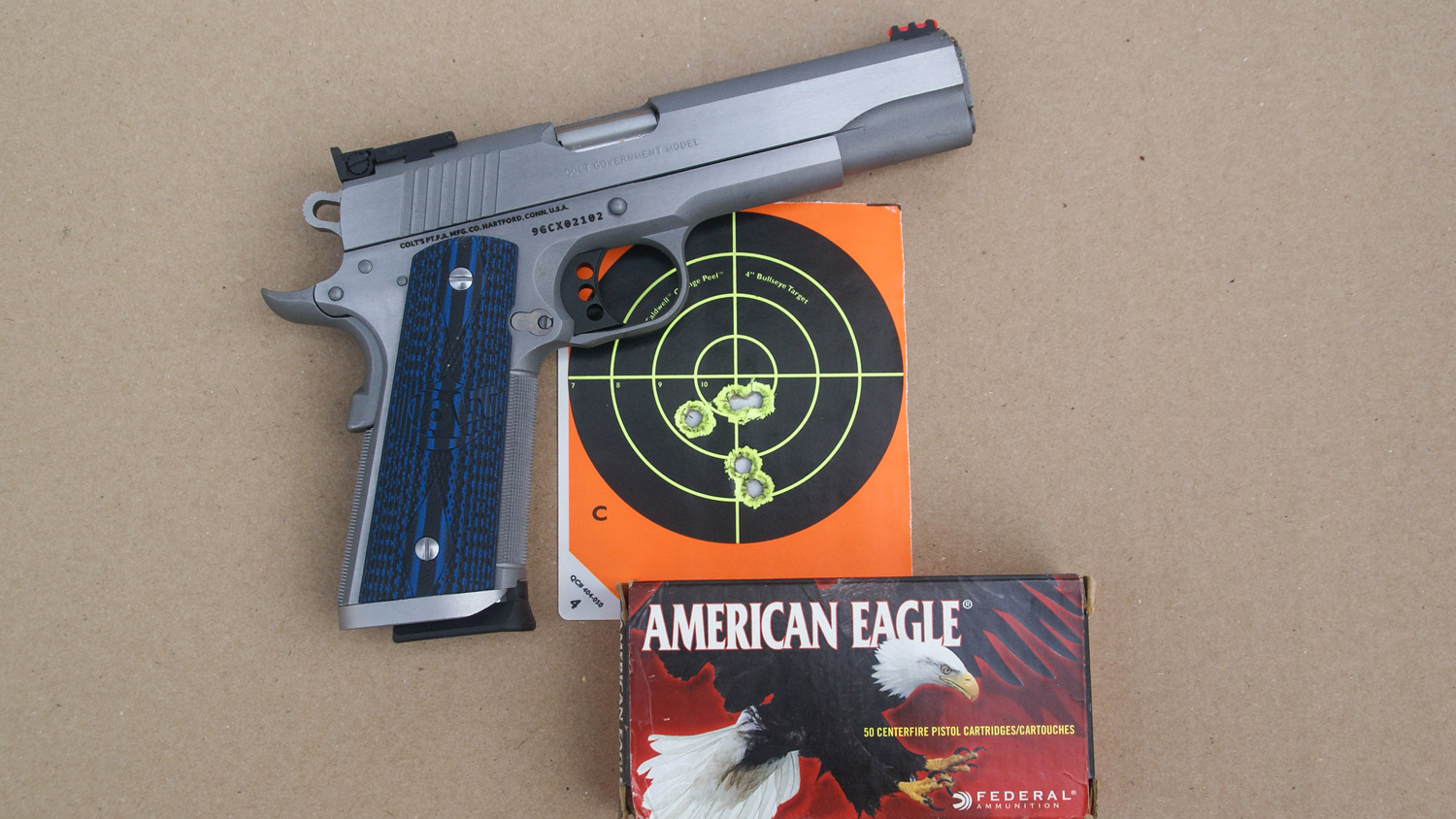 With only one magazine, "on the clock" slide-lock reloads weren't in the cards, so I simulated by starting the gun at slide-lock, with the mag in hand, to make some runs. The combination of magwell and extended base plate made for fast and positive reloads.
Once I had enough rounds through the gun to make certain it was properly broken in—an important point with any semi-automatic pistol—I set up my 25-yard benchrest and ran the accuracy tests. The accompanying chart will show it has more than enough accuracy for any action-pistol game.
The 1911 has grown beyond the original .45 ACP chambering and a number of shooters find that the 9mm is simply a better choice. The Colt Gold Cup Trophy in 9mm is definitely a good option for competitors.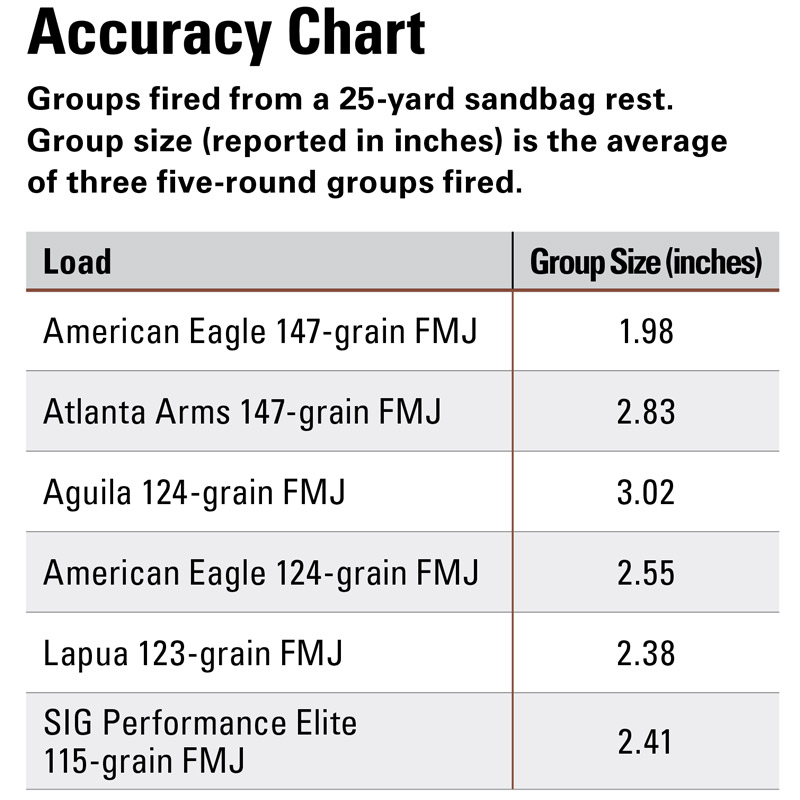 ---
See more: