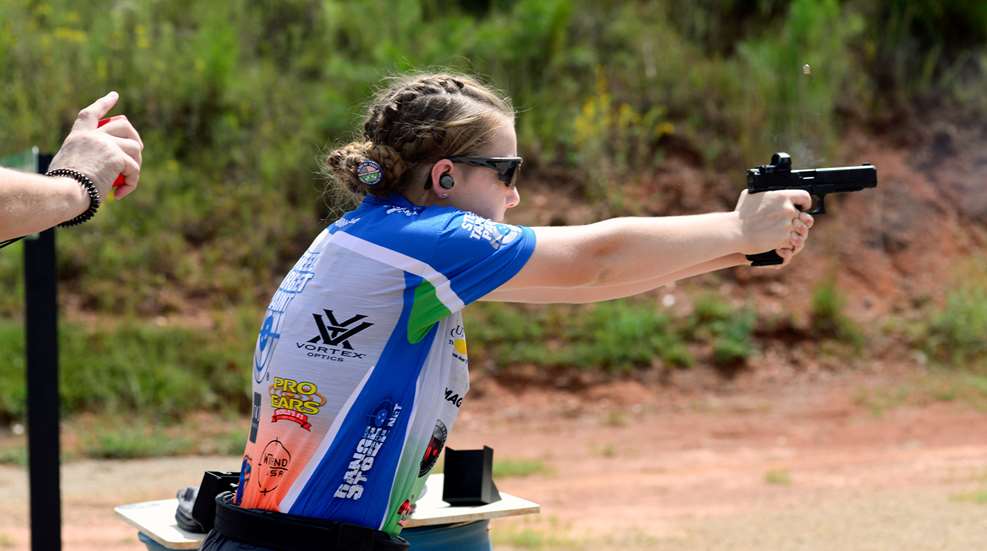 Meet Emily Cunningham, a talented action shooter who dominated at the 2020 Florida State Steel Challenge Championship after winning the Carry Optics, RFPO and PCCI division titles. Find out what she keeps in her range bag.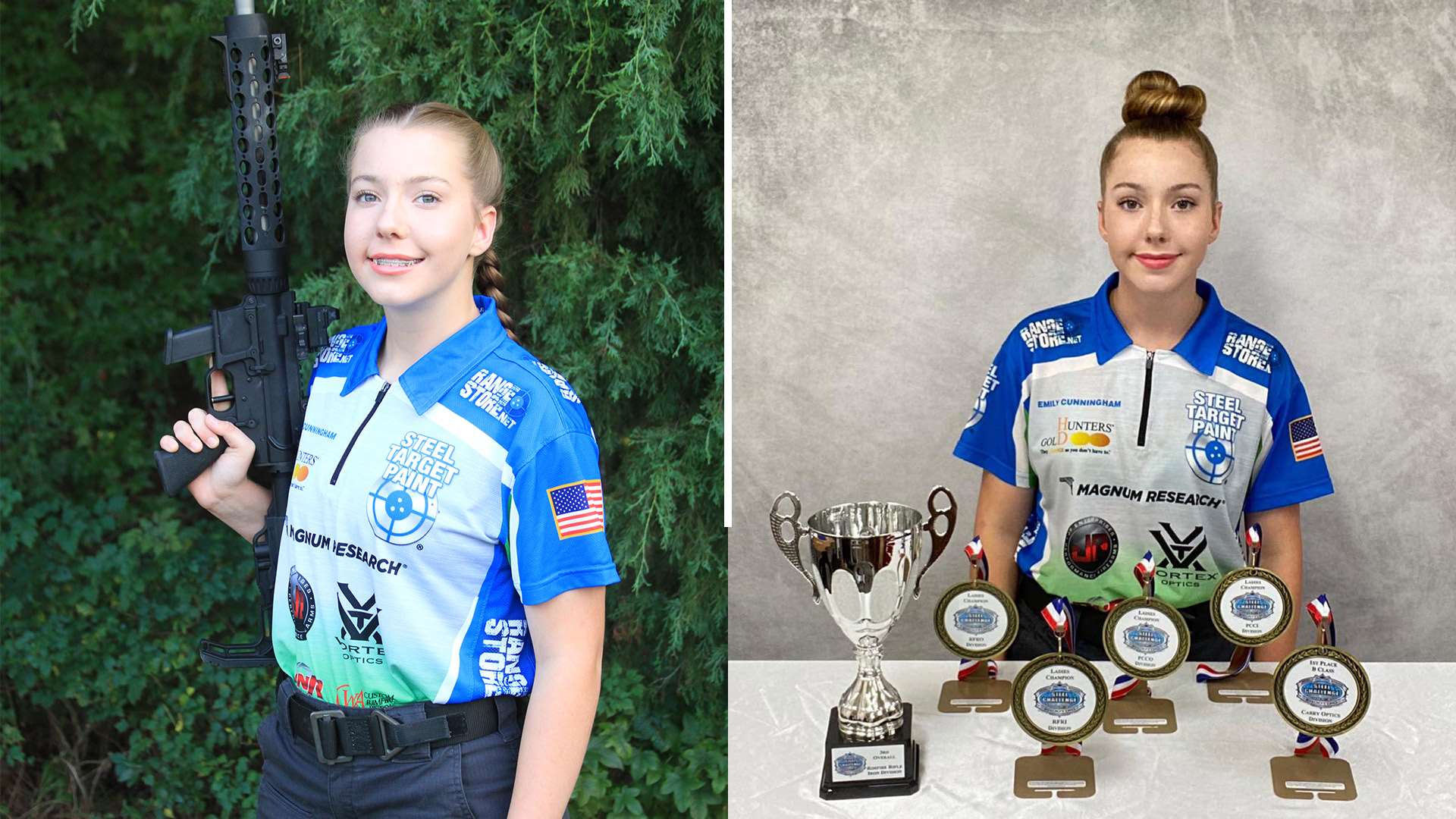 What are your first memories of handling a firearm?
At four years old, I shot my sister's Mini-Bolt Youth Henry .22 LR. Then, a few months after that on my fifth birthday, my parents gave me my own rifle—a .22 Crickett. They wanted me to start shooting at a young age to teach me about firearms and to learn about safety.
Tell us how you began in competitive shooting.
I started competing in late 2017 after one of my dad's friends invited us to a local match. We met Jeff Chaffin, who helped us explore and become more engaged with the competitive shooting community. Our family enjoyed the matches, and thus began my shooting career. 
Please share with us some of your major shooting accomplishments.
Last year at the World Speed Shooting Championship, I finished as the Lady's World Champion in four divisions: RFRO, RFRI, PCCO and PCCI. All four of my times set the new lady's world record for overall times in Steel Challenge. Another accomplishment I'm proud of is setting the overall stage record time on Roundabout with my PCCO.
I also hold six Grand Master classifications in Steel Challenge. Plus, I actively shoot seven divisions, and I'm currently a Master in Carry Optics.
What firearms and other gear do you use for competition?
For both of my rimfire rifles, I run modified Ruger 10/22s with Allchin Gun Parts compensators. My RFRO rifle has an Allchin Gun Parts 10/22 micro mount and a Vortex Razor red dot. For PCCO and PCCI divisions, I use the same JP GMR-15 Ultralight. It has Striplin Custom fiber-optic flip-up sights and a Vortex Razor red dot on an AR-15 QD riser mount. Both of my rimfire pistols are 6-inch Volquartsen Scorpions. The RFPO gun has a Vortex Razor red-dot optic mounted on it.
In addition, I shoot a Glock G34 Gen5 MOS for Carry Optics. It has an Evolution X Drop-in Competition Trigger System from johnnyglocks and a Vortex Razor red dot.
Tell us about your range bag and what you carry in it besides your firearms.
It's an American Shooters Edge range bag, which I like because it offers plenty of pockets for miscellaneous tools and parts, but also still has enough open space for my pistol bags and my PCC magazines. When traveling, I don't have to worry since it has plenty of cushioning around the bag.
In my range bag I keep extra magazines for my JP, GTUL and mag brush, belt with a Double Alpha holster and Blade-Tech magazine pouches, magazine pouch, UpLULA 9 mm to .45 ACP universal pistol mag loader, Hoppe's Boresnake Viper with Dens for each of my competition firearms, extra chamber flag, .22 LR parts kit and 9 mm parts kit, Vortex Optics lens cloth, Rainbow pre-moistened lens cleaning towelettes, Real Avid gun tool and Rangestore.net swabs and towels.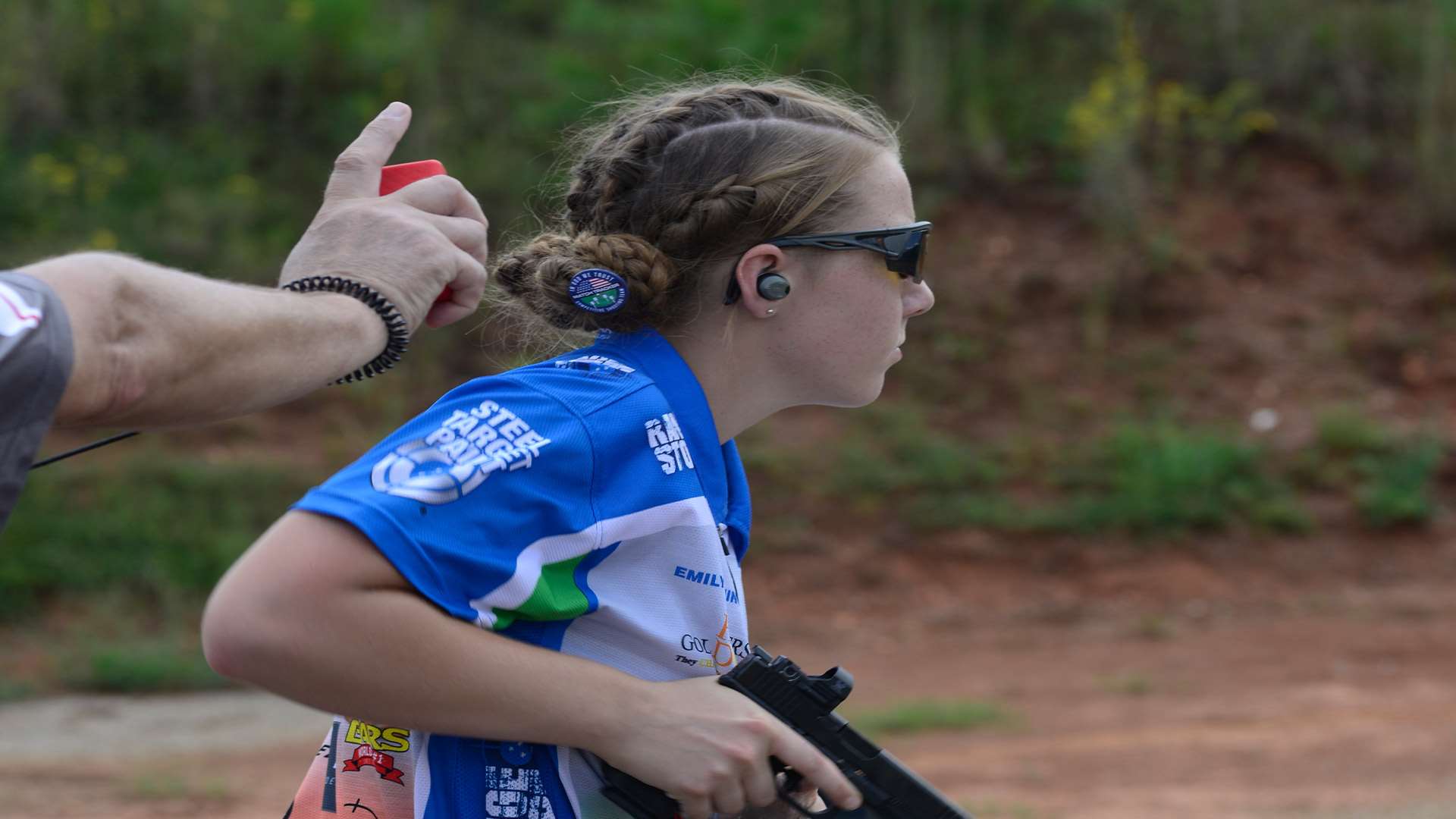 What do you do in your free time?
I'm currently 15 and a high school junior. Since I decided to graduate early, I spend most of my time keeping up on school work and the dual-enrollment classes that I take at LeTourneau University. By staying ahead, I have extra time to practice around major matches. When I do have free time, I enjoy cooking, baking, reading, playing with my dog Stella, working out or playing video games. One of my favorite things to cook is Tonkatsu with white rice. My favorite thing to bake is either pan dulce or poundcake. I also enjoy hunting with my family. Recently, I went on a nighttime hog hunt for the first time and it was thrilling. I hope to do it again soon. I mainly hunt whitetail, axis deer and when given the chance, blackbuck.
What would you tell someone interested in finding out more about your sport?
Reach out to your local shooting ranges and ask if they hold any competitions. You can also go to the Steel Challenge website to find local matches. If you aren't comfortable with shooting at first, then just go to watch and socialize. People in the shooting community are always willing to help and offer advice.
Any tips for new shooters?
Always remember that you are only competing against yourself. The main reason I see someone not having fun at their first match is because they don't want to be at the bottom of the list. Competitive shooting is all about having fun. You can't always be the best, it's all about doing your best and being proud of yourself. Also, never be afraid to ask any questions. I don't know anyone in the community who wouldn't help you with parts or let you borrow a gun.
---
Read more Range Bag articles: